Not Just the Tip of the Iceberg: Getting to Know the Man Behind Silicon Valley's Hottest Startup
Mohit Aron grew up exploring the jungles of Punjab, India. He knew he wanted to change the world by the time he got to college—he just didn't know how he would do it.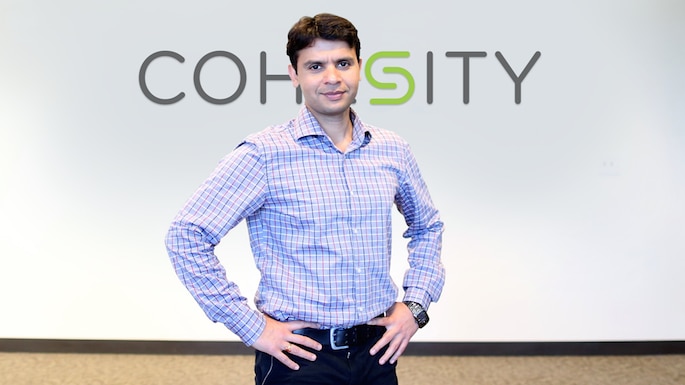 [Mohit Aron, CEO of Cohesity. | Photo Credit: Cohesity]
Mohit Aron grew up exploring the jungles of Punjab, India. He knew he wanted to change the world by the time he got to college—he just didn't know how he would do it.
What Aron did know was that it was 1995, he had a Ph.D. in Computer Science from Rice University, and a passion for distributor systems. So, he had to make a choice: join academia or create products that reached customers. Aron chose the latter—but acknowledged that he could not have done so without his parent's blessings.
"My parents were very supportive," he said. "Their dreams were to make me something that they couldn't even envision in some sense. I'm just very thankful that some of the traditional culture that I grew up with helped me to have a very solid foundation."
Twenty years later, with that foundation, Aron wrote the Google File system, created his first data storage company Nutanix (valued at $2 billion), and as recently as last month, emerged from stealth mode with his latest company Cohesity—a technology start-up of 50 employees that focuses on consolidating secondary storage in order to make data centers run more efficiently.
"We are the first ones to look at this space [where data is stored] comprehensively and come up with a solution that can potential erase all of these problems [inefficiencies with data storage and data chaos]. So just our approach is unique—we have an edge where others may not," Aron said.
According to Forbes, 90 percent of start-ups will fail: a fact that does not trouble Aron. When it comes to Cohesity, his goals are clear.
"The only thing I can tell you is the vision is huge—and we are in this business because there is the passion to do something disruptive that really benefits the world," he said. "[When] we are working towards that, now financially, good things happen—how and when they happen, I really don't care. It can take as long as it takes, but I am not in this for the short flip. It's not about money—it's about really making a difference."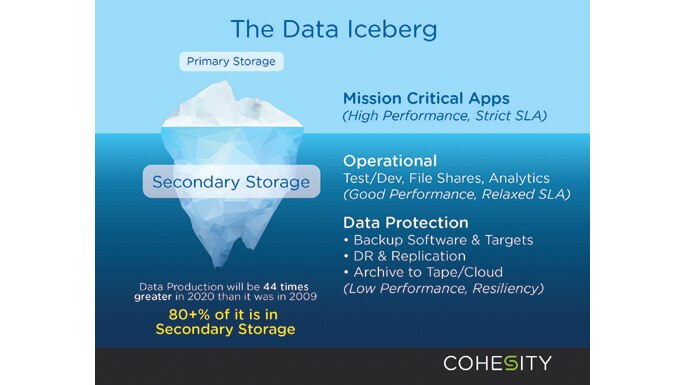 [Aron uses the image of an iceberg to explain data storage or what exactly the company does. The tip of the iceberg is your primary storage or the information that is most important and might need daily access, but the secondary storage or the part of the iceberg below the surface, is the rest of your data that you might not need immediately. | Photo Credit: Cohesity]
Aron commands a room with a confidence and composure expected of a CEO.
"People think I'm an extrovert, but I'm not—I'm actually an introvert," he said. "I'm very happy staying by myself, and just thinking, thinking, thinking. People wouldn't be able to guess that."
During the day, with the introvert side tucked away, Aron handles all types of interactions while approving new hires, overseeing the engineering, marketing, and sales departments.
If there is one thing he could tell his employees, Aron said it would be that the experience the company provides is more valuable than money.
"The one thing that is special about us is how we teach you," he said. "What you learn from us, that's going to benefit you for the rest of your career—how do you put a dollar value to that? I like to say to people, to my engineers here, you are not going to be here forever; people move on eventually. But I would be very disappointed if you leave this company and join another company—what I want you to do is leave and [start] your own company. Because that's what we hopefully teach you here."
When Aron is done teaching at work, he said he makes an easy commute from Santa Clara to Los Altos in California to embrace his familial and culinary passions.
"I enjoy playing with my kids, playing with my dog Pixie," Aron said. "I enjoy working out, I try to go to the gym a couple times a week. We also enjoy Indian, Thai and Vietnamese food."
Aron describes himself as "embroiled in the Indian culture." Both his son and daughter speak Hindi at home, a fact he said helps to keep his culture close—and keeping culture close is what he said made him a success.
"Some desis come here and they do away from their culture a little bit," Aron said. "I think there are lots and lots of good things about Indian culture that we really embrace, Bollywood music, our tradition and just the strength of ties within our families, of love, of the way we make friends; they are literally [our] life long friends. All the stuff I take from the Indian culture, it gives me that solid foundation that I need in my professional life."
Aron is the CEO of a tech start-up living in Silicon Valley, but his experienced team, love for learning, and passion for culture are what sets him apart, and Forbes also agrees. They believe Cohesity is going to  'Shake Up Storage.'
Forbes' 10 percent success rate may have a new company to consider adding to their list of success stories.
This post is a part of our Start-Up Series on India.com. If you know of a South Asian entrepreneur living in the Diaspora, who is ambitious and innovative, let us know! We would love to profile and connect with them for our series. Contact: trisha.sakhuja@asiatvusa.com or kamini.ramdeen@asiatvusa.com with their information.