Real-Life Weight Loss Journey: I Lost 14 Kilos in 4 Months With a Customised Diet Plan And Brisk-Walking For an Hour Daily
Real-Life Weight Loss Journey: Find out what Kurichi Kumar did to lose 14 kilos in such a short time and how he maintains it till date. Read his story here.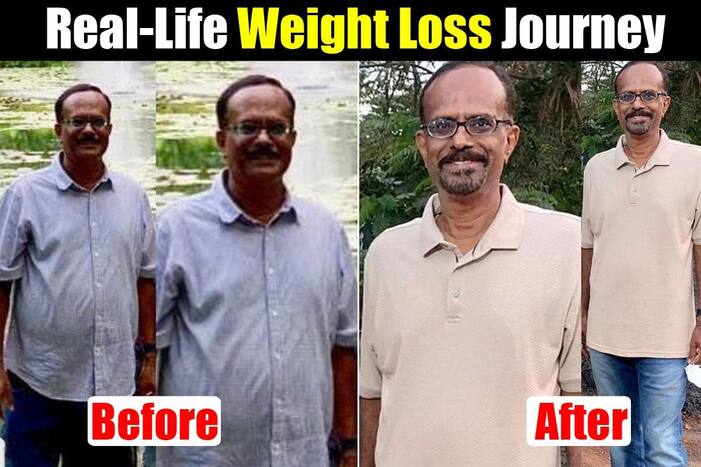 Real-Life Weight Loss Journey:Weight loss is a personal journey. It seems like a lot of work initially, from switching to a healthy diet plan to including workouts in your daily schedule, and if that wasn't enough fighting occasional hurdles in the way- sugar cravings and weight loss plateau. If you are trying to reach your weight loss goal, and seeking inspiration to kick-start your journey, then we have Kurichi Kumar's weight loss story to share. Kurichi Kumar dropped 14 kgs in a span of 4 months by including all things healthy in his diet. Read his real-life weight loss story.
Weight Loss And The Motivation to Lose Weight: I've always been a vegetarian, and I'm quite cautious about what I eat. My wife makes sure I eat well-balanced, primarily home-cooked meals. I usually avoid fried foods and only eat out when essential. I've been reasonably active, walking for at least 45 minutes five days a week. However, I've been overweight for at least a couple of decades, with my weight hovering around 85 kgs throughout. The weight started to show around my mid-region, my stomach in the last 5 years or so. Even when I doubled my walking time, the weight did not decrease. I assumed that it must be due to declining metabolism as I age.
My wife told me about her friends' great experiences with Anupama Menon's diet program. Anupama Menon is a nutritionist & holistic wellness and food coach. I spoke with them and learned the basics of the program. It sounded like something I'd be able to follow as it's centred on the Indian vegetarian meals I usually eat. I decided to give it a shot at the very least. And thanks to Anupama Menon and my wife's friend who referred her, I've lost 14kg in just 4 months! With Anupama's guidance and her approach, I began to recognize results within the first couple of weeks. That was a huge motivator for me to stick with the strategy as planned.
Weight Loss And Diet: In terms of my diet, I took Garlic water and lemon juice as soon as I get up in the morning. The meals changed depending on the theme of the week. Breakfast might consist of a cup of Poha or Wheat Upma or a two-egg omelette. A cup of fruit and maybe almonds is a popular mid-morning snack. Lunch changed depending on the week — chapatis/rice, vegetables, and daal/legume, or simply proteins (paneer, eggs, tofu) with a cup of vegetables. Again, in the evening, it may be fruit and puffed rice or cheese and wheat bread. Dinners vary depending on the week – chapatis and veggies, vegetable spaghetti, wheat dosa, veggies, or proteins and vegetables. My favourite cheat foods were Sambar Vada, Rava dosa, tacos, and sometimes rice dishes like biryani or curd rice. What I liked best about Anupama, and her approach was that I didn't have to give up anything I enjoyed doing during the program. Some of the meals I would only eat on cheat days, but in general, I did not quit eating any particular dish.
Weight Loss And Workout Routine: My usual workout began with an hour of brisk walking. After a few weeks, it had grown to 1.5 to 2 hours. After some weeks, I began to walk for 45 minutes to an hour and jog for 30 minutes. Now I alternate between short spurts of running and long intervals of walking for an hour. To be honest, there wasn't anything that didn't work for me during my fitness journey. All of the things Anupama planned and executed only contributed to helping me reach my goals and go above and beyond.
Is There a Shortcut to Lose Weight? I also know from personal experience that there is no quick fix for losing weight. So, I completely followed the advised diet and continued to do so even if I didn't lose weight in one of the weeks since I knew it was the right way to go.
India.com decided to bring Real-Life Weight Loss stories for our readers which will inspire you to finally sign up for that gym membership or start making yoga an active part of your lifestyle. If you have got an incredible weight loss story that inspires people to stay healthy, write to us on our social media handles to get featured and we'll get in touch with you!