The Priyanka Chopra Foundation for Health and Education
International superstar Priyanka Chopra is not just a talented actress but a social activist, working tirelessly to inspire and improve the lives of young girls.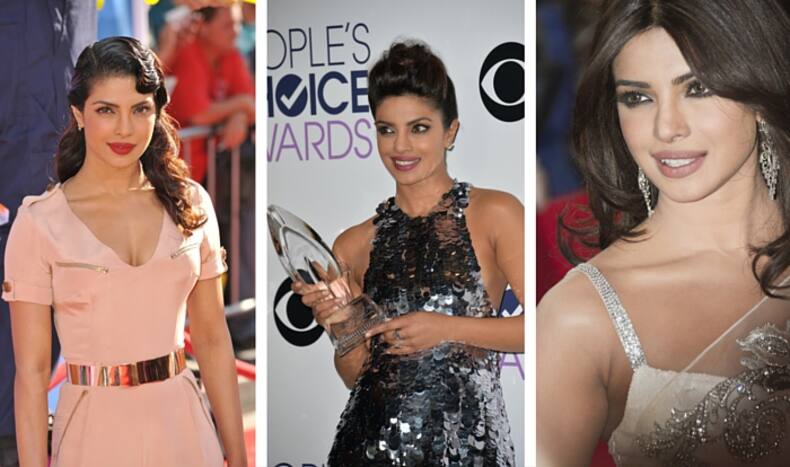 After watching all of ABC's "Quantico" commercials and drawing in subway ads, bus ad and billboards–even if you don't watch "Quantico" (you don't know what you're missing out on)—you have definitely encountered Priyanka Chopra. When she's not Alex Parish—the "ass-kicking" FBI recruit—she's a singer and an award-winning Bollywood actress. However, as "Glamour" reveals, this multifaceted woman does even more.
As a teen, this international celebrity endured bullying. During her Glamour interview, she explained the racism she faced while attending school in Massachusetts. She described herself as a nerd at 16, who grew up in India before moving to the United States. Her relocation served as material for racially charged comments that lasted for months.
"Brownie, go home! Curry's walking!" She also described an incident where two girls jumped her and she fought back until school counselors intervened. However the incident left an impact on her she recalls, "It broke my spirit. It made me question who I was. Why was it so uncool being Indian?"
Despite these unfortunate and unpleasant circumstances Chopra trudged through and two years later, she moved back to India where she won the Miss India competition—later she was crowned Miss World. "I taught myself confidence," Chopra said about her confrontations with bullying in her youth. "When I'd walk into a room and feel scared to death, I'd tell myself, I'm not afraid of anybody.' And people believed me. You've got to teach yourself to take over the world."
It is refreshing to see a celebrity reveal such personal battles with self-confidence. Those limelight appear to "naturally" exude confidence, and rarely speak out about the difficulties of actually having and maintaining a healthy self-esteem. By bringing her struggles to the forefront, Chopa continues to inspire young girls around the world to persevere in spite of what others say to put them down.
The international stars  is using her influence in a positive manner to motivate girls to continue their education in India. "Education has always been very important to me," Chopra tells "Glamour." "It means you don't have to depend on anyone else."
During the initial years of her career, Chopra learned that her housekeeper's son was in school but her daughter was not. This type of discrimination occurs all the time—especially in India—when families can only afford one child's education. The funds are usually used towards a son's education instead of a daughter's because he is seen as a future investment, whereas she is seen as a future burden. However upon discovering this, Chopra took it upon herself to cover her housekeeper's daughter's tuition.
This event resonated with her and later became an additional reason to create her organization, The Priyanka Chopra Foundation for Health and Education. She donates 10% of her earnings to her foundation which provides for the education and medical care for 70 children, of which 50 are girls. This organization is an extremely personal experience for Chopra where she knows each child within the foundation. Through this resources she hopes to instill the importance of education and independence within these young girls.
Rubina Maqbool Ahmed, one of the girls from the organization says that the influence Chopra has is tremendous.
"Girls, after a certain age, their parents prefer to have them married off," Ahmed explained. "But when this opportunity came, my father decided, 'I will let my daughters get an education.'" said Rubina, who herself is now 20 years old and in college studying computer science. Her sister remains in high school because of the foundation.
Along with being an advocate for education, Chopra is also an ambassador for Girl Rising, a global campaign for female education, "Beti Bachao, Beti Padhao." As CEO, Holly Gordon of Girl Rising puts it, "Priyanka is one of the most recognizable people on the entire Asian continent. It's impossible to overestimate her power in making it acceptable to send girls to school."
Chopra gets her resilience from her late father, Dr. Ashok Chopra. As a child she used to love the fairytale, Cinderella which led her father to tell her that, "you should not want to fit into someone else's glass slipper. You should shatter the glass ceiling."
Chopra says that he, "instilled confidence in me and that doesn't happen for so many kids. I can't eradicate poverty, but at least for the people around me, I can help make sure no child is denied a dream."
Finally, as a source of her own inspiration, she has a tattoo on her wrist which reads "Daddy's lil girl." This serves as a reminder for her to keep pushing and keep shattering that ceiling for herself and others around her.
The former beauty queen's sentiment is a worthy cause as it is a reality that many children, especially girls, in India are confronted with. Key influential actors in society, such as celebrities like Chopra, need to stress the importance of education because they are fortunate enough to have ready and available social platform in today's tech-savvy time.
"Glamour"—and we—agree this multi-talented woman is truly inspiring and her message should be spread so that every girl is entitled to a confident and independent future.