Three People of Color Who Have Turned Racism on its Head This Month
This past week, I've taken a few Uber rides, and on those rides, I heard and experienced racism at its finest. Ironically, the past week or so, I have also heard more stories of racism towards peop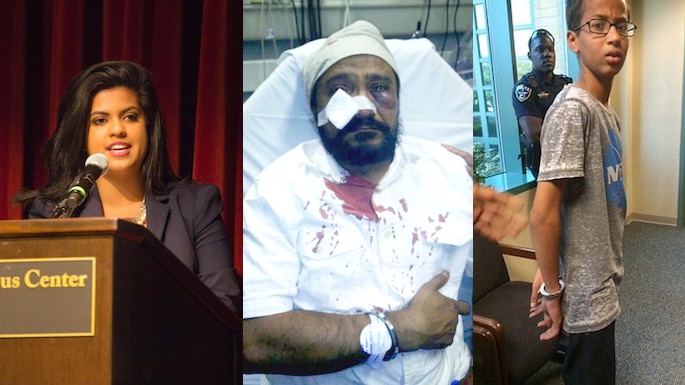 This past week, I've taken a few Uber rides, and on those rides, I heard and experienced racism at its finest.
Ironically, the past week or so, I have also heard more stories of racism towards people of color than in the last few months. These acts, racial slurs, and general unkindness towards people is unacceptable.
The first Uber driver I recently encountered told me that his name was "Jihad," but he had to change it for business because his whole life he has been called a "terrorist." (For those who don't know, jihad means effort.) He also recalled the time Saddam Hussein was captured and people told him, "we got your uncle." I could not believe how cruel people could be, or the fact that this man had to use names like Jay or Jose to avoid harassment.
The second Uber driver I rode with said I "pretty for an Indian"—and even further explained that although I didn't look like other Indians, I was pretty. She then proceeded to tell me that "homosexuals try to hurt, and don't like, women" and that when it comes to rapes, Middle Eastern and Hispanic men are always the perpetrators.
The initial reaction I had was of disgust, shock, and the instantaneous fiery desire to set someone in their place. But in reality, would I be any better than the people who were terrorizing me? My whole life I've dealt with racism, but was this the time to let this one person have 25 years of resentment of racial discrimination? I decided it would be better to follow the example of three people of color who have turned racism on its head and dealt with it in a way we should admire and aspire to conduct ourselves.
1. Rini Sampath, the student body president of the University of Southern California, had a drink hurled at her and was called, "you Indian piece of sh*t." Sampath could have responded in an equally negative way, but instead she made a public plea urging the USC community to think about the notion of the other. To learn more about her experience and read here plea, click here.
2. Inderjit Singh Mukker was on his way to a grocery store when a driver screamed at him, "Terrorist, Bin Laden! Go back to your country!" Mukker was then punched in the face multiple times until he passed out. He eventually had to be treated for a fractured cheekbone, bruises, and stitches. Mukker also could have spewed hate about the way he was treated, instead he called upon some of the basic fundamentals America was founded on: religious freedom, "No American should be afraid to practice their faith in our country." Fair warning: the photo of his injuries is pretty hard to see. If you want to see his story, you can read more here. This is hardly the first time a hate crime against the Sikh community has been committed.
[Read Related: Hate Crime Survivor Inderjit Singh Mukker Seeks Justice From Local State Attorney's Office]
3. Ahmed Mohamed—by now you have heard his story, and how his homemade clock got him arrested. Granted in a post 9/11 era xenophobia has sky-rocketed and the fear of terrorism grows exponentially, but that does not excuse or forgive ignorance. Fourteen-year-old Sundanese-American Ahmed could have cursed out his teacher and the school, but instead, he decided to transfer schools and has had the world respond in such a positive and loving manner. Just ask President Obama, NASA, Microsoft, Facebook and more!
Instead of cutting my Uber driver down to size, who didn't understand the ramifications of her words, I decided to follow the examples of Rini, Inderjit, and Ahmed. My experiences weren't as dramatic as those three, but I decided to use the best cure against ignorance: education. Also, I decided to show her something she didn't show me: tolerance.
[Read Related: Al Jazeera America's Wajahat Ali Responds to Ahmed Mohamed's Unjust Arrest]