Top 10 dishes every foodie must eat in West Bengal
From Ilish Maach to Sondesh, these are the foods that you simply cannot miss when in Wesy Bengal!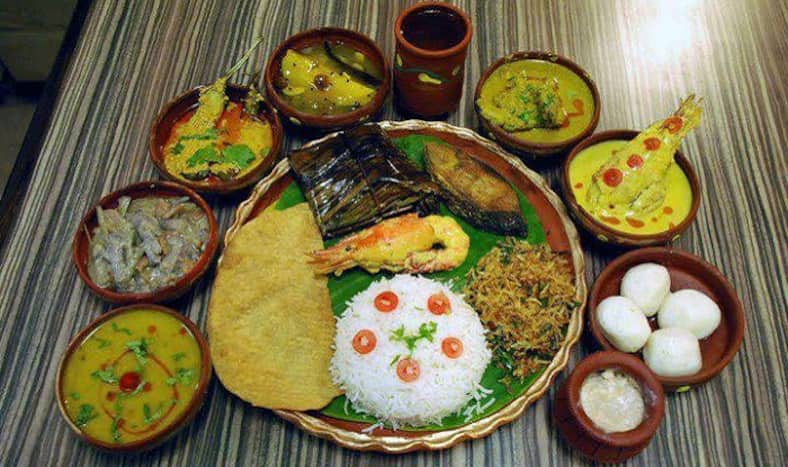 West Bengal is not just about machh bhaat and the sweets. It has a lot more to it and is a haven for both vegetarian and non-vegetarian foodies. Did you know that Bengali cuisine is the only one in the Indian subcontinent that has a proper multi-course structure, much similar to the style of modern French cuisine? Bengalis love their food and like to have it served course-wise, instead of all at once, as is typically done in most other Indian regional cuisines.
There is much to explore in West Bengal, when it comes to food. From Mughlai foods to street foods and an elaborate spread of sweets and confectioneries, as well as the cuisine of the flourishing Anglo-Indian community in Kolkata, Bengali food is culturally vibrant and just simply delightful.
Here are the top 10 foods that you just cannot miss while exploring West Bengal:
1. Luchi-Alur Dom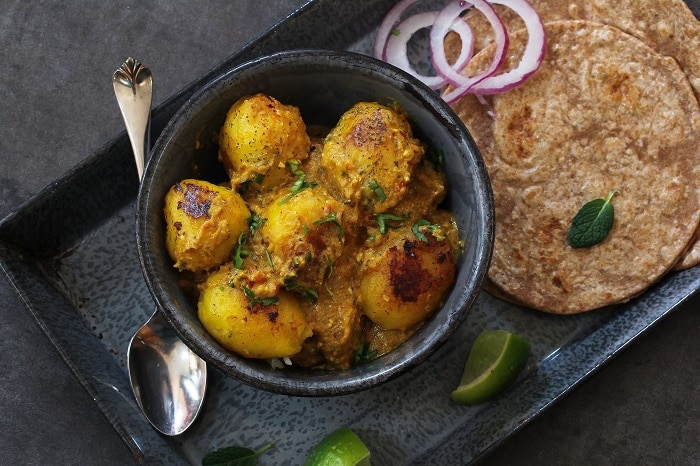 Luchi alur dom is the preferred Bengali combination for a lazy Sunday brunch. The dish has Luchi that is similar to puris and is eaten with alur dum or aloo dom, that is a spicier and more tangy version of the dum aloo. To grab a plate of some delectable luchi-alur dom, head to Fairlie Road in Kolkata, that is a popular haunt of the lovers of Bengali street food in the city. The road has a number of stalls that sell everything from rice and dish curry to kachuris (stuffed luchis).  ALSO READ: Top 10 foods in Madhya Pradesh every foodie must try
2. Keemar Doi Bora
Lovers of non-vegetarian food and dahi bada will go gaga over this perfect marriage of minced meat and sweet and spicy curd. This is one of the less popular street foods of Bengal. It has a rich cultural connection with one of the most famous Bengalis in the world- Nobel Laureate Rabindra Nath Tagore and his family. The dish was an original invention of the Thakurbari as the Tagore family is popularly known, and was introduced to the world by Purnima Thakur, when she came into the possession of the Tagore family cookbook. To sample this beautiful dish, you can head to Bara Bazaar or Burrabazaar in Kolkata.
3. Kathi Rolls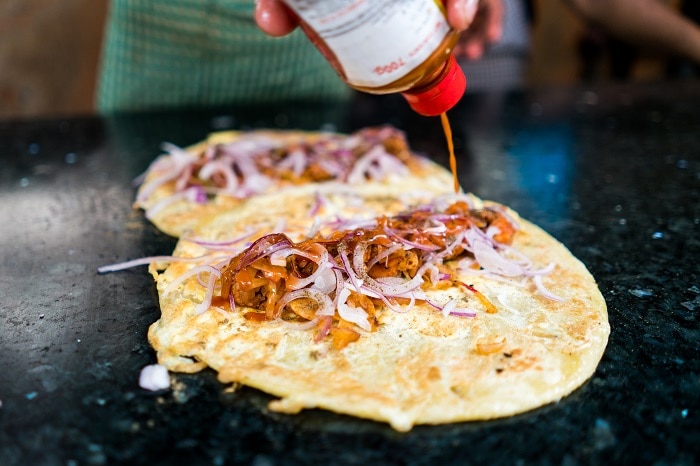 Who doesn't love the kathi rolls? After all, they were invented in the City of Joy itself! Thin rotis wrapped around skewer-roasted succulent meat kebabs make for a beautiful dish that Bengalis take a lot of pride in. One school of thought credits the British of inventing the food, because they were too fastidious to touch the kebabs with bare hands. Whatever the origin, one must not deprive themselves of biting into the kathi rolls, the best which can be found at Nizam's and Badshah in New Market, Kolkata. Another shop called Zaika in Park Street, Kolkata, also makes delectable kathi rolls. ALSO READ: Top 14 popular foods everyone must sample in Gujarat
4. Jhal Muri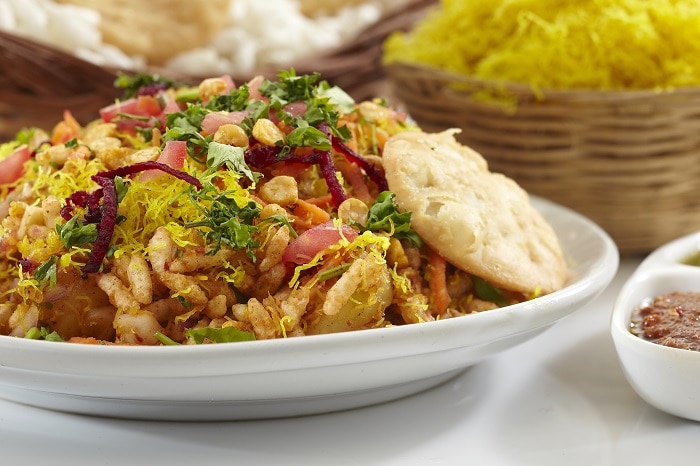 You can call it the Bengali version of the bhel. Jhal Muri is another street food that Bengalis swear by. It's made from rice flakes (muri) tossed with spicy chutney and mustard oil, along with roasted lentils and coconut chunks. It's a convenient snack to munch on, while travelling around the city in the evening, and engaging in long-winding conversations with a friend. The absolute best place to sample the jhal muri is Dacre Lane or Dacre Street in Kolkata, that has been appreciated by the WHO that claimed that the food here was the Best Street Food in the World!
5. Daab Chingri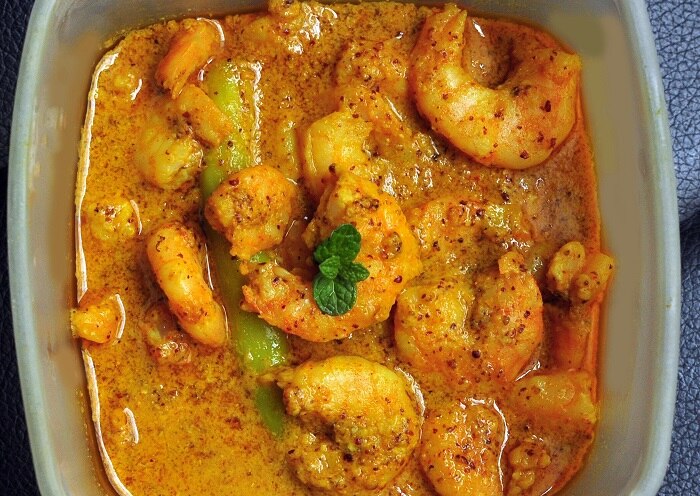 There's no denying the fact that the various kinds of fish curries of Bengali cuisine are the absolute best. But if you get fed up of eating fish and want to try some other meat here, you must sample the daab chingri- jumbo prawns cooked in mustard and served in tender coconut. Oh! Calcutta is one of the restaurants in Kolkata known for the best Daab Chingri. Other things to try out at this restaurant are the nolen-gurer ice-cream and the bhapa sondesh. ALSO READ: Top 8 dishes you have to sample in Maharashtra
6. Shukto
Shukto is a vegetarian delicacy made from bitter gourd, plantains, potatoes and radishes, cooked in Bengali panch phorn or the signature five spices of Bengali cuisine. It's basically a mixed vegetable preparation, the Bengali style. It has a creamy, milky gravy that perfectly compliments the bitterness of the gourd. This one is a rarity of the Bengali cuisine that is dominated by meat dishes. If you want to experience traditional shukto, then you must get yourself invited for a Durga Pujo luncheon at a Bengali household. Another place to sample this dish is Suruchi at 89, Elliot Road in Kolkata. The place is run by an all-women self help group and it serves amazing home-style food. Their Bengali thali is unmissable.
7. Bhetki Macher Paturi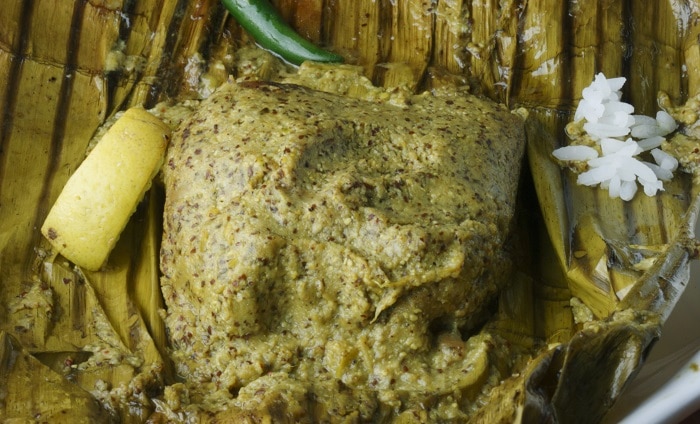 Fish lovers ahoy! This one is sure to get you into a food comma of the most blissful kind. Bhetki Macher Paturi is a melt-in-the-mouth fish preparation made by slow cooking the fish in a paste of mustard and coconut, wrapped in banana leaf. If you want to experience the best bhetki macher paturi, then you must get a traditional Bengali professional cook, known as the Rannar Thakur. If you're not able to do that, then you can head to 6 Ballygunge Place or Oh! Calcutta in Ballygunge and Elgin respectively. ALSO READ: Top 10 popular dishes every foodie must sample in Rajasthan
8. Kosha Mangsho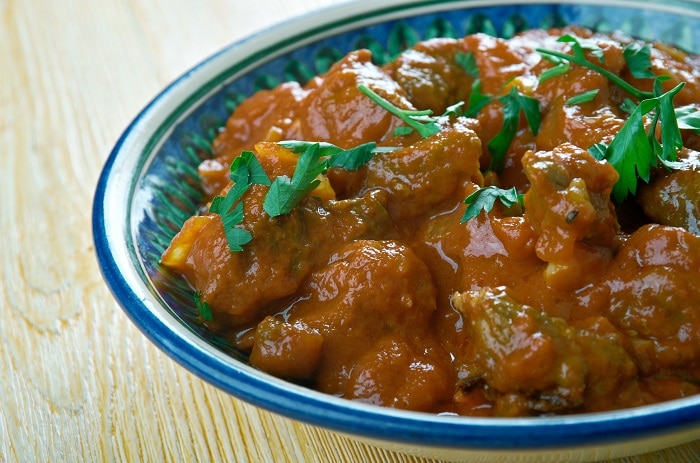 Kosha Mangsho is for all the die-hard mutton fans. This one comprises mutton cooked in a spicy tomato and yogurt curry and it originated in the British colonial era. Kosha is cooked in pure mustard oil and contains an assortment of spices. Golbari in Shyam Bazaar, Kolkata is THE restaurant to visit, for a satisfying Kosha Mangsho indulgence. This 92-year-old restaurant specializes in almost all mutton dishes, including mutton cutlets, mutton kheema and mutton chaap.
9. Shorshe Ilish or Ilish Maach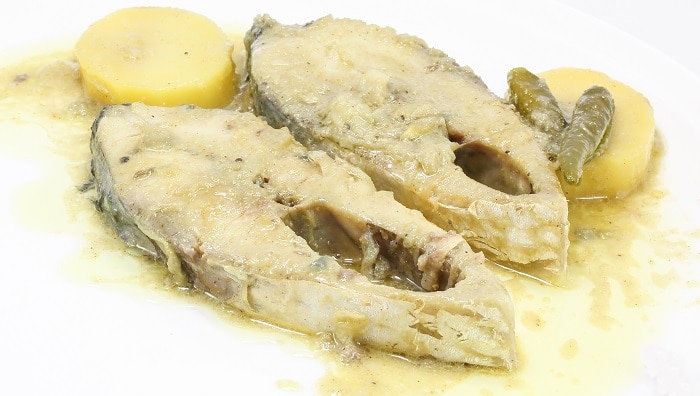 Ilish Maach or Shorshe Ilish or Ilish Bhapa is a delicious fish preparation made from deep-fried Hilsa fish. It's a classic Bengali fish curry and is served a side-dish with rice or Khichudi. It's made in both dried and curried forms. Kasturi restaurant in Ballygunge is the best place to go for a Ilish Bhapa in Kolkata.
10. Milk Sweets, Rasgullas, Chamcham, Sondesh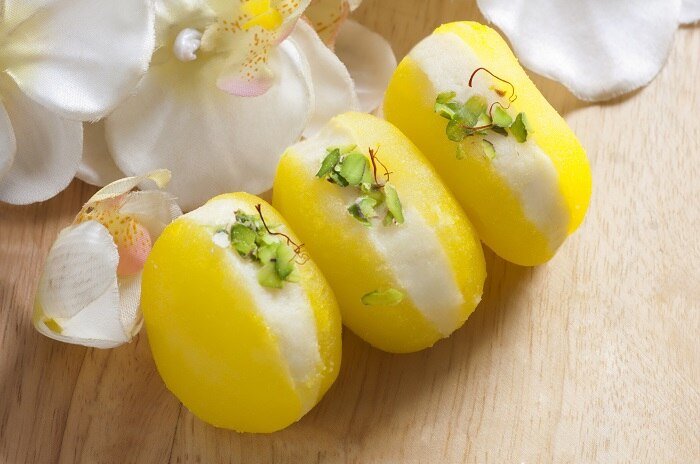 Bengali sweets need no introduction. They can make the most 'not-a-sweet-person' also drool and want to take just a bite of the rich sweets. Everything from rosogullas to sondesh and chamcham is a unmissable. Seriously, it would be a crime if you don't indulge your sweet tooth when you're in Bengal. Balaram Mullick and Radharam Mullick in Bhowanipore is THE sweet shop to head for everything mishti in Kolkata. Among the toothsome sweets that are churned out at this sweet haven are baked rasgullas that Calcuttans have come to adore, mango flavored mishti doi and a range of flavored sondesh.
Images: Shutterstock
Found this story interesting? Like our Facebook page to read more such articles. Also, share your comments below. We would love to hear from you.