Top 5 UFO Sightings in India
Whether you fall into the category of skeptics or believers, one thing is certain—the UFO phenomenon is very real, with approximately 70,000 UFO sightings reported worldwide annually (192 sightings a day).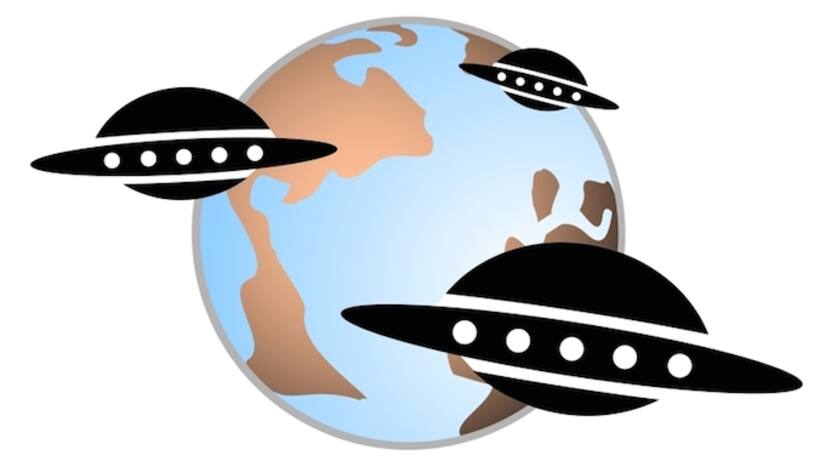 Whether you fall into the category of skeptics or believers, one thing is certain—the UFO phenomenon is very real, with approximately 70,000 UFO sightings reported worldwide annually (192 sightings a day). Despite its close association with extraterrestrial visitation, the abbreviation UFO merely stands for an unidentified flying object.
Although the bulk of UFO sightings have been ruled out as alien spacecraft, there are still  thousands curious incidents that remain unsolved even today, contributing to the increasingly popular belief that we are not alone.
While India is not necessarily a hotspot, the country has seen its fair share of UFO sighting stories. Here is a look quick look at five of the most compelling headlines that might even turn some of you skeptics into believers.
1. October 3, 1957: Manbhum, Bihar
On October 3, 1957, long before the age of smartphones and digital cameras, a flying saucer was reportedly seen by about 800 people in three Indian villages—Kadori, Borsa and Mangalda—in Manbhum district of Bihar. According to PROJECT 1947, a research group that aims to document and preserve historical accounts of UFO sightings, the Times of India reported that hundreds of villagers came out from their huts to see the strange object.
The UFO, which was shaped like a saucer, allegedly came down to a height of about 500 feet above the earth, "making a sound like the whirring of a motor-car engine." It hovered for a few minutes and eventually soared upwards at an incredible speed after emitting smoke.
To this day, the people of Kadori, Borsa and Mangalda have not been given an explanation of the UFO's origin—but it is rather difficult to believe that 800 people were merely "seeing things."
2. October 29, 2007: Eastern Kolkata
Just five decades after the 1957 UFO sighting in Manbhum, a fast-moving UFO was reportedly spotted in the early morning in Eastern Kolkata. The incident—which was captured on video and even aired on television news—showed two color-changing, fireball-like objects floating in the dark sky. But according to hundreds of witnesses, as well as the cameraman behind the video, the two objects seen in the video were actually a part of the same spacecraft.
DNA India and a number of other sources named Farhan Akhtar, deputy general manager of H&R Johnson, as the man behind the camera. According to those reports, Akhtar was getting up for a drink of water when he spotted the strange lights. "When I went to draw the curtains, I saw through the window—which faces east—something that looked like an abnormally big star at a 30 degree angle in the sky," he told DNA India.
Akhtar claimed that he saw "a white ball with flaming sides which changed color and shape after few minutes and seemed dotted with red bulbs but with a white patch in the middle."
Air traffic control sources at Kolkata airport reportedly said there was "no information from the radar controller on the sighting of such an object, nor did any pilot report anything irregular." Weather balloons, which are commonly misidentified as alien spacecraft, were also ruled out, as the air traffic control claimed that none were registered on that day.
3. August 4, 2013: Ladakh, Jammu and Kashmir
Perhaps one of the most compelling pieces of evidence of life beyond our planet is this video, which was reportedly shot by the Indian army near the India and China border. The mysterious lights, which were filmed over the skies of Ladakh, and were reportedly discovered by border patrol.
According to The Hindu, there had been more than 100 similar sightings in that area around the time this footage was shot on August 4. When asked about the strange yellowish lights, Defense Minister A K Antony told Parliament that there was "no conclusive proof of sighting of unidentified flying objects over the Sino-Indian border."
Some researchers reportedly determined that the Indian soldiers had simply misidentified Jupiter and Venus, while others have suggested that the UFOs were Chinese drones or satellites. However, Chinese officials have denied that claim and the video appears to show more than five orbs that move.
4. January 10, 2014: Mumbai, Maharashtra
Drawing eerie similarities to Eastern Kolkata's 2007 UFO sighting, on January 10, 2014, Lorenzo Ceszar, believed to be an amateur UFOlogist, captured shocking footage of what appears to be as many as five bright and color-changing orbs.
Though this particular incident did not receive much attention from mainstream media, YouTube comments reveal that Ceszar was not the only one who witnessed the UFOs in Mumbai on that night. While some claim that the lights were merely Chinese lanterns, the movement of these lights had UFOlogists thinking otherwise.
5. August 4, 2015: Kanpur, Utttar Pradesh
A young boy from Kanpur recently made headlines after claiming that he snapped an authentic photo of a UFO in June of this year. According to the International Business Times, the young boy was going through some photos he had taken of the clouds when he spotted the object, which resembles the stereotypical UFO shape, as portrayed in the movies.
[Photo Source: Indian Express]
"I like nature photography and when I saw various shapes of clouds in the sky I started clicking pictures on my phone. While I was going through the clicked pictures in the photo gallery, I saw a round object in the photographs and when I zoomed to take a closer look at it, I noticed it was a UFO," the child told the International Business Times.
Though skeptics have argued that the photos seem "a little too perfect," both the boy and his father, Santosh Gupta, have adamantly denied that photo-editing software was used. You can watch the father-son duo discuss the unique images in an interview with News 18 Hindi and decide for yourself.