Bypoll Election Result 2019 Updates: BJP Loses Parrikar's Panaji to Congress; Kamal Nath Wins Chhindwara
Stay here for the fastest live updates on Bypoll Results 2019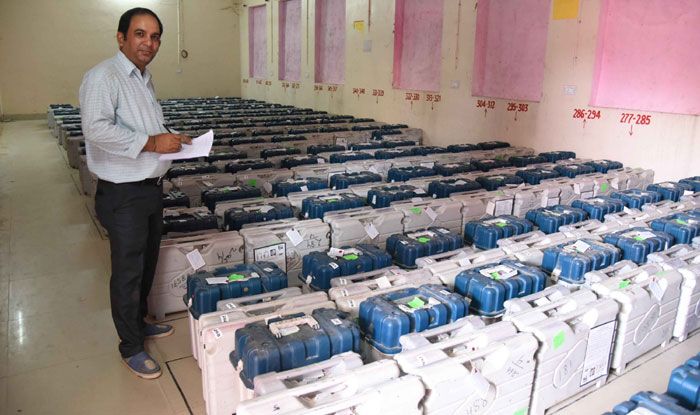 New Delhi: Counting of votes for 46 Assembly seats across 13 states including Maharashtra, Goa, Meghalaya, Mizoram, Madhya Pradesh, Uttar Pradesh, Bihar, Gujarat, Nagaland, Puducherry, West Bengal, Karnataka and Tamil Nadu is underway. The bypolls in these Assembly constituencies took place in seven phases from April 11 and May 19 along with the Lok Sabha elections.
In Tamil Nadu, 22 Assembly segments – Poonamallee (SC), Perambur, Thiruporur, Sholingur, Gudiyattham (SC), Ambur, Hosur, Pappireddippatti, Harur (SC), Nilakkottai (SC), Thiruvarur, Thanjavur, Manamadurai (SC), Andipatti, Periyakulam (SC), Sattur Paramakudi (SC), Vilathikulam, Aravakurichi, Sulur, Thiruparankundram and Ottapidaram went to by-polls. While 18 seats voted on 18 April, four other voted on 19 May.
Similarly in Gujarat, by-elections were held in the Assembly segments of Dhrangadhra, Manavadar, Unjha and Jamnagar (Rural), which fall under Lok Sabha constituencies of Surendranagar, Porbandar, Mehsana and Jamnagar, respectively. A total of 45 candidates were in the fray on these seats, won by the opposition Congress in the 2017 polls.The seats fell vacant following the resignation of sitting Congress lawmakers who later joined the ruling BJP. Three of the four sitting Congress lawmakers who had resigned were fielded by the ruling party from their respective seats. These candidates were Jawahar Chavda (Manavadar), Asha Patel (Unjha) and Parsotam Sabariya (Dhrangadhra).
Catch LIVE updates here: 
Madhya Pradesh Chief Minister Kamal Nath wins assembly Bypoll from Chhindwara; defeats BJP's Vivek Bunty Sahu by a margin of 25,837 votes: Election Commission.
In Bihar, BJP wrested the Dehri seat from the RJD, defeating the opposition party by a thumping margin of over 30,000 votes and the JD(U) surging ahead of its rivals in Nawada. BJP's Satyanarayan Singh polled 72,097 votes in Dehri, while his nearest RJD rival Mohammad Firoz Hussain got only 38,104. In the Nawada seat, which fell vacant upon sitting RJD MLA Raj Vallabh Yadav's conviction in a rape case, JD(U) candidate Kaushal Yadav was leading by a modest margin of just over 5,000 votes. The 'Mahagathbandhan' candidate, Dhirendra Kumar Sinha of the HAM, was third way behind Independent Shravan Kumar.
Of the total 7 seats in West Bengal, BJP ahead in four seats, TMC in three.
Of the total 22 seats in Tamil Nadu, AIADMK is leading on 10 seats.
MNF's Zothantluanga won the by-election to the Aizawl West-I Assembly constituency in Mizoram by a margin of 7,035 votes, officials said. The bypoll was held as ZPM leader Lalduhoma vacated the seat which he won in the November 28 state elections and decided to retain the Serchip constituency.
Zothantluanga got 12,309 of the total 18,154 votes polled. His nearest candidate, Lalbuanga Sailo (Independent), who was supported by the Zoram People's Movement(ZPM)-Congress combine, bagged 5,322 votes, Returning Officer Vanlalngaihsaka said. Zothantluanga(65), a former student leader, is currently adviser to the ruling MNF or Mizo National Front.
Goa's ruling BJP won three out of the four state Assembly bypolls but failed to win the prestigious Panaji constituency, which had been held by late Chief Minister Manohar Parrikar.
NDPP's Sharingain Longkumer won the bypoll to the Aonglenden Assembly seat in Nagaland's Mokokchung district by 6,245 votes. Sharingain polled 8,607 votes, while his nearest candidate Alemjongshi, of the Congress, got 2,362 votes. Total 10,589 votes were cast, Chief Electoral Officer Abhijit Sinha said.
As per the latest trends available for the 541 constituencies, BJP is leading in 294 while INC is leading in 50, DMK in 22, AITC in 24, YSRC in 24 and Shiv Sena in 19 constituencies. #ElectionResults2019

— Election Commission #DeshKaMahatyohar (@ECISVEEP) May 23, 2019
In the Tamil Nadu, Stalin's DMK is leading on most seats, reports claimed.
#TamilNadu: Celebrations outside DMK headquarters in Chennai; According to Official EC trends, DMK is leading on 22 seats pic.twitter.com/rWYr7DfBjQ

— ANI (@ANI) May 23, 2019
Congress on the verge of losing in Mapusa as the party trailing by more than 1000 votes against BJP after five rounds. BJP set to bag 3 seats in the Goa bypolls
The Panaji Assembly seat fell vacant after the demise of former CM Manohar Parrikar, who held the seat for nearly two and a half decades since 1994. The BJO had fielded Siddharth Kunkolienkar from the seat.
Congress' Atanasio Monserrate wrested Panaji Assembly seat, held by late CM Manohar Parrikar.
In Goa BJP candidate Joshua D'Souza is leading against his nearest Congress rival Sudhir Kandolkar by 600 votes in Mapusa Assembly seat after the first round of counting.
In Goa the BJP is leading in three and the Congress is ahead in one.
Of the total 22 bypoll seats in Tamil Nadu, DMK takes lead on 10 seats while AIADMK ahead on six. AIADMK faction needs to emerge victorious at nine seats to remain in power.
MP CM and Congress veteran Kamal Nath is leading in Assembly by-poll in Chhindwara constituency.
In West Benagl, BJP and TMC  ahead on 1 seat each.
In Mizoram, MNF ahead on 1 seat.
In Madhya Pradesh, Congress ahead on 1 seat.
In Goa, Congress and BJP take lead on 1 seat each.
In Tamil Nadu, DMK and AIADMK take lead on 1 seat each.
Counting of votes begins.
Two Assembly segments in Karnataka– Chincholi and Kundgol went to by-polls in the last phase of LS elections on May 19. In Chincholi, the bypolls were necessitated following Dr Umesh Jadhav's resignation as the Congress MLA following his differences with senior party leader Mallikarjuna Kharge. Avinash Jadhav, son of Dr.Jadhav contested on a BJP ticket against Congress candidate Subhash Rathod. Meanwhile, the Kundagol seat faced bypolls following the demise of municipal administration minister CS Shivalli. His wife Kusumavathi had contested on the Congress ticket against BJP's Chikkana Goudar.
In West Bengal five Assembly seats – Islampur, Kandi, Habibpur (ST), Nowda and Bhatpara – went for bypolls on May 19. The bypolls have been necessitated after the sitting MLAs resigned to contest the Lok Sabha polls. In Goa, Panaji, Shiroda, Mapusa and Mandre went to bypolls.
In Puducherry, lone Assembly seat Thattanchavady went to bypoll. The by-election became necessary after the seat fell vacant following disqualification of the sitting AINRC member Ashok Anand in the wake of his conviction in a disproportionate assets case in October last year.
In Nagaland, Aonglenden Assembly constituency went to bypolls. The bye-poll to Aonglenden Assembly constituency under Mokokchung district was a straight contest between the Congress nominee Alemjongshi Longkumer and Sharingain Longkumer of ruling NDPP. The by-poll was necessitated following the demise of sitting ruling MLA Imtikumzuk in September last year.