Flanked by Robert, Priyanka Vadra, Rahul Gandhi Files Nomination From Amethi
Congress president Rahul Gandhi reaches Amethi to file nomination for the Lok Sabha elections, accompanied by sister Priyanka, mother Sonia Gandhi and brother-in-law Robert Vadra.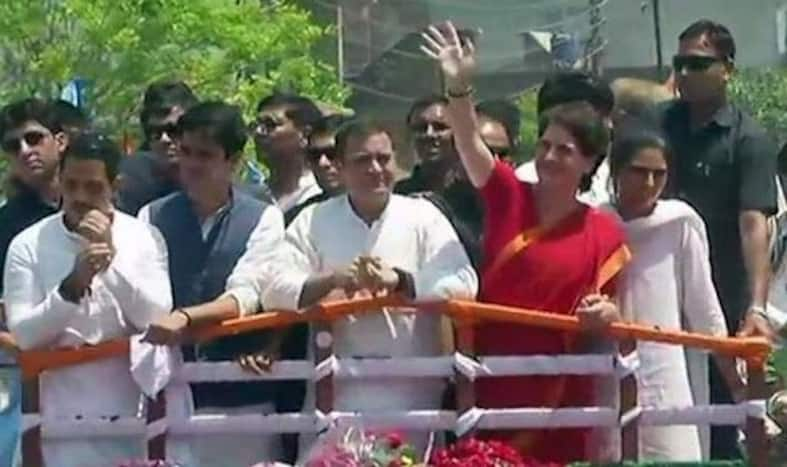 New Delhi: As Congress president Rahul Gandhi stood atop a caravan, waving at crowds gathered in the lanes of Amethi on Wednesday flanked by sister Priyanka Gandhi Vadra, what caught everyone's attention was the attendance of her embattled husband Robert Vadra.
The Gandhi siblings reached Rahul's Lok Sabha constituency Amethi in regard to his nomination filing for the Lok Sabha elections.
Congress President Rahul Gandhi files his nomination from Amethi for #LokSabhaElections2019 . Sonia Gandhi, Priyanka Gandhi Vadra and Robert Vadra also present. pic.twitter.com/EvNswqEm3N

— ANI UP (@ANINewsUP) April 10, 2019
A roadshow ahead of Rahul's nomination filing was no less than a staunch show of support from the people of Amethi, aimed at sending a message to Congress' political opponents- who claim that Rahul is fighting a losing battle.
As crowds ushered the Gandhi siblings into Amethi with loud chants and petals shower, waving and greeting them was Robert Vadra and his children Raihan and Miraya.
Vadra, who is facing charges of corruption in Haryana, Rajasthan land deals and money laundering chargers pertaining to some of his alleged undisclosed assets in London, had recently said that he would campaign for Rahul Gandhi if needed.
Soon after many BJP leaders like Smriti Irani and Arun Jaitley mocked his decision. Union textiles minister Smriti Irani was the first to train her guns and was quoted, "Wherever Robert Vadra is going to campaign for Congress, I would advise people to take care of their land."
Jaitley had too derided Vadra and commented, "I don't know if this will be an asset for the campaign of Congress party or for the campaign of BJP."
Robert and Priyanka Gandhi Vadra's children were also seen atop the Congress caravan, often waving and smiling at the public. Congress in-charge for UP (East) was seen signalling to crowds that she was accompanied by her children.
#WATCH Congress President Rahul Gandhi holds road show in Amethi. Priyanka Gandhi Vadra along with her husband Robert Vadra, son Raihan and daughter Miraya also present. #LokSabhaElections2019 pic.twitter.com/edDv8W7aHl

— ANI UP (@ANINewsUP) April 10, 2019
Meanwhile, UPA chairperson Sonia Gandhi also reached Amethi in view of Rahul's nomination filing for the Lok Sabha elections. Rahul Gandhi's contest from Amethi is against BJP's Smriti Irani.