Hindutva is Our Breath, Roars Uddhav Thackeray in NDA's Show of Strength at Amit Shah's Rally
"My father said Hindutva is our breath", Shiv Sena chief Uddhav Thackeray on Saturday said amidst a loud cheering crowd at Amit Shah's Ahmedabad as the NDA put forth a united front ahead of the Lok Sabha elections 2019.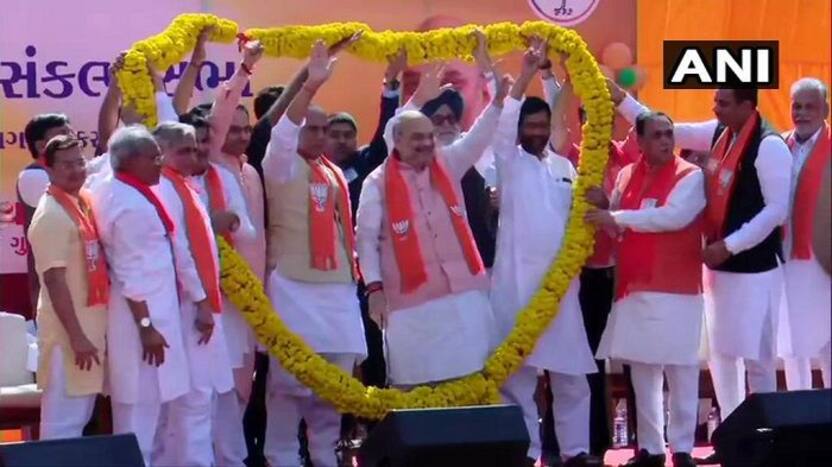 New Delhi/Ahmedabad: With a galaxy of political heavyweights attending BJP national president Amit Shah's Ahmedabad rally on Saturday, the National Democratic Alliance (NDA) sent out a strong message in the runup to the Lok Sabha elections 2019- We stand united.
Apart from senior BJP leaders, like Union ministers Rajnath Singh, Arun Jaitley and Nitin Gadkari, Shiromani Akali Dal (SAD) chief Prakash Singh Badal, Shiv Sena chief Uddhav Thackeray and LJP chief Ram Vilas Paswan also accompanied Amit Shah on stage in Ahmedabad.
Addressing the mammoth gathering, Shah spoke of his four-decades-long political journey and summed in it as, "My life holds no meaning without the BJP. Whatever I have learned or achieved is all because of the association with the party," The Hindustan Times quoted the BJP national president.
He further charged, "This election will be fought only on the issue of who will lead the country… When I ask this question to people from Himachal to Kanyakumari and from Kamrup to Gandhinagar, I can only hear one sound – 'Modi, Modi, Modi'."
Showering praise and love on the BJP leadership and putting forth a never-seen-before united show, Uddhav Thackeray while addressing the Ahmedabad rally said, "There were differences but they have been overcome. All the controversies have come to an end. Hindutva and nationalism are the ideological core of both the parties," he said to cries of "Bharat Mata ki Jai". "My father (Bala Saheb) used to say that Hindutva is our breath and we cannot live without it."
He said some political parties were celebrating when the BJP and Shiv Sena had differences but were taken aback to see him in Gandhinagar on Saturday.
"There are 56 opposition parties who have joined hands but their hearts have not yet met. We have one leader. Who is your leader? Who will be your Prime Minister? Everybody is an aspirant there and infighting has already begun for the post," he said. But he also added, "We had our own issues and we raised it (with the BJP). We don't believe in the culture of backstabbing. I have come here to support wholeheartedly."
According to a report in the HT, a passionate Thackeray further claimed, "The opposition has come together. They reminded me of the movie Ab Tak Chappan… they have so many leaders holding each others' hands. There is a phrase, 'hearts may or may not meet but the hands must always do. But our hearts have met."
After concluding his public address, Shah then undertook a four-km long road show between Naranpura and Gandhinagar collector office in an open truck and then filed his nomination for the Gandhinagar Lok Sabha seat. Flanked by Shiv Sena chief on one side and senior BJP leaders on the other, Shah signed the papers, thus also marking a generational shift in Gujarat politics. He replaced BJP veteran L K Advani, who had been winning uninterrupted from Gandhinagar since 1998, from the prestigious constituency.
Gujarat: Bharatiya Janata Party (BJP) President Amit Shah holds a road show in Ahmedabad. pic.twitter.com/T42WkCPz9i

— ANI (@ANI) March 30, 2019
Speaking to the media later, the Shiv Sena chief again exuded confidence about the incumbent government repeating its 2014 results and said, "We (NDA allies) did not come to demonstrate our power as it is obvious that the alliance is powerful. Now that BJP and Shiv Sena have come together the Opposition is bound to be defeated."