Lok Sabha Elections 2019: Day After Threatening to Quit, Ramdas Athawale Says, 'RPI Will Continue in NDA, Just Seeks 2 Seats'
Athawale is upset that while announcing their poll tie-up, the BJP and the Sena didn't speak to him.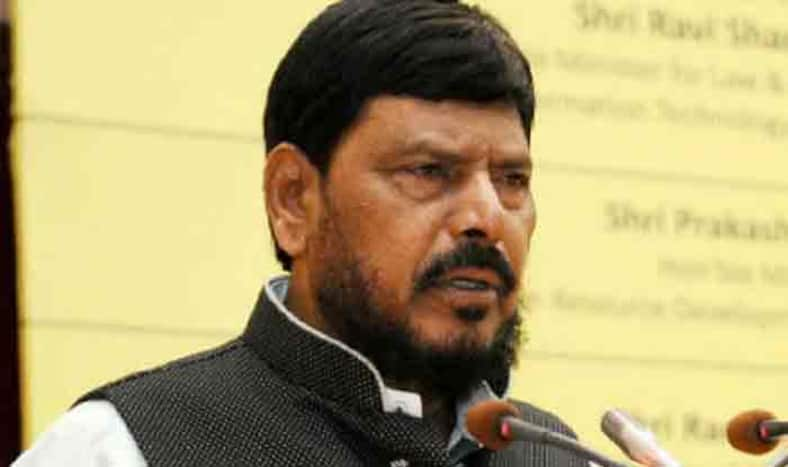 New Delhi: A day after hinting at walking out of the NDA, Republic Party of India (RPI) chief Ramdas Athawale said on Monday, "We will stay with the NDA. We have certain demands, including that RPI should get one seat from Shiv Sena and one from BJP;  one in Mumbai and one outside it. We want two seats." (Also read: SP, BSP Announce Tie-up in MP, Uttarakhand)
On Sunday, the Union Social Justice Minister had expressed his displeasure over his party not being spared a single seat by NDA allies BJP and Shiv Sena while announcing their tie-up for the upcoming Lok Sabha elections.
Threatening to withdraw from the alliance, Athawale had said, "If someone tries to corner me, I have the strength to corner them. This is true that when the BJP and the Shiv Sena decided to join hands when the announcement of an alliance was made in presence of Amit Shah, they should have called me."
Athawale has been known to speak his mind on various occasions. Earlier, he had condemned the derogatory remarks made on Mayawati by BJP lawmaker Sadhana Singh and called the BSP chief a "strong lady" from the Dalit community.
Speaking to ANI, he had said, "Mayawati is a strong lady from the Dalit community and is also a good administrator. Any derogatory comments against her are condemnable."
"Though my party supports the BJP in the alliance but any such statements are condemnable," he had said in response to a reporter's question.
At a rally in Uttar Pradesh, Sadhana, a BJP MLA from Mughalsarai, had said, "I don't think Uttar Pradesh's former chief minister is either a woman or a man. She doesn't understand the concept of dignity. Draupadi was a victim of sexual misconduct. She vowed to get revenge. That was a self-respecting woman. Look at this woman. Everything was looted from her, despite which she sold all her dignity to get power."