Lok Sabha Elections 2019: SP, BSP Announce Alliance in Madhya Pradesh, Uttarakhand
BSP would be contesting from more seats in both the states.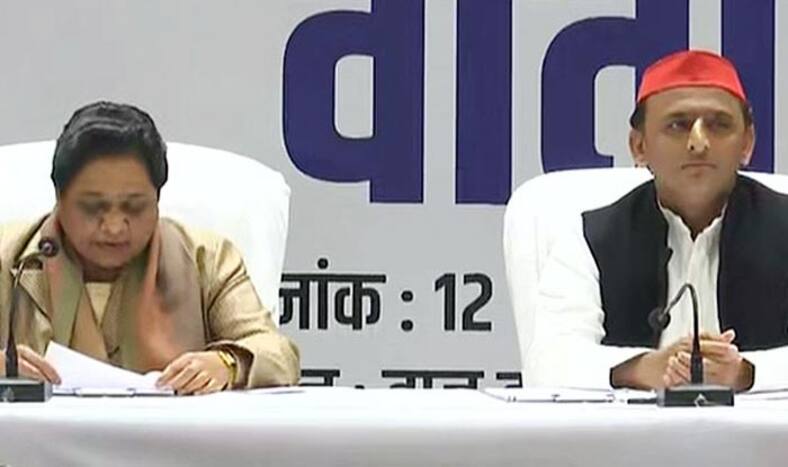 New Delhi: It is official now. Not just in Uttar Pradesh, Bahujan Samaj Party (BSP) and Samajwadi Party (SP) would contest Lok Sabha elections in alliance in Madhya Pradesh and Uttarakhand too.
According to press statements by both the parties, in both the states, the BSP would be contesting from more seats than the SP.  In MP, the SP has settled for three seats.
The three seats which the SP would be contesting from are Balaghat, Thikri and Khajuraho, said reports. The BSP would contest on the rest of the seats, which means 26 seats of the 29 Lok Sabha seats.
Likewise, in Uttarakhand, the SP will contest from Gadhwal district, and the BSP will contest the remaining seats. Uttarakhand has five Lok Sabha seats.
In Uttar Pradesh, where both the parties had announced their alliance days ago, the SP would fight on 37 seats while the BSP would field candidates on 38 seats. Three seats have gone to the Rashtriya Lok Dal (RLD).
According to reports, the 37 seats that have fallen in the SP kitty in Uttar Pradesh are Kairana, Moradabad, Sambhal, Rampur, Mainpuri, Firozabad, Badaun, Bareilly, Lucknow, Etawah, Kanpur, Kannauj, Jhansi, Banda, Allahabad, Kaushambi, Phulpur, Faizabad, Gonda, Gorakhpur, Azamgarh, Varanasi and Mirzapur.
As far as the BSP is concerned, the seats it would be contesting from include Saharanpur, Bijnor, Nagina, Aligarh, Agra, Fatehpur Sikri, Dhaurahara, Sitapur, Sultanpur, Pratapgarh, Kaiserganj, Basti, Salempur, Jaunpur, Bhadohi and Deoria. While the two parties have refused to have any truck with the Congress, the alliance will not field any candidate from Amethi and Rae Bareli, the seats of Congress leaders Rahul and Sonia Gandhi.
Meanwhile, Uttar Pradesh Chief Minister Yogi Adityanath has said while the BJP's motto was "Sabka Saath, Sabka Vikas", the opposition SP, BSP and the Congress in the state stood for "Sabka Vinaash" (destruction of everyone).
Speaking in the state Assembly about ten days ago, the CM made the comments when a discussion on the budget was underway.
"SABKA stands for SP (Samajwadi Party), BSP (Bahujan Samaj Party) and Congress. Our 'sabka' slogan speaks about the development of all. Their 'sabka' speaks about the destruction of everyone…We stand for Sabka Saath, Sabka Vikaas. Yours is Sabka Saath, Sabka Vinaash," Adityanath said during the discussion.