live
Lok Sabha Elections: Congress President Rahul Gandhi to Release Manifesto For Upcoming Polls on April 2 at Party Headquarters
Lok Sabha Elections 2019 will be held in seven phases from April 11. The counting of votes will take place on May 23.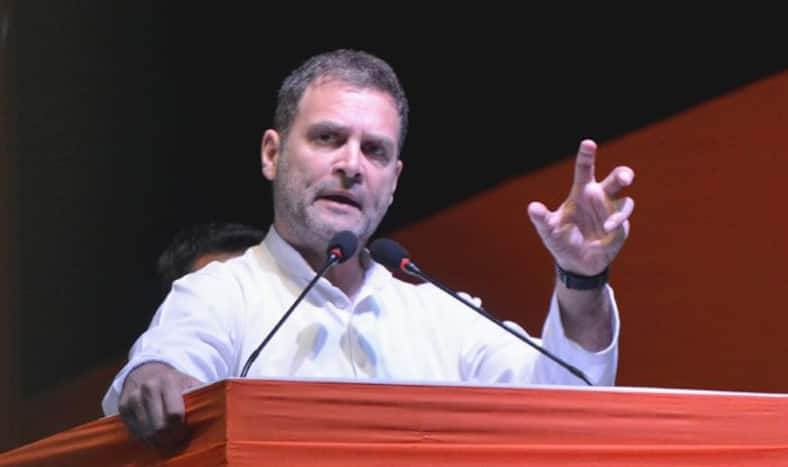 New Delhi: Congress President Rahul Gandhi will release the party's manifesto for the upcoming polls on April 2 at the party headquarters. On Wednesday, the Election Commission of India (ECI) directed a Committee of Officers to examine the matter regarding Prime Minister Narendra Modi's address to the nation on Mission Shakti in the light of the Model Code of Conduct.
Priyanka Gandhi, Congress General Secretary for UP East kicked off the second leg of her three-day Lok Sabha election campaign by visiting her brother and party President Rahul Gandhi's constituency Amethi on Wednesday.
She will go to her mother Sonia Gandhi's constituency Rae Bareli on Thursday and visit Ayodhya on Friday before returning to New Delhi. Her earlier plan had her beginning her visit from Ayodhya on Wednesday. During her visits, Priyanka Gandhi will meet party workers and address public gatherings.
Meanwhile, Bollywood actor-turned-politician Shatrughan Sinha, who has been associated with BJP for about three decades, is expected to join Congress party today. "Shatrughan Sinha will join Congress in New Delhi on March 28 at 11.30 am … He will be our candidate from Patna Sahib", chairman for the state Congress election campaign committee Akhilesh Prasad Singh told reporters yesterday.
The development comes after BJP replaced Sinha with Union Minister Ravi Shankar Prasad. Notably, Sinha had got elected for the Lok Sabha in 2009 and 2014 as well from Patna Sahib seat. Bihar will go for polling during all the seven phases of Lok Sabha elections. In Bihar, the Lok Sabha polls will take place on April 11, 18, 23, and 29 and May 6, 12 and 19. The counting of votes will take place on May 23.
Besides, Bollywood actress is also expected to join the grand old party in presence of Congress president Rahul Gandhi. She might contest the forthcoming Lok Sabha Elections 2019 as a Congress candidate from Mumbai North constituency.
Live Updates
Lok Sabha Elections LIVE: Congress President Rahul Gandhi to release party's manifesto for the Lok Sabha elections on April 2 at the party headquarters.

Lok Sabha Elections LIVE: Union Minister Nitin Gadkari in Nagpur said, "Congress workers are calling me and saying that I'm sure to win (Lok Sabha elections) and that they are with me. They say that physically they might be campaigning for Congress but mentally they are with me."

Lok Sabha Elections LIVE: Matter related to address of the Prime Minister to the Nation on electronic media today afternoon has been brought to the notice of ECI. The Commission has directed a Committee of Officers to examine the matter immediately in the light of Model Code of Conduct, said Election Commission.

Lok Sabha Elections LIVE: Priyanka Gandhi Vadra on being asked if she will contest in Lok Sabha Elections 2019 said she hasn't decided yet. Vadra said, "If my party asks me to contest, I will definitely contest. My wish is to work for the party."

Lok Sabha Elections LIVE: CPI-M writes to Election Commission over PM Modi's address to the nation today on "Mission Shakti"; states," this announcement comes in the midst of the ongoing election campaign where the PM himself is a candidate. This is clearly a violation of the Model Code of Conduct"

Lok Sabha Elections LIVE: Odisha's Biju Janata Dal (BJD) released another list of candidates for Lok Sabha Elections 2019, Pinaki Mishra to contest from Puri parliamentary constituency.

Delhi: Telugu Desam Party (TDP) delegation meets Election Commission of India alleging that EC transferred DG Intelligence and SPs of Kadapa and Srikakulam districts without any reason. pic.twitter.com/WnwE2K4Dq5

— ANI (@ANI) March 27, 2019

Lok Sabha Elections LIVE: West Bengal Chief Minister and TMC leader Mamata Banerjee attacked PM Modi on Mission Shakti and said, "What was the need for Modi at the time of election to violate the model code of conduct to take the credit? Does he work there? Is he going to space?"