MP CM Kamal Nath Forced to Vote in Camera Light Due to Power Cut at Booth
Madhya Pradesh Chief Minister Kamal Nath on Monday voted in camera light due to a power cut at his polling booth in Chhindwara.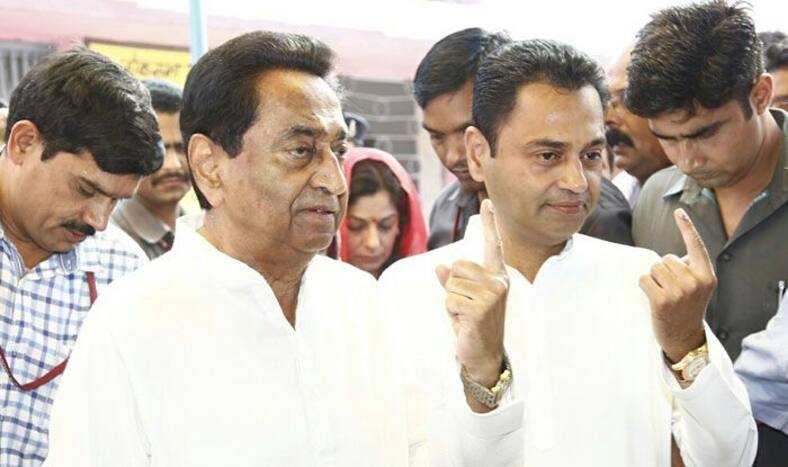 New Delhi: In a potentially embarrassing moment for Madhya Pradesh Chief Minister Kamal Nath today, the power went off when he reached the poll booth to cast his vote in Chhindwara in the fourth phase of Lok Sabha election 2019.
Click here for all updates on Lok Sabha elections 2019
The incident took place around 8 am when the chief minister along with his family reached to cast his franchise and had to resort to camera light to press the EVM button.
Reportedly, the power was restored in half an hour.
Coming out of the polling booth, Kamal Nath speaking to the media said that this matter will be looked into.
Kamal Nath's son Nakul Nath is the Congress candidate from the Chhindwara parliamentary constituency, which Kamal Nath has formerly won over nine times.
Madhya Pradesh recorded a voter turnout of 57 per cent till 5.30 pm in six out of the 29 parliamentary seats which went to the polls in the fourth phase of Lok Sabha elections — the first in the state — on Monday, as per official data received here.
The six Lok Sabha seats in the Vindhya and Mahakoshal region where polling was held on Monday were Sidhi, Shahdol, Jabalpur, Mandla, Balaghat and Chhindwara. In 2014, the Bharatiya Janata Party (BJP) had won five of the six seats.
Barring the Maoist-affected Baiher, Lanji and Paraswada Assembly segments under the Balaghat parliamentary constituency, polling elsewhere was conducted from 7 am to 6 pm In the affected areas, polling was held between 7 am and 4 pm.
With IANS inputs