NDA Sends Strong Message From Varanasi as PM Modi Files Nomination in Presence of Allies
With the Prime Minister Narendra Modi filing his nomination from the Varanasi Lok Sabha constituency today in presence of key allies, the NDA sent out a strong message.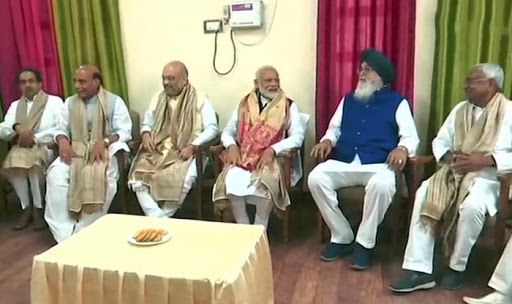 New Delhi: In a massive show of strength, the Bhartiya Janata Party-led National Democratic Alliance on Friday flexed its political might by getting together a galaxy of alliance leaders.
Prime Minister Narendra Modi filed his nomination from the Varanasi Lok Sabha constituency- seeking another term as an MP.
PM Modi files his nomination for Varanasi. #DeshModiKeSaath pic.twitter.com/645ouFCb12

— BJP (@BJP4India) April 26, 2019
Click here for all update on Lok Sabha elections 2019
Among the top NDA leaders from across the country, who thronged the DM's office on Friday ahead of Modi's arrival was former Punjab Chief Minister and Shiromani Akali Dal (SAD) chief Parkash Singh Badal, Bihar Chief Minister and Janata Dal-United (JD-U) chief Nitish Kumar, Lok Janshakti Party (LJP) head Ram Vilas Paswan, AIADMK coordinator O Panneerselvam, Shiv Sena Chief Udhav Thackrey, Nagaland Chief Minister and the national convener of NDPP Niphieu Rio and leaders of Asom Gana Parishad, Apna Dal.
BJP national president Amit Shah, Union ministers Rajnath Singh, JP Nadda, Nitin Gadkari, Sushma Swaraj were also present at the collectorate.
The BJP struck an alliance with the SAD in Punjab to contest three seats out of 13, in addition to being its ally in Haryana, Delhi and Uttarakhand. SAD also announced that it would not contest the election in Haryana but back all BJP candidates fielded on 10 Lok Sabha seats.
Whereas in Maharashtra, the BJP and the Shiv Sena rekindled their alleged strained relationship on April 9 when Prime Minister Narendra Modi shared dais for the first time after 28 months with Shiv Sena President Uddhav Thackeray. Notably, the Shiv Sena chief was also present at Amit Shah's nomination filing in Gujarat's Gandhinagar on March 30. Addressing a rally there, Thackeray had roared, "My father (Bala Saheb) used to say that Hindutva is our breath and we cannot live without it… All the controversies have come to an end. Hindutva and nationalism are the ideological core of both the parties," he said to cries of "Bharat Mata ki Jai".
On the other hand, as per the NDA's seat-sharing formula, BJP and JD-U will contest 17 seats each, while 6 seats will be contested by the LJP in Bihar.