Now, Tej Pratap Yadav to Field His Candidate From Jehanabad Against RJD
Lalu Yadav's elder son Tej Pratap Yadav will now reportedly field his candidate from the Jehanabad Lok Sabha seat against the RJD.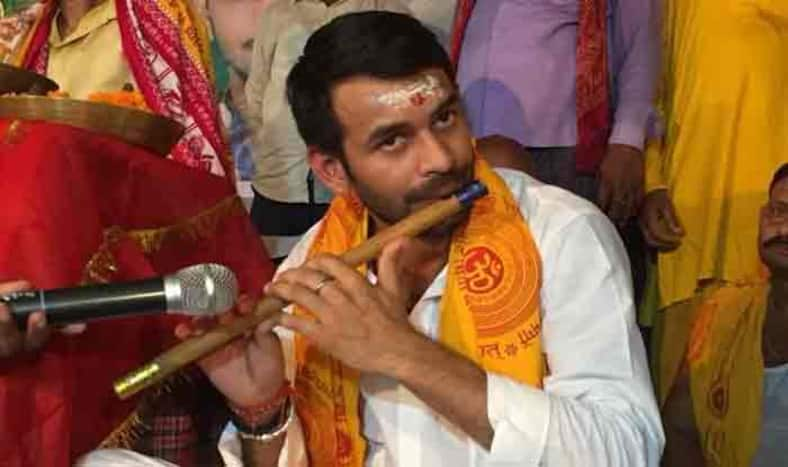 New Delhi: Rashtriya Janata Dal (RJD) patriarch Lalu Yadav's elder son Tej Pratap Yadav will reportedly field his candidate from the Jehanabad seat against the RJD. According to Zee News reports, Tej Pratap Yadav announced on Saturday that his candidate Chandra Prakash Yadav will contest from Jehanabad against RJD as an independent candidate. The RJD has announced Surendra Yadav, a sitting MLA, as its official nominee from the Jehanabad seat.
This development comes in wake of reports of a widening rift between Lalu Yadav's two sons Tej Pratap Yadav and Tejashwi Yadav for the coveted RJD leadership. Both brothers are reported to be sparring over the allocation of tickets for some constituencies- particularly Jehanabad and Sheohar Lok Sabha seats.
Meanwhile, Tej Pratap Yadav is also believed to contest the upcoming Lok Sabha Elections 2019 as an independent candidate against father-in-law Chandrika Rai from Saran. The reports emerged close in tow of  Tejashwi Yadav announcing the Bihar Mahagathbandhan. Addressing a press meet in Patna, earlier on Friday, RJD leader Tejashwi Yadav informed, "RJD to contest on 19 seats including Bhagalpur, Banka, Madhyapura, and Darbhanga. RLSP (Rashtriya Lok Samta Party) to contest on five seats, Congress to contest on nine seats including Patna Saheb… Sharad Yadav to contest from Madhepura, Sarfraz Alam from Araria and Misa Bharti from Pataliputra."
In addition, Tej Pratap Yadav on Thursday stepped down from his post as the patron of the party's students wing. Announcing the decision on social media, he wrote, "I am stepping down from the post of the patron of RJD students' wing. Those who think I am naive don't know that I know everything."
Later, speaking to Zee News, he hinted at a rift within the family by saying that he had asked Tejashwi for two tickets but didn't hear from him. He said, "I am willing to sacrifice my life for my people." He added that patriarch Lalu Yadav should realise that the RJD is because of the public but, he rued, his father doesn't get to hear many things.
In November, he filed a petition in a court seeking a divorce from his newly-wed wife Aishwarya Rai. Despite pressure from his family, he refused to withdraw the plea. Aishwarya is Chandrika Rai's daughter and granddaughter of former Chief Minister Daroga Rai.
All 40 parliamentary constituencies in Bihar will go to Lok Sabha Elections 2019 in seven phases between April 11 and May 19. Saran will vote in the fifth phase on May 6. The counting of votes will be held on May 23.