'Only a Chaiwala Can Understand The Pain of Chaiwalas': PM Modi in Assam's Moran
After the rally in Assam's Moran, prime minister Narendra Modi is scheduled to address the second rally in Gohpur at 3 PM.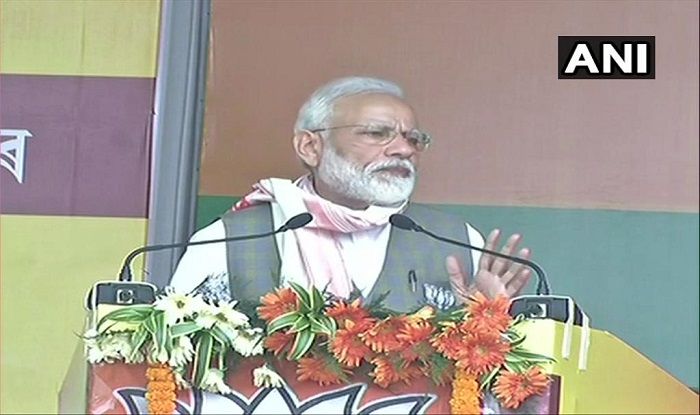 New Delhi: Prime Minister Narendra Modi on Saturday referred himself as a 'chaiwala' and promised to improve the condition of tea gardens and its people in both Assam and West Bengal. While addressing the public, ahead of Lok Sabha Elections 2019, in Dibrugarh district of Assam, he said, "What else is the reason for tea farmers to face problems for 7 decades? They did not even get basic facilities. Only a 'chaiwala' can understand the pain of 'chaiwalas'."
PM Modi also said, "They hate chowkidar, they've problem with chaiwalas too. I used to think it's only one chaiwala on their target. But when I visited all corners of the country, I realised be it WB or Assam, they don't even like to look at someone associated with tea." On Saturday, the Prime Minister asked the people of Arunachal Pradesh to vote for a 'chowkidaar' who would provide security to the country even as he attacked Opposition parties, saying they were "disheartened" by India's growth and success. Kicking off his campaign in Arunachal for simultaneous Lok Sabha and Assembly polls the prime minister added that Arunachal is a "shield for the country with the people zealously guarding the border as sentinels".
Euphoric atmosphere in Moran. Assam's support for BJP remains strong. Watch. https://t.co/ATOLIdVNHK

— Chowkidar Narendra Modi (@narendramodi) March 30, 2019
Meanwhile, Modi is scheduled to address the second rally in Gohpur at 3 PM. In the 1st phase of general elections, polling would be held in 5 constituencies namely Kaliabor, Jorhat, Dibrugarh, Tezpur and Lakhimpur in Upper Assam. The counting of votes will be conducted on May 23.
(With agency inputs) 
Subscribe Now
Enroll for our free updates