Opposition Mounts Attack on EVMs, Demands Return of Ballot Paper | Updates
Leading the charge, Andhra Pradesh Chief Minister N Chandrababu Naidu said, "The elections in Andhra Pradesh is over and now I am fighting for the country, for transparency in elections. Why so much money is being wasted on VVPATs when they are not being counted."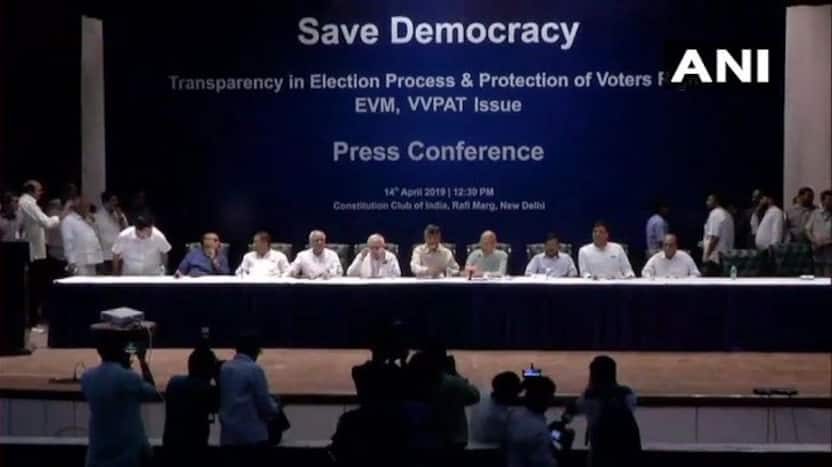 New Delhi: As many as 21 political parties gathered today at the Constitution Club of India in the national capital to demand that 50 per cent EVMs be verified against paper trails. In a united attack on the functioning of EMVs, several opposition leaders addressed the media together on Sunday, while voicing demands for the return of ballot paper.
This comes just four days ahead of the second phase of the Lok Sabha elections 2019. Click here for all updates on Lok Sabha elections 2019
Leading the charge, Andhra Pradesh Chief Minister N Chandrababu Naidu said, "The elections in Andhra Pradesh is over and now I am fighting for the country, for transparency in elections. Why so much money is being wasted on VVPATs when they are not being counted."
He further said, "The Election Commission has given a wrong affidavit in the Supreme Court saying that the counting process will take 6 days if 50 per cent VVPATs trails are to be verified… How is this possible? Previously when paper ballots were counted it used to take a time of maximum 24 hours… Why has the EC lied in the court… After the government, the election commission has lost its credibility."
Congress leader Abhishek Singhvi too spoke of the irregularities in EVMs and said, " Questions were raised after the 1st phase of election, we don't think EC is paying adequate attention. If you press the button before X Party, the vote goes to Y party. VVPAT displays only for 3 seconds, instead of 7 seconds."
He further backed one of Naidu's claims that names of voters are being erased online. "Names of Lakhs of voters are deleted online without physical verification… It has become even more necessary to count at least 50% of the paper trail of VVPAT. We will demand the same in the Supreme Court."
In addition, Aam Aadmi Party national convener and Delhi Chief Minister Arvind Kejriwal claimed, "People have lost faith in EVMs… EVMs are manipulated for winning the Lok Sabha elections by the BJP."
The second phase of Lok Sabha Elections 2019 is scheduled for April 11. The seven-phase polls will conclude on May 19. The counting of votes is scheduled for May 23.
This is a developing story