'Our Situation Was Same Before 2014', PM Modi Draws Parallel Between Colombo Blasts And India Under UPA
PM Narendra Modi attacks Congress, claims there were regular terror strikes in parts of country before 2014.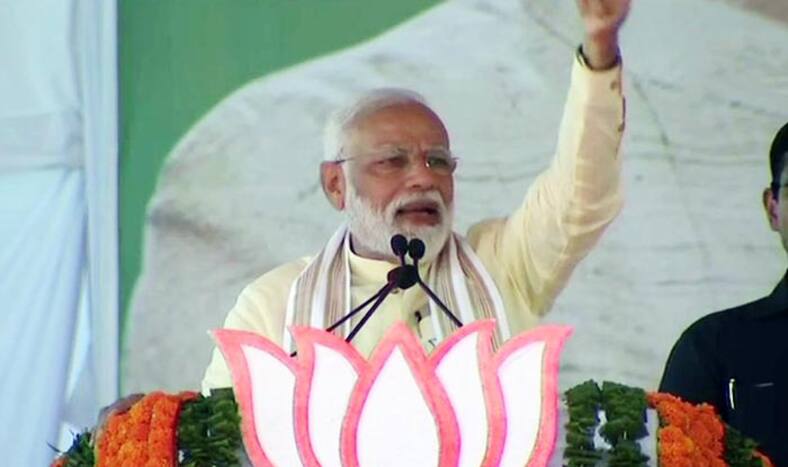 New Delhi: Referring to the deadly blasts in Sri Lanka's Colombo that claimed lives of 290 people including 5 Indains, Prime Minister Narendra Modi on Monday said his government took bold steps to counter terror attacks in contrast to the 'pusillanimous' approach adopted by the earlier Congress-led UPA.  "Yesterday (on Sunday), bomb blast happened in Sri Lanka. Hundreds were killed, that too, on the auspicious occasion of Easter. They were praying to their god when they were killed.What was the situation in India prior to 2014? Modi asked while addressing  a poll rally in Nashik district of Maharashtra.
He added, "There were regular terror strikes in Maharashtra, Ayodhya, Jammu and Kashmir and other parts of the country. The (then) Congress-Nationalist Congress Party government just mourned and kept crying about Pakistan. But after coming to power in 2014, your 'Chowkidar' changed that strategy and rammed the terrorists inside their dens and the result is before all to see. We changed that pusillanimous policy."
(Full coverage on Lok Sabha Elections 2019)
The Prime Minister was referring to the February 26 Indian Air Force strikes in Balakot, Pakistan, after the February 14 Pulwama attack which killed 40 CRPF troopers.
Furthermore he claimed,"Terror is now practically erased from the country, barring some pockets in Jammu and Kashmir but even there, our security forces regularly keep killing the terrorists… The terrorists are scared that under 'Modi' they cannot escape punishment."
Modi also accused the Congress of 'destroying' the state- run HAL and added his government increased defence production under the 'Make in India' programme. Without naming any leader from the opposition, Modi said 'some' experience electric current the moment I talk about dynasty and national security.
PM also claimed that the opposition was restless given the response the BJP got in the first two phases of the Lok Sabha polls across the country.