live
Congress Not in Favour of Alliance; AAP Will Contest, Win All 7 Seats in Delhi: Sanjay Singh
Catch all live updates on Lok Sabha Elections 2019. The polling for the same will be held in seven phases, beginning April 11. The counting of votes will be conducted on May 23.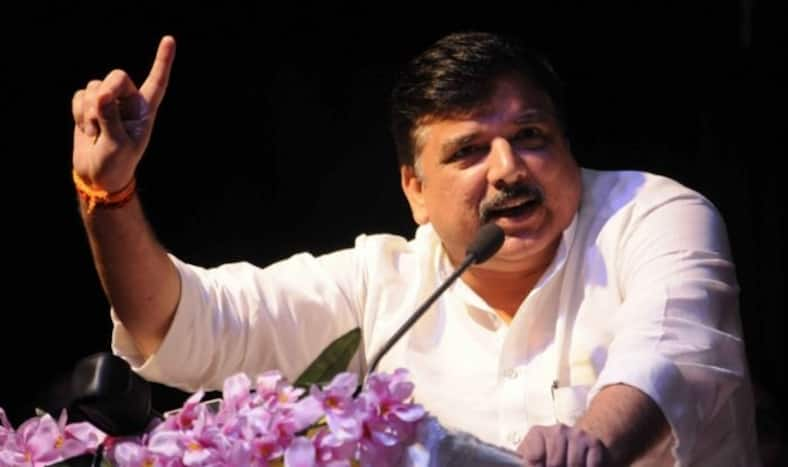 New Delhi: Congress president Rahul Gandhi on Wednesday filed his nomination for Uttar Pradesh's Amethi parliamentary seat. The leader also conducted a roadshow in the district, during which he was accompanied by Robert Vadra and sister Priyanka Gandhi.
Meanwhile, Prime Minister Narendra Modi addresses a rally in Junagarh of Gujarat while asking the gathering if they are proud of the 'chowkidar'. He also addressed another rally in Gunsada village in Songadh taluka of tribal-dominated Tapi district of south Gujarat. "The PM will address people from Bardoli as well as adjoining Navsari Lok Sabha seats in that rally," a release by the BJP on Tuesday informed.
(For Full Lok Sabha elections coverage, follow https://www.india.com/lok-sabha-election-2019/)
The Prime Minister will also address a poll rally at Goa's Dr Shyama Prasad Mukherjee stadium today evening. Polls for the state's two Lok Sabha seats and three Assembly seats (bypolls) will be held on April 23. BJP star campaigners including senior leaders Rajnath Singh, Nitin Gadkari, Suresh Prabhu and Smriti Irani will address meetings in North Goa and South Goa Lok Sabha seats in the state.
Other important rallies for the day:
1) Amit Shah will address an election rally in Etah, Ferozabad in UP
2) Amit Shah will also attend Road Show in Karnataka
3) UP CM Aditynath Yogi will address rallies in Bareilly, Badaun, Agra and Etah
4) Akhilesh Yadav will be in Etah
5) Owaisi will be in Solapur to campaign for Prakash Ambedkar
6) Priyanka Gandhi likely to do a road show in Fatehpur Sikri of Agra
7) Mayawati will be in Mysuru for her election campaign
8) Rahul Gandhi likely to do a rally in Katihar
9) Nitish Kumar to do a rally in Katihar
10) Rajnath Singh will be in Madhepura
11) Tejashwi Yadav will campaign in Khagaria, Araria, Madhubani, Vaishali
Lok Sabha Elections 2019 are scheduled to be held in seven phases, beginning April 11. The counting of votes will be conducted on May 23.
Live Updates
LS Polls 2019 Live: AAP MP Sanjay Singh on an alliance with Congress: In Punjab, we've 4 MPs and 20 MLAs and Congress doesn't want to share seat there; the same situation is in Haryana, Goa and Chandigarh. In Delhi, where they don't have any MLA or MP, they're demanding 3 seats. So, this alliance is not possible.

LS Polls 2019 Live: BJP MP from Ranchi Lok Sabha seat, Ramtahal Chaudhary, resigned from the party. He said he will contest independently. The BJP had announced Jharkhand Khadi Gramodyog Board Chairman Sanjay Seth as its candidate from Ranchi.

LS Polls 2019 Live: MLA Alpesh Thakor of Thakor Kshatriya Sena after resigning from Congress party said, "I will not join BJP. I and my two MLAs (MLA Dhavalsinh Thakor and MLA Bharatji Thakor, who have also resigned from Congress party today) will complete our 5 years' tenure as MLA."

Chief Election Commissioner, Sunil Arora: It's a humble appeal that more & more people should come & cast their votes so that the bedrock of democracy strengthens. Our efforts will be fructified if each one of us who is an elector shows adequate zeal & faith in democratic system pic.twitter.com/7bKv9xx9ON

— ANI (@ANI) April 10, 2019

LS Polls 2019 Live: Congress is now openly claiming that the middle class of the country is selfish and therefore, they are planning to hike taxes on them: PM Modi.

LS Polls 2019 Live:

"

Naamdaar poochne gaye the haalchal aur bahar nikalte hi aisa jhoot bola koi kalpana nahi kar sakta hai. Manohar ji jo maut se muqabla kar rahe the. Aisi paristithi main, ye jhoot bolne walon ko safai dene ke liye unko nikalna pada,"

PM Modi in Goa.

LS Polls 2019 Live: "Steps like e-Visa and Visa on arrival have promoted and boosted tourism in Goa. Besides, we are upgrading the infrastructure. We have ensured connectivity of all sorts. Panaji is being developed as a Smart City which will also promote tourism," said PM Modi.