'Take my Words Back': Sadhvi Pragya Takes U-turn on Remark Against 26/11 Martyr Hemant Karkare in Less Than 24 Hours
Sadhvi Pragya Singh Thakur had earlier in the day made a 'controversial' remark against the former Mumbai Anti-Terrorist Squad (ATS) chief Hemant Karkare, who died during the 2008 Mumbai terror attack.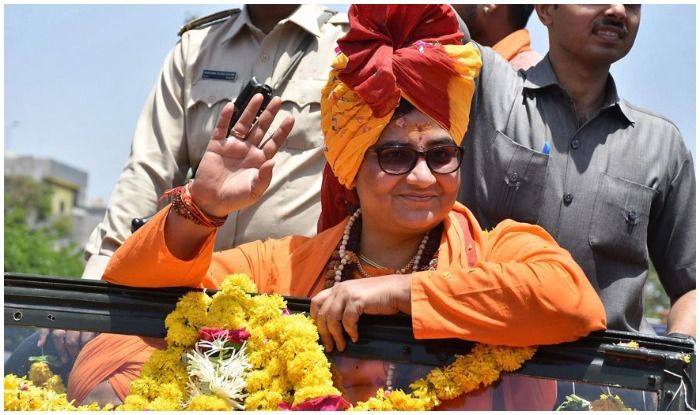 New Delhi: Sadhvi Pragya Singh Thakur, the Bharatiya Janata Party (BJP) candidate for Lok Sabha Elections 2019 from Bhopal, who faced backlash over her remark against former Mumbai Anti-Terrorist Squad (ATS) chief and 26/11 Mumbai terror attack martyr Hemant Karkare, issued an apology on Friday.
Taking a u-turn, she reportedly said, "I felt that the enemies of the country were being benefited from it, therefore I take back my statement and apologise for it, it was my personal pain." She also added, "He (Hemant Karkare) died from the bullets of terrorists from the enemy country, he is certainly a martyr."
The development came a few hours after the BJP distanced itself from her remark, saying, "BJP considers him a martyr. This is Sadhvi Pragya's personal statement which she might have given because of the mental and physical torture she had faced." (Full coverage on Lok Sabha Elections)
Meanwhile, earlier in the day, the Election Commission of India (ECI) took cognisance of her remark and ordered an enquiry into the same. In addition, the IPS Association too registered their 'strong condemnation' against Sadhvi Pragya for her comments on late Hemant Karkare.
Addressing the media on Friday, Sadhvi had said, "Maine kaha tera (Mumbai ATS chief late Hemant Karkare) sarvanash hoga. Theek sava mahine mein sutak lagta hai. Jis din main gayi thi us din iske sutak lag gaya tha.Aur theek sava mahine mein jis din atankwadiyon ne isko maara, us din uska anth hua." (Hemant Karkare falsely implicated me in Malegaon blasts and treated me very badly. I told him your entire clan will be erased. He died because of his karma," Sadhvi said.)
How Political Parties Reacted to Sadhvi's Remark
The remarks of BJP leader against the 2008 Mumbai attacks martyr raised a political storm on Friday with opposition parties attacking the party and the Congress demanding an apology from Prime Minister Narendra Modi.
Congress president Rahul Gandhi said Karkare gave his life protecting the country and must be treated with respect. "Hemant Karkare gave his life protecting India. He must be treated with respect," the Congress chief tweeted.
Terming the remark 'disgraceful', Aam Aadmi Party (AAP) chief Arvind Kejriwal tweeted, "Disgraceful comments by BJP's Bhopal Lok Sabha candidate Pragya Thakur on 26/11 martyr Hemant Karkare ji need to be condemned in strongest terms." Adding, he posted, "BJP is showing its true colours and it must be shown it's place now."
PDP's Mehbooba Mufti said these are the 'worst days' for the country as such candidates are in the fray. Speaking to reporters in Srinagar, she said, "I think these are the worst days for our country that you are giving such a choice of candidates to the people who use such language against a martyr like Hemant Karkare."
The Bharatiya Janata Party (BJP) on Wednesday had fielded Malegaon blast case accused Sadhvi Pragya Singh Thakur in Lok Sabha elections from Bhopal against Congress heavyweight and former Madhya Pradesh chief minister Digvijaya Singh. Out on bail, Thakur has been discharged by a court on charges under the stringent Maharashtra Control of Organised Crime Act (MCOCA) in the 2008 case but is still facing trial under other criminal provisions.