Sadhvi Thakur's Nomination an Answer to Those Who Called Hindu Civilisation 'Terrorist': PM Modi
PM Modi went on to agree with Sadhvi Thakur's earlier statement wherein she claimed that the latter was tortured in police custody.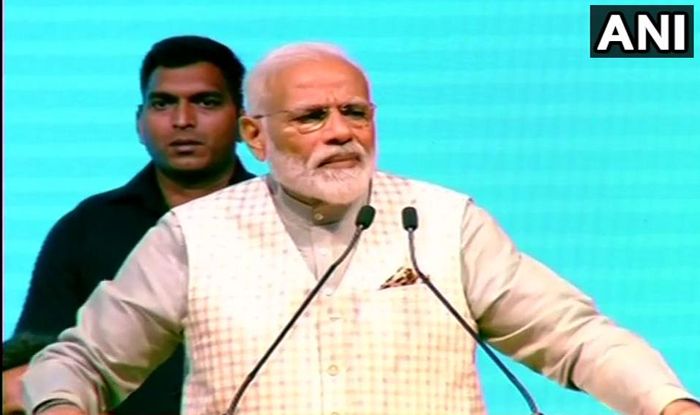 New Delhi: Prime Minister Narendra Modi on Friday hit back at Opposition who questioned Bharatiya Janata Party (BJP's) decision to field Sadhvi Pragya Singh Thakur, the Malegaon blast accused, as the party's candidate from Bhopal saying it was a symbolic answer to those who had described Hindu civilisation as 'terrorist'.
PM Modi's remarks came the same day when Sadhvi Thakur stirred a controversy saying that IPS officer Hemant Karkare died in the 26/11 Mumbai terror attacks as she had cursed him. Later on Friday evening, she took a U-turn from her statement saying she did not wish the Opposition to benefit from it. The Congress, as well as several opposition parties and leaders, had slammed Thakur's comments.
Speaking to a leading news channel, Modi went on to agree with Sadhvi Thakur's earlier statement wherein she claimed that the latter was tortured in police custody. Siding with Sadhvi, he claimed that no one raised a figure when Thakur was tortured in jail and blamed the Congress of building a false narrative.
Meanwhile, PM Modi also accused the Congress party of terrorism. Referring to the 1984 anti-Sikh riots, PM said "Her (Indira's) son (Rajiv Gandhi) said when a big tree falls, the earth shakes. After that thousands of Sikhs were massacred in Delhi. Was it not the terrorism of certain people?"
PM Modi reiterated his stance on the Pulwama terror attack and said that the ghastly ambush would not have happened if a strong reply was given after the terror attack in Mumbai in November 2008. The PM claimed that the Indian Air Force (IAF) had asked the then Manmohan Singh-led UPA government to give them a free hand to avenge the Mumbai attacks but they were not allowed to do so.
PM Modi also noted that the Balakot airstrike on Jaish-e-Mohammed (JeM) terror camps was successful as Pakistan did not allow the media to visit the site for more than 40 days. While a one-on-one with Times Now, PM Modi added that no patriotic Indian could afford to sit back after the February 14 Pulwama terror attack which claimed the lives of 40 CRPF personnel.
"If we remain silent at a time like this, then the perpetrators will get into the habit of thinking that the government is not strong and they can get away. If action had been taken after the 26/11 Mumbai attacks, Pulwama would not have happened," he said.
Citing the example of 9/11, PM Modi said no major terror incident has taken place in the US after the terror attack as their government showed strength.
"Whenever such incidents happened in the past in India, even when the Pandits were driven out of the Kashmir Valley, if strong steps had been taken at that time then we would not have faced 40 years of terrorism and lost thousands of soldiers. But at that time politics got in the way, vote banks got in the way," PM Modi said.
PM Modi made it clear that there was no connection between Balakot airstrike and the ongoing general elections. He said, "It is a reflection of their thinking."
"They have never thought there is something called national policy which is much bigger than politics. This is beyond their understanding. I find it very painful to even descend into this kind of argument."
He said the sacrifice of 40 jawans meant a new warning bell of danger which had to be answered.
"This had to be answered. I had decided after the Uri attack that now the time had come to carry out action where the terrorists get shelter and weapons and where they get their training. That is why on the very first day (after Pulwama attack) I gave a free hand to the Army," the Prime Minister said.
(With agency inputs)