UP First Phase: Make-or-Break For Alliance, No Cakewalk For BJP or Cong Either
Only eight seats out of the total 80 Lok Sabha seats in UP go to polls on April 11 but it would be a make-or-break situation for the SP-BSP-RLD and for the BJP-led NDA.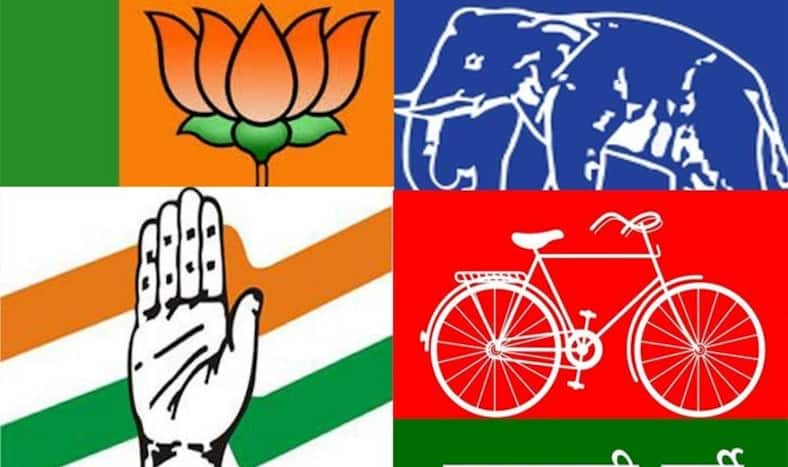 Lucknow: The fate of a total number of 96 candidates for eight Lok Sabha seats would be sealed in the EVM machine on April 11 when the first phase of Lok Sabha election in Uttar Pradesh begins.
Even though only eight seats out of the total 80 Lok Sabha seats in Uttar Pradesh would go to polls on April 11, the voting trend is sure to end up becoming a make or a break situation for the SP-BSP-RLD gathbandhan and for the BJP-led NDA. However, it would be interesting to see whether the Congress is able to pocket some seats or would end up a vote-splitter.
The eight seats going to poll on April 11 are Saharanpur, Kairana, Muzaffarnagar, Bijnor, Meerut, Baghpat, Ghaziabad and Gautambuddh Nagar. In 2014 Lok Sabha elections, riding on the Modi wave and anti-incumbency against the ten-year rule of the Congress-led UPA at the Centre, the BJP won all the eight Lok Sabha seats. However, after the demise of Kairana MP and senior BJP leader Hukkum Singh and the ensuing by-poll, the Kairana Lok Sabha seat went to Tabassum Hasan from the Samajwadi Party.
Interestingly, the Kairana win opened various new options for Opposition parties in Uttar Pradesh; Samajwadi Party, Bahujan Samaj Party and Rashtriya Lok Dal just like Gorakhpur and Phulpur by-polls.
In fact, the wins at three by-polls encouraged the SP and the BSP to forget their differences, the root of which was in 24-year-old guest house episode of 1995.
Even during the press conference to announce the alliance on January 12 this year, Mayawati had said that the vote bank of BSP and SP together would stop BJP from marching towards repeating a second term.
However, with Congress not becoming part of the SP-BSP-RLD alliance and relying on party heavyweights in UP to revive its organisation while eyeing 2022 assembly election, the equations have become more complicated than expected.
Adding to it, only a little dent to PM Modi's charisma as compared to 2014 Lok Sabha election is not giving a cakewalk to the alliance, which, going by mathematical calculation, has the ability to garner more votes than any other party alone or in an alliance with smaller parties. The alliance is relying heavily on Muslim, Dalits, Jats in West UP and +Yadav in other areas of the state.
In Saharanpur, of the total over 17 lakh voters, Jatav and Muslims together make it to around 7.5 lakh voters and that is the main trouble for the BJP candidate and sitting MP Raghav Lakhan Pal. However, the BJP is relying heavily on the split in votes, particularly the Muslims as Congress has once again fielded Imran Masood who is believed to have strong vote bank. Masood was a runner-up in 2014 Lok Sabha election with around 4.07 lakh votes. Interestingly, the alliance has fielded Fazlur-Rehman from BSP. Muslims hold the key in Saharanpur Lok Sabha election.
In Kairana, there are around 5.8 lakh Muslim voters and 2.5 lakh Dalits. Adding to it, there are 1.7 lakh Jat votes. This makes the fight tough for the BJP, which is relying on 1.50 lakh Gurjars, about 55,000 Brahmins, 1.80 lakh Sainis and other castes. The alliance has fielded the sitting MP Tabassum Hasan against BJP's Pradeep Chaudhary and Congress' Harendra Malik.
In Muzaffarnagar, there are approximately 16.5 lakh voters. Muslims comprise about 5 lakh voters, Jatavs 2.5 lakh and Jats 1.5 lakh. The remaining 7 lakh voters are from different Hindu castes including Other Backward Classes and non-Jatav Scheduled Caste groups. Sitting BJP MP Sanjeev Baliyan who is a Jat is up against RLD chief Chaudhary Ajit Singh, also a Jat. Split or not in Jat votes and inclination of remaining 7 lakh voters it seems will decide the result.
In Bijnor, there are around 5 lakh Muslims along with 1.75 lakh Jats and around 1.75 lakh Jatavs. This makes the fight difficult for sitting MP Bhartendra Singh, who is relying on Gurjars, which are around 1.20 lakh and Tyagis and Thakur comprising 50,000 each. Interestingly, Singh is pitted against alliance's Malook Nagar of BSP and Naseemuddin Siddiqui. Split or not in Muslim and Jats votes might hold the key.
In Baghpat, there are around 3.4 lakh Jats, 3 lakh Muslim, 1.31 lakh Brahmins, 1.25 lakh Gurjat and around 1.09 lakh Dalits. Sitting MP and Union Minister Dr Satya Pal Singh is pitted against Jayant Chaudhary, also known as Chhotey Chaudhary, the son of Chaudhary Ajit Singh. Jats hold the key in Baghpat.
In Meerut, Muslims, Jats and Vaishyas hold the key while at Gautambuddhnagar and Ghaziabad, urban voters hold the key. Here, two-time MP Rajendra Agrawal is pitted against alliance's Haji Yaqoub Qureshi from BSP and Congress Harendra Agrawal.
In Gautambuddh Nagar, sitting BJP MP and Union Minister Dr Mahesh Sharma is up against Satveer Nagar of BSP from the alliance and Dr Arvind Singh from Congress and in Ghaziabad, sitting BJP MP Gen V K Singh is fighting against Samajwadi Party's Suresh Bansal as alliance candidate and Dolly Sharma from Congress.  (Rajiv Srivastava)