Will Give Special Category Status to Andhra Pradesh if Voted to Power: Rahul Gandhi
Andhra Pradesh will go to Lok Sabha Elections 2019 in single phase on April 11. Voting for Assembly elections in the state will be held simultaneously. The results will be announced on May 23.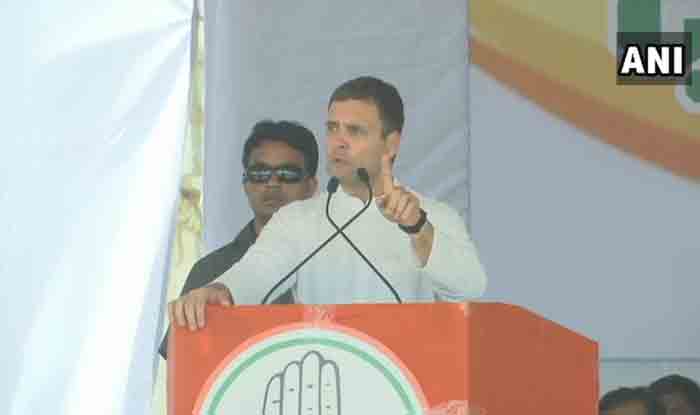 Vijaywada: Congress President Rahul Gandhi on Sunday promised to provide special category status to Andhra Pradesh, if the party was voted to power in coming Lok Sabha Elections 2019, and expressed surprise that parties in the state failed to 'aggressively' push the issue.
Addressing his first election rally in Andhra Pradesh, the Congress chief assuring that his party would also launch a 'surgical strike' on poverty. He also said that Nyay, his promise of a minimum income scheme, was a "non-violent weapon" that will be used to uplift the poorest.
Accusing Prime Minister Narendra Modi of 'dismantling everything' and claiming that the previous Congress-led UPA had created poverty eradication schemes, Gandhi, in his over 30-minute address, said, "He destroyed the pillars of MGNREGA and Food Security Act," the Congress chief said in his over 30 minute speech.
He termed the 'Nyay' scheme as historic and called it party's 'non-violent weapon' against poverty.
In February, Andhra Pradesh Chief Minister N Chandrababu Naidu along with TDP MPs and MLAs met President Ramnath Kovind at Rashtrapati Bhavan and raised demand for special status for the state. The delegation marched from Andhra Pradesh Bhavan to Rashtrapati Bhavan and presented a memorandum to the President with 18 demands, including the Bifurcation Act promises and special status to the state.
"We met the President and apprised him of our demands. The central government has ignored the Andhra Pradesh bifurcation act promises. Modi government is passing the time without releasing grants to the state.
Andhra Pradesh will go to Lok Sabha Elections 2019 in single phase on April 11. The state will witness simultaneous Assembly elections. The counting of votes will be held on May 23.