All Hindus Arrested on Grounds of Terrorism Loyal to Rashtriya Swayamsevak Sangh, Claims Digvijaya Singh
MP Congress leader Digvijaya Singh on Monday alleged that all the Hindus who were arrested on grounds of terrorism were loyal to the Rashtriya Swayamsevak Sangh (RSS).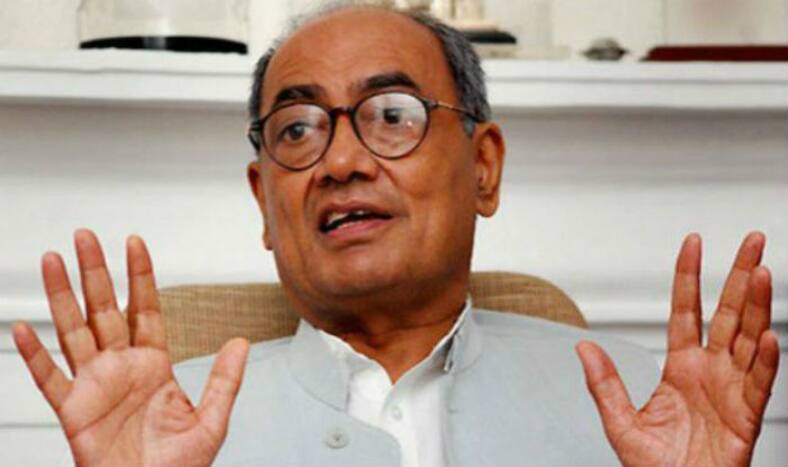 Jhabua, June 19: Former Madhya Pradesh chief minister and senior Congress leader Digvijaya Singh yet again hit out at Rashtriya Swayamsevak Sangh (RSS) and alleged that all the Hindus who were arrested on grounds of terrorism were loyal to the Bharatiya Janata Party's (BJP) parent outfit.
While speaking to reporters in Sagar district, Singh said,"All those terrorists who are from Hindu religion and have been arrested in the past have been members of the Sangh in some or the other manner. Nathuram Godse, the man who assassinated Mahatma Gandhi, too was part of the RSS (Jitne bhi Hindu dharma waale aatankwadi pakde gaye hain, sab Sangh ke karyakarta rahein hain kisi na kisi tarah. Mahatma Gandhi ki hatya karne waala vyakti Nathuram Godse bhi RSS mein rahein hain)."
Digvijaya Singh claimed, "This ideology spreads hate, hate spreads violence which leads to terrorism (Toh ye vichardhara hi nafrat failati hai, aur nafrat se hinsa paida hoti hai)."
Two days back, Singh asserted that whenever he mentions the right-wing terror, the reference was to Sanghi terrorism and not the Hindu militancy.
The two-time Madhya Pradesh Chief Minister identified himself as a bigger Hindu than any other Bharatiya Janata Party leader after he performed Narmada Parikrama, his religious journey along river Narmada's banks.
Reacting over Digvijaya's remarks, Congress leader Salman Khurshid said,"Ideologically he (Digvijaya Singh) has very strong views. He has opposed minority extremism and said that every kind of extremism is bad. We must contextualise what he said rather than generalise it and think he is saying it against one community or organisation."
Currently, as part of the Ekta Yatra or rally for unity, the AICC general secretary Singh is traversing Madhya Pradesh to mobilise Congress workers and several party veterans. The yatra is performed to dilute intra-party differences and ensure unity in the party ahead of the assembly polls scheduled for later this year. By August 30, the statewide Congress Coordination Committee's Ekta Yatra is expected to come to an end.