Amul's Tribute to FIFA World Cup 2018 'Golden Ball' Winner Luka Modric is Winning Hearts Worldwide
India's popular dairy brand Amul has come up again with a brilliant creative and extremely witty advertisement to honour runners-up Croatia for their splendid performance in the recently-concluded 201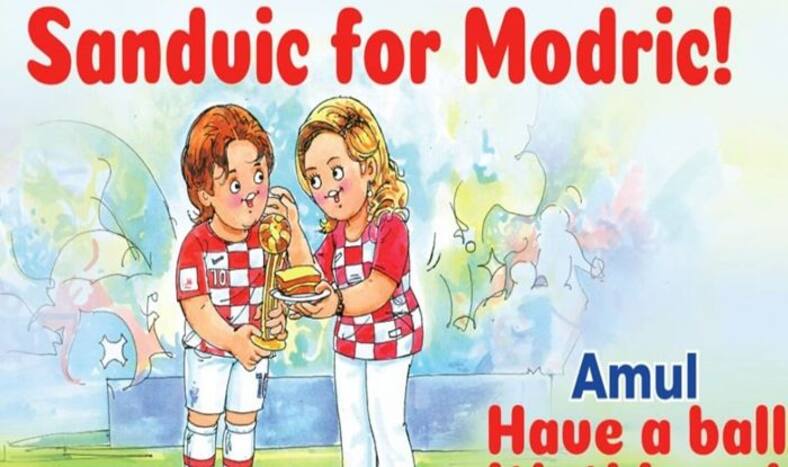 India's popular dairy brand Amul has come up again with a brilliant creative and extremely witty advertisement to honour runners-up Croatia for their splendid performance in the recently-concluded 2018 FIFA World Cup. As the hangover of the world's biggest sporting carnival is slowly settling down in the memories of all the fans around the world, Amul once again came up with a brilliant idea to celebrate Golden Ball winner – Luka Modric.
In their latest topical, the dairy brand celebrated the performance by Croatian captain Luka Modric with a beautiful cartoon.
#Amul Topical: Croatian captain wins Golden Ball, best player of FIFA 2018! pic.twitter.com/0l9uYDhR3e

— Amul.coop (@Amul_Coop) July 18, 2018
In a final that witnessed first ever own goal by a team, France stunned Croatia 4-2 and lifted the trophy for the second time in history in Moscow on Sunday. The amazingly thought-out creative also featured Croatia's President Kolinda Grabar-Kitarovic who stole the hearts around the globe with her undying support for her team throughout the coveted tournament.
In the cartoon, Kolinda was seen presenting Modric not just the trophy but also a 'sandwich'!
With a tagline, "Sanduic for Modric", they added "have a ball with this gold" in the advertisement.
However, even though the Les Bleus won the match, but it was Croatia who won the hearts of every football lover around the world. The population around 41.7 lakh greeted their World Cup heroes in an emphatic fashion as they returned home from Russia.
Thousands of people wearing the national red and white colours and waving Croatian flags poured into the streets in the capital Zagreb to greet the players.
Earlier as well, the official Twitter handle of Amul had paid their tribute to the young teen sensation of France – Kylian Mbappa who was voted as the 'Best Young Player of the Tournament.
#Amul Topical: France win their second FIFA World Cup! pic.twitter.com/86fvNLboht

— Amul.coop (@Amul_Coop) July 17, 2018