Hijab Row: Setback For Students As Karnataka HC Refers Matter to Larger Bench
Karnataka Hijab Row: The single bench of Justice Krishna S. Dixit is expected to take up the matter at 2:30 PM. Earlier on Tuesday, the HC had requested the students to maintain peace and tranquility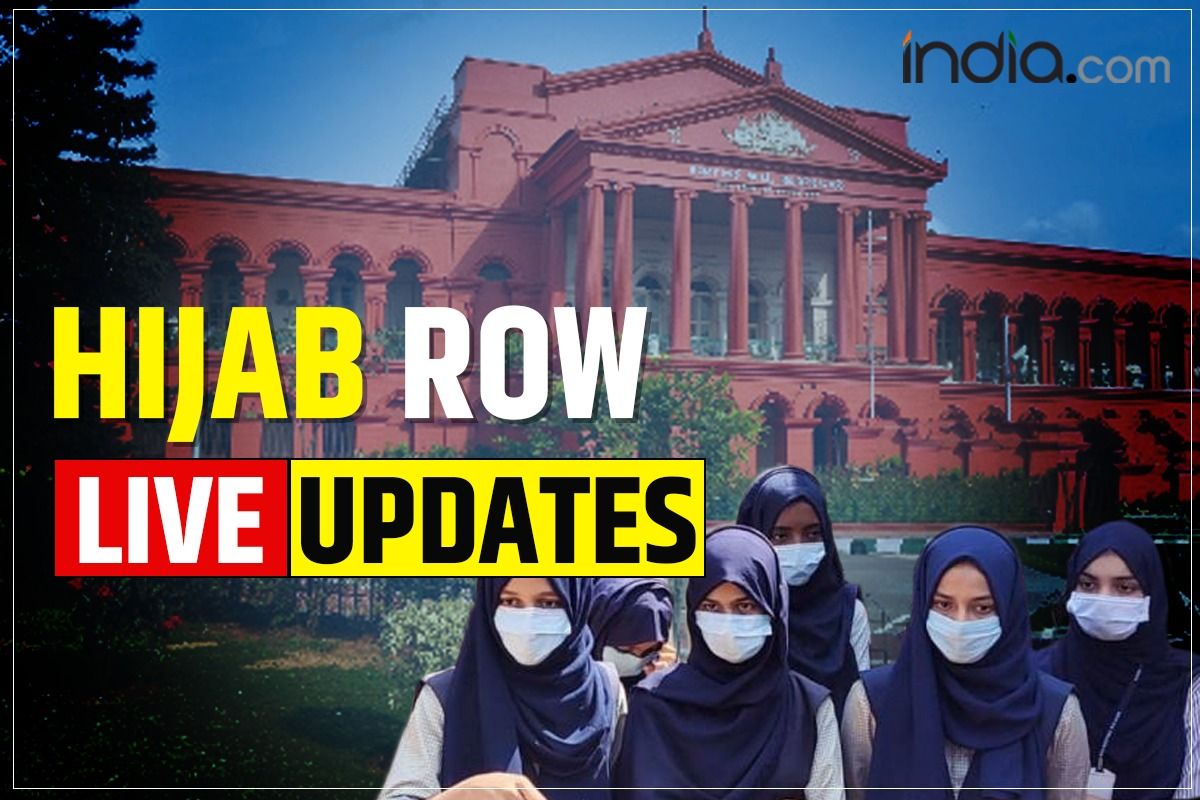 Karnataka Hijab Row LIVE Updates: In a big setback to students, the Karnataka High Court on Wednesday referred the hearing of petitions challenging the hijab ban in certain colleges in the state to a larger bench. The single bench of Justice Krishna S. Dixit told petitioners, "If you see the pattern of judicial behavior, in cases involving personal laws or seminal laws generally the benches so constituted that the outcomes are more acceptable. Don't be under the impression that for constitution of the bench will take its own time." Earlier on Tuesday, the HC had requested the students to maintain peace and tranquility in the state so that the public is not disturbed. Justice Dixit had said that it has full faith in the wisdom and virtue of the public at large and it hopes the same would be practiced. Furthermore, the HC had noted that making agitation, going on the street, shouting slogans, attacking students, students attacking others, are not good things. " If we see fire and blood on TV, judges will be disturbed. If the mind is disturbed, intellect will not work", it had stated. Malala Tweets On Ka'taka Hijab Row, Says 'Refusing To Let Girls Go To School In Hijab Is Horrifying'
Here's What Happened Inside The High Court
Karnataka High Court's single bench of Justice Krishna Dixit refers petitions challenging the ban on hijab in colleges to a larger bench.
Advocate Kamat, representing petitioners said that the matter can be sent to a larger bench, but students should be allowed to follow their faith and go back to school.
Justice Dixit emphasizes on referring the matter to a larger bench. "If you see the pattern of judicial behaviour, in cases involving personal laws or seminal laws generally the benches so constituted that the outcomes is more acceptable. Don't be under the impression that for consitution of the bench will take its own time", Live Law quoted Dixit as saying.
"My Late Senior who taught me advocacy used to say it is about how you look at things. Let us not into the question of hijab or what is essential religious practice. Today it is only this- what is administrative power", said Justice Hegde.
"We need to find a a way today itself", said Hegde, adding that no girl child is deprived of education.
Representing petitioners, advocate Sanjah Hegde said that As far as reference to larger bench is concerned, it is the court's decision. But the petitioners, the children, they have only two months left (for the present academic year), reported LIVE Law.
Feel matter needs the attention of larger bench, says Karnataka High Court.
Justice Krishna Dixit asked about reference to larger bench If you feel and all agree I can do this.
Karnataka High Court resumes hearing.
 In  Karnataka's Kalburagi, various Muslim organisations took to streets in Jewargi town demanding permission to wear Hijab in schools and colleges.
No one can take law and order into their hands. Govt will not spare any miscreant, said BC Nagesh, Karnataka Primary & Secondary Education Minister ahead of  HC hearing.
"Students wearing hijab along with uniform for so many yrs. In some educational institutes colour of headscarf prescribed..Deliberately manufactured to cause division & arouse communal sentiments" CPM MP Elamaram Kareem writes to Edu Min Dharmendra Padhan for urgent intervention.
"Govt is expecting court orders by the end of the day. We can't advise the court. We have to accept it when the court orders", said Karnataka Home Minister Araga Jnanendra.
Ahead of the HC hearing, Karnataka Home Minister Araga Jnanendra stated that action will be taken wherever unpleasant things have happened. Police has registered cases. "We have arrested a few people, they are outsiders, not students, after inquiry, we will let you knon", he added.
Advocate General Prabhuling Navadagi will be appearing for the government, while senior Advocate Devdutt Kamat will present arguments for petitioners before the bench.
The students who filed petitions are Ayesha, Hajeera Almas, Resham Farooq, Alia Assadi, Shafa, Shameem and Muskaan Jainaab.
The students in the petition have submitted that the college authorities have refused them the right to attend classes only because they wear hijab. The petition has claimed that Udupi BJP MLA Raghupathy Bhat is illegally interfering in the activities of the college and has been made a party in the case.
They have requested the court to issue directions to the government to not to interfere with their religious and fundamental rights. They mentioned that wearing hijab is an essential part of their religion.
CM Bommai has reportedly directed cops to impose prohibitory orders without consulting govt.
Yesterday, considering the volatile situation in the state, the Karnataka government had declared a three-day holiday for schools and colleges starting from Wednesday. Chief Minister Basavaraj Bommai had also requested the students to wait until the court order and not to get provoked.
"I appeal to all students, teachers and management of schools and colleges as well as people of Karnataka to maintain peace and harmony. I have ordered the closure of all high schools and colleges for the next three days. All concerned are requested to cooperate," he had said.