6 Reasons Why 'Dilwale Dulhania Le Jayenge' is Still a Bollywood Classic
Here are just a few reasons why DDLJ has captivated moviegoers for two decades, and why it will continue to hold its own for years to come.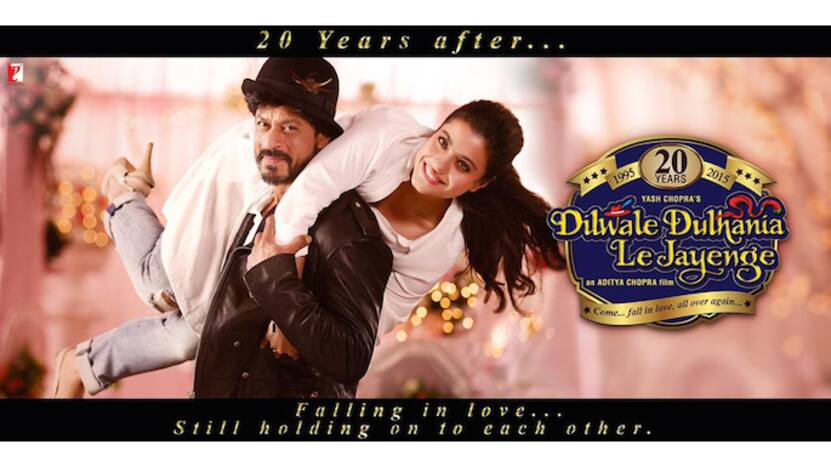 [Photo Source: Twitter/Shah Rukh Khan]
On October 20, 1995, Aditya Chopra's "Dilwale Dulhania Le Jayenge" released in movie theaters all across India. Nobody could have anticipated the number of records this romantic dramedy would shatter.
Starring Shahrukh Khan in one his earliest roles as Raj, and Kajol as Simran, DDLJ told the story of Raj and Simran's relationship: from initial hatred to unavoidable friendship to extraordinary love. Twenty years later, this unforgettable film is still running at the Maratha Mandir theater in Mumbai, and countless fans everywhere can still quote its iconic dialogues.
SRK and Kajol recently teamed up for an adorable tribute to "DDLJ" that appears to have been filmed by the director of their next movie together, Rohit Shetty, and the rest of the "Dilwale" team. This video hits home mainly due to the fact that "DDLJ" is what shot SRK to stardom and subsequently "changed his life." But "DDLJ" has also remained special in the hearts of Bollywood lovers everywhere for more than just serving as the launchpad for SRK's career.
Here are just a few more reasons why "DDLJ" has captivated moviegoers for two decades, and why it will continue to hold its own for years to come.
1. The Ensemble Cast
SRK and Kajol may have been the stars of "DDLJ," but they were well-supported by the rest of the cast.  Amrish Puri and Farida Jalal complemented each other perfectly as Simran's Punjabi parents who strived to maintain their cultural ties to India despite living and working in London. Anupam Kher left a lasting impression as Raj's goofy, yet loving father, and if you look hard enough, you can catch Karan Johar in a cameo appearance as one of Raj's friends.
2.  Jatin Lalit's Soundtrack
"Tujhe Dekha To Yeh Jaana Sanam" has served as the internal love song for Bollywood fans everywhere who are ultimately shocked to discover that they may not actually find true love hiding for them in fields of flowers.
While this and "Mehndi Laga Ke Rakhna" have both kicked off countless desi weddings, in my opinion, "Ghar Aaja Pardesi" is one of "DDLJ's" hidden gems. The album also included "Mere Khwabon Mein," "Ruk Ja O Dil Deewane," "Ho Gaya Hai Tujhko," and "Zara Sa Jhoom Loo Main"—all of which were also very popular.
3.  The Normal NRI
It really does not take very much for Bollywood movies to misrepresent non-resident Indians—from not so subtle hints that NRIs are in some way culturally inferior to Indians living in India to complete villainization of NRIs (ahem, "Pardes").
So, as an NRI myself, I have to give the "DDLJ" filmmakers their due credit for showing that both London-raised Simran and Raj held the values that their families instilled within them close to their hearts.
4.  Chopra's Handiwork
After an initial meeting that goes terribly wrong, Raj and Simran discover, much to their chagrin, that they are on the same European tour. Worse still, they end up stranded together when they miss one of their trains, and their enmity transforms into a friendship which then blossoms into love.
This fairly simple and straightforward story sets up the rest of the movie. While Chopra's writing and directing helps push the plot to achieve unprecedented success and proved that movies do not need huge bells and whistles to please viewers.
5.  The Train Scenes
I would be remiss to leave off the importance of train stations on this list some of the best "DDLJ" memories.  With a love story that began on a tour of Europe via railway, it only makes sense that some of "DDLJ's" most dramatic scenes took place on train station platforms. From "Yeh Jawaani Hai Deewani" to "Chennai Express," modern day Bollywood pays ode to the iconic Raj-Simran train scenes on a regular basis.
6.  SRK and Kajol aka Jodi Number One
Last, but certainly not least, "DDLJ" is the movie that reunited SRK and Kajol in a less depressing light than their first movie as a pair, "Baazigar," and in a less violent light than their second movie together, "Karan Arjun."  I have already waxed poetic on how they are one of the best onscreen Bollywood couples of all time elsewhere, but we probably would have missed out on the full potential of this fabulous jodi if it had not been for their "DDLJ" success story.
Dying to watch "DDLJ" after this trip down memory lane? Then head to Netflix and take a couple of hours out of your day to re-watch this classic Bollywood film.