7 Things We Loved About "Dil Chahta Hai"
Sometimes we all feel a little old, so I imagine Farhan Akhtar's recent tweet below about the first scene shot of "Dil Chahta Hai" caused quite a few of us to wonder where the time has gone.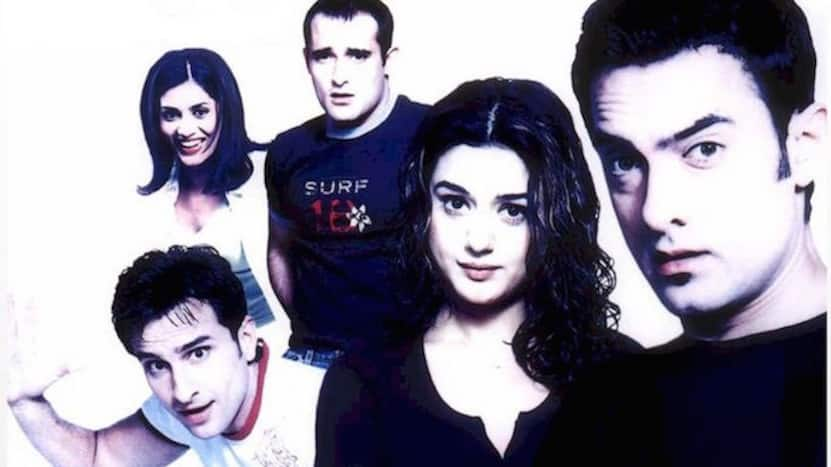 [Photo Source: Pinterest]
Sometimes we all feel a little old, so I imagine Farhan Akhtar's recent tweet below about the first scene shot of "Dil Chahta Hai" caused quite a few of us to wonder where the time has gone.
August 2000. 15 yrs ago, we rolled this.. the 1st shot of DCH. Forever thankful to my cast, crew & you the viewers. pic.twitter.com/jc9o7InPCv

— Farhan Akhtar (@FarOutAkhtar) August 2, 2015
Released in July 2001, "Dil Chahta Hai" will celebrate its 15 year release anniversary in July 2016, just shy of one year from now.  Just so that we can all plan our celebratory parties accordingly, let's all look back at some of the things that made this cult classic film so great.
1. Farhan Akhtar's Writing and Directing
It is no secret that I love Akhtar's way with screenplays—all of which so far have managed to translate into onscreen magic. "Dil Chahta Hai" was his first Bollywood project, and he shot the film over the course of 3 months in Mumbai, Goa, and Australia. The fresh storyline about how three friendships evolve over time really appealed to audiences around the world, and Akhtar himself has called the success of "Dil Chahta Hai" a turning point in his life. Thankfully for all of us, this turning point made sure that Akhtar was in Bollywood to stay, and his many great movies since "Dil Chahta Hai" are proof of that.
2. Akaash, Sid, and Sameer
"Dil Chahta Hai" would not have been even half as enjoyable as it was without these three loveable characters. Aamir Khan as Akaash, Akshay Khanna as Sid, and Saif Ali Khan as Sameer all brought such depth to their characters—in fact, part of me still really hopes to run into this trio hanging out in a Mumbai cafe someday. Friends for life, this fictional trio suffers through ups and downs, but ultimately always have each other's backs. The purity and sincerity of their friendship forms the backbone of "Dil Chahta Hai's" story.
3. Adhuna Akhtar's Styling
Akhtar's wife Adhuna is now well-known for her line of B.Blunt hair salons and hair products across India, but her big Bollywood break came in the form of hair styling for "Dil Chahta Hai." It is hard to miss the distinct styling that all three main characters are sporting, and their hairstyles were all Adhuna's handiwork. As much as I loved most of the styling though, I hope Adhuna was not responsible for Aamir's bizarre and unattractive goatee in the movie.
4. Akaash and Shalini
Akaash never believed in love—but as fate would have it, he met Preity Zinta's Shalini, and the rest is filmy history. Now, this boy-who-does-not-believe-in-love falling in love with  a girl-who-is-all-about-love stories is different than a lot of the others seen in Bollywood thanks to the unique way in which Akaash and Shalini fall for one another. Their friendship blossoms into something more and by the time Akaash realizes how much he loves Shalini, neither one of them knows what to do—especially given Shalini's impending nuptials. If you do not remember what happens between Akaash and Shalini, then you are due for a "Dil Chahta Hai" rewatch ASAP, especially in honor of the couple that gave us this catchy song:
5. Dimple Kapadia as Tara
As the alcoholic and tormented Tara Jaiswal, Kapadia captivated audiences of all ages with her performance in "Dil Chahta Hai." An unlikely romance of sorts blossoms between Sid and Tara after he paints her portrait, as seen in the song "Kaisi Hai Yeh Rut." Unfortunately, Tara could never escape her own demons enough to allow Sid's love into her life, but their storyline just further established "Dil Chahta Hai's" story far ahead of its filmy peers.
6. Shankar-Ehsaan-Loy's Soundtrack
From the songs I have already mentioned above to "Tanhayee," "Koi Kahe Kehta Rahe," "Dil Chahta Hai," and "Woh Ladki Hai Kahan," all of the tracks on this award-winning album were phenomenal. Akhtar allegedly had approached A.R. Rahman for music direction first, but then went with Shankar, Ehsaan, and Loy, when Rahman declined the album due to his busy work schedule at the time. It would have been interesting to see Rahman's take on the "Dil Chahta Hai" soundtrack, but luckily for us, Shankar-Ehsaan-Loy's work did not disappoint!
7. Cinematography in Goa and Australia
Dying for a vacation to Goa, India or Sydney, Australia, but just cannot find the time off from work?  Well, do not fret, just take a break and watch "Dil Chahta Hai" this weekend and you will be instantly transported to Goa and Sydney thanks to this movie's awesome cinematography by Ravi K. Chandran.