78 Arrested As Police Crackdown On Waris Punjab De; Amritpal Singh Still On The Run
Internet services have been restricted in several districts across the state to maintain peace and order.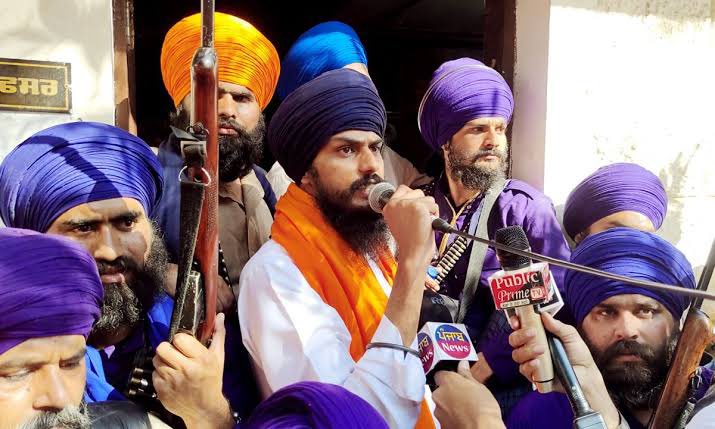 Punjab Police Close In On Amritpal Singh: Punjab police on Saturday closed in on separatist leader Amritpal Singh as it arrested 78 people, including six of his close aides from Jalandhar but Waris Punjab De chief is still on the run, said police. A massive operation was launched with over 50 vehicles chasing the convoy of Singh while he was being driven to Jalandhar. The cops chased the vehicle of Amritpal Singh and reportedly surrounded him at Mehatpur village in Jalandhar's Shahkot. However, Singh managed to flee the spot as police continued their operation. Internet services have been restricted in several districts across the state to maintain peace and order.
"Punjab Police launched a massive state-wide Cordon And Search Operations in the state against elements of Waris Punjab De. 78 persons arrested so far, while, several others detained. Several others including Amritpal Singh are on the run and a massive manhunt has been launched to nab them," said Punjab Police.
During the state-wide operation, nine weapons, including one .315 bore rifle, seven rifles of 12 bore, one revolver and 373 live cartridges of different calibres have been recovered so far.
The operation to nab Singh came after Punjab CM Bhagwant Mann met Union Home Minister Amit Shah on March 2. Mann had tweeted on March 2 that he met the Home Minister and both the state and the centre agreed to work together on the issue of law and order.
Amritpal Singh's aide in his Facebook live claimed that over 100 police officers are following their convoy to arrest them. Police had sealed all the exit points of the village which did not allow Singh to escape.
AAP MP Sanjay Singh On Operation To Nab Amritpal Singh
AAP MP Sanjay Singh, while interacting with the media, said that the AAP government of Bhagwant Mann is very strict with the law and order situation. "Bhagwant Mann ji is committed to strengthening the law and order situation of Punjab. The government will officially issue a statement on this. As the operation is still on, it will not be right to comment," Sanjay Singh said.
Internet Services Restricted In Several Districts Of Punjab
Mobile internet services were restricted in several districts of Punjab and the curbs will continue till tomorrow.
"All mobile internet services, all SMS services (except banking & mobile recharge) & all dongle services provided on mobile networks, except the voice call, in the territorial jurisdiction of Punjab shall be suspended from 18th March (12:00 hours) to 19th March (12:00 hours) in the interest of public safety," ANI quoted Department of Home Affairs & Justice, Punjab, as saying.
Request all citizens to maintain peace & harmony

Punjab Police is working to maintain Law & Order

Request citizens not to panic or spread fake news or hate speech pic.twitter.com/gMwxlOrov3

— Punjab Police India (@PunjabPoliceInd) March 18, 2023
Who Is Amritpal Singh
Amritpal Singh leads an outfit called "Waris Punjab De", a radical organisation started by actor and activist Deep Sidhu, who died in a road accident in February last year. Singh grabbed attention recently when his supporters stormed a police station to protest against the arrest of his key aide, kidnapping accused Lovepreet Singh. He blamed the Punjab Police for the violence in Amritsar during the protest.