Assembly Election 2018 Results: Cong in Saddle in Rajasthan, MP, Chhattisgarh; Ousted From Mizoram, Fails to Deliver in Telangana
Telangana has voted TRS back in power.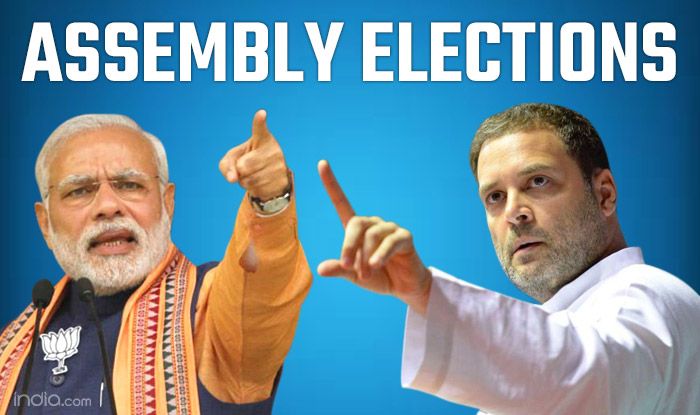 New Delhi: Results for five Assembly elections didn't bode well for the BJP; the Congress elbowed the incumbent party out of Rajasthan, Madhya Pradesh and Chhattisgarh. However, Congress' sense of jubilation wasn't quite complete with the ouster from Mizoram, the only state in the N-E where the party could boast of being in power. Even in Telangana, where the Congress was in an alliance with the TDP, TJS and the CPI (M), KC Rao's TRS managed to make a comeback. (Catch LIVE Updates of Assembly Election Results Here)
In Rajasthan, the Congress has won on 26 seats and is leading on 75 seats while the BJP is leading on 72 seats. Stalwarts like incumbent CM Vasundhara Raje and Congress leaders Sachin Pilot and Ashok Gehlot won from their seats.
In Madhya Pradesh, the Congress was ahead on 118 seats while the BJP could maintain a lead on 102 seats. BSP candidates were ahead of their rivals on 6 seats while Independents led on 20.
According to Zee News sources, the BSP and SP, along with Gondwana Gondwana Ganatantra Party have refused to extend support to the BJP in case of a hung assembly. Shivraj Singh Chouhan has held talks with BJP chief Amit Shah and party leader Ram Lal over the phone to discuss the political scenario in the state.
In Chhattisgarh, the Congress is leading on 63 seats while the BJP led on 18 seats. Ajit Jogi's JCC+ got 9 seats and Others failed to make a mark. The Congress is aiming to stage a comeback after being in the opposition for 15 years.
In Telangana, the Congress-led alliance suffered a huge defeat. 'Praja Kutami' leaders faced embarrassment as almost all its top leaders were decimated. Leaders who were seen as the Chief Ministerial candidate in the event of a Congress-led People's Front victory were also defeated.
K Jana Reddy, who was Leader of Opposition in the dissolved Assembly, lost in Nagarjunasagar constituency. Congress Working President Revanth Reddy, whose arrest last week triggered a huge row, failed to retain the Kodangal seat.
Another Congress Working President, Ponnam Prabhakar, lost in Karimnagar. Former central Minister Sarve Satyanarayana failed to win from Secunderabad Cantonment.
Mizoram saw the Congress routed by the MNF which returned to power with 26 seats. In a big jolt to the Congress, incumbent Chief Minister Lal Thanhawla lost both the seats he contested from. The Chief Minister lost the Champhai South seat to MNF's TJ Lalnuntluanga and Serchhip seat to Zoram People's Movement's (ZPM) chief ministerial candidate Lalduhoma.