Assembly Elections 2018 Results: How VVPATs Will Impact Counting of Votes in MP, Chhattisgarh, Telangana, Rajasthan, Telangana
Early trends would be available by 9 AM.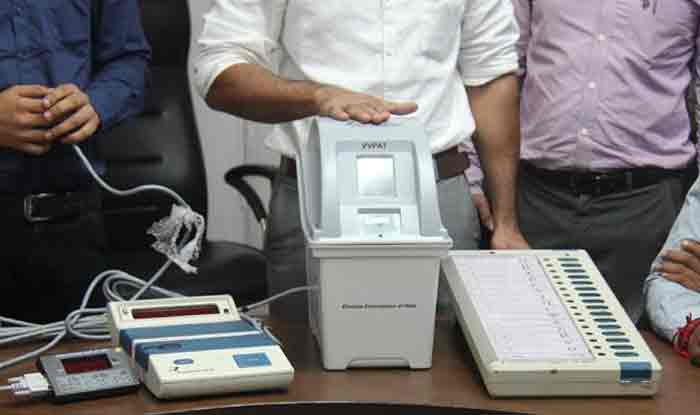 New Delhi: As the Assembly election process concludes in Madhya Pradesh, Rajasthan, Chhattisgarh, Telangana and Mizoram as the day draws to a close on Tuesday, Electronic Voting Machines (EVMs) and Voter Verified Paper Audit Trail (VVPAT) have come under the scanner yet again.
Many faulty EVMs and VVPATs have had to be replaced during polling in states.
While the EVM is the machine that registers one's vote, the VVPAT is an independent verification printer machine and is attached to the EVM. When a voter presses an EVM button, a paper slip is printed through VVPAT.
The slip has the poll symbol and name of the candidate and allows the voter to verify his choice. Once the voter has viewed the slip, seven seconds later, that slip drops inside a sealed box linked to the EVM.
Following Madhya Pradesh elections, two petitions were filed in the Madhya Pradesh High Court in connection with EVMs used in Nov 28 polls.
In Telangana, 1,444 VVPATs and 754 ballot units were replaced during the Assembly polls held on December 7. The EC had received 1,042 complaints through emails and letters.
In Chhattisgarh, the High Court dismissed a writ petition filed by a Congress leader seeking counting of VVPAT slips in 50 per cent of the polling booths in all the assembly constituencies during the counting of votes.
Meanwhile, amid demands by parties to increase the number of polling stations where VVPATs are matched with EVM results, outgoing Chief Election Commissioner O P Rawat has said the poll panel will take a final call on the issue after the Indian Statistical Institute submits a report on it.
"They will be submitting the report after these five assembly elections and then the EC will be able to take a call," he told PTI. Asked whether the number of polling stations where slips are matched will increase, he said, "That I can't say, whether it will be increasing, status quo or decreasing. It will depend on the report."