Atal Bihari Vajpayee Dies at 93, PM Narendra Modi Calls it 'End of an Era'
The 93-year-old leader, who had faded from public life for more than a decade was admitted to AIIMS with urinary tract infection on June 11. He breathed his last at 5.05 p.m on Thursday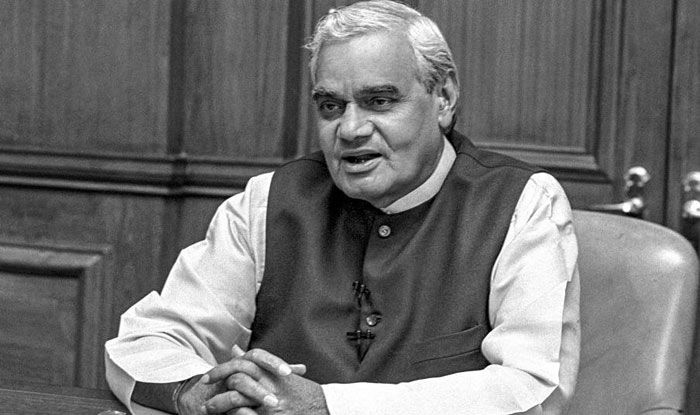 New Delhi, August 16: Top politicos including Prime Minister Narendra Modi, Home Minister Rajnath Singh, Congress president Rahul Gandhi and others  mourned the passing of former Prime Minister and Bharatiya Janara Party (BJP) patriarch Atal Bihari Vajpayee. The 93-year-old leader, who had faded from public life for more than a decade was admitted to AIIMS with urinary tract infection on June 11. He breathed his last at 5.05 p.m on Thursday.
Following Vajpayee's death, rich tributes poured in from across the political spectrum. Terming his demise, end of an era, Prime Minister Narendra Modi in a series of tweet said,"India grieves the demise of our beloved Atal Ji. His passing away marks the end of an era. He lived for the nation and served it assiduously for decades. My thoughts are with his family, BJP Karyakartas and millions of admirers in this hour of sadness. Om Shanti."
In an emotional Hindi tweet, he further stated that Vajpayee's death had left him speechless but a wave of feelings was sweeping his mind. "Main nishabd hu, Shunya me hu leking bhavnaon ka jwar umar raha hai, Hum sabhi ke shraddhey Atal ji humare beech nahi rahe lekin apne jeevan ka pratyek pal unhnone rashtra ko samarpit kar dia tha, unka jaana ek yug ka ant hai," PM posted.  Expressing his feelings, he also quoted a poem of Vajpayee which reads, "Maut ki umar kya hai, do pal bhi nahi, zindagi silsila aaj kal ki nahi, main jee bar jia, main mann se marun, Lautkar aaunga, kunch se kyu daru,"
On the other hand, president Ram Nath Kovind while expressing his condolences said,"Extremely sad to hear of the passing away of Shri Atal Bihari Vajpayee, our former Prime Minister and a true Indian statesman. His leadership, foresight, maturity and eloquence put him in a league of his own. Atalji, the Gentle Giant, will be missed by one and all."
Calling him a great son of India, Congress President Rahul Gandhi said,"Today, India lost a great son. Former PM, Atal Bihari Vajpayeeji, was loved and respected by millions. My condolences to his family and all his admirers. We will miss him."
Former Prime Minister and veteran Congress leader Manmohan Singh said," I have learnt with profound sorrow about the sad demise of Bharat Ratna Atal Bihari Vaajpayee ji.  An excellent orator, an impressive poet, an exceptional public servant, an outstanding Parliamentarian and a great Prime Minister."
Home Minister Rajnath Singh said,"This is a very sad moment for us that Atal ji is no more. Shortly his mortal remains will be taken to his residence where people can pay tribute to him."
Delhi Chief Minister Arvind Kejriwal also called the death of former Prime Minister Atal Bihari Vajpayee a great loss for the country. "Am deeply saddened. A great loss for India," he said in a tweet. Kejriwal had requested Aam Aadmi Party (AAP) volunteers and his well-wishers not to celebrate his birthday in view of Vajpayee's demise.
West Bengal Chief Minister Mamata Banerjee in a tweet said,"Very very saddened that the great statesman and former Prime Minister Atal Bihari Vajpayee ji is no more with us. His passing away is a very big loss to our nation. I will always cherish many fond memories with him. Condolences to his family and his many admirers."
Expressing grief, Odisha CM Naveen Patnaik said,"I am deeply grieved at the sad demise of Vajpayee Ji. India has lost one of its tallest leaders."