Author Tanuja Desai Hidier on her South Asia Book Award and the Future of South Asian Writing
After 2014 brought the much-anticipated release of "Bombay Blues"—the sequel to her well-received 2002 novel, "Born Confused"—the author,Tanuja Desai Hidier, won the 2015 South Asia Book Award. "
After 2014 brought the much-anticipated release of "Bombay Blues"—the sequel to her well-received 2002 novel, "Born Confused"—the author,Tanuja Desai Hidier, won the 2015 South Asia Book Award.
"Bombay Blues" picks up about two and a half years after the events of "Born Confused," as the now 19-year-old heroine Dimple Lala's love story with her boyfriend hits some rough moments, and she is off to Mumbai for a family wedding and a much-needed change of pace. That change becomes more than just a break from her everyday life; instead, she is thrown onto an unexpected path. The resulting story is how Dimple learns more about herself and where this new path takes her.
The corresponding book track that Hidier accompanied with "Bombay Blues," titled "Bombay Spleen," only elevates and expands these ideas from the novel to make for a more complex and all-encompassing experience for the readers' senses.
Hidier did not learn about her big South Asia Book Award win from a publicist or loved one, but instead, thanks to social media. India.com interviewed Hidier about her win, the writing of "Bombay Blues," her plans for Dimple's future, how her personal experiences enrich her writing, and what it means to tell real stories about real South Asian women.
To celebrate, India.com interviewed Hidier about her win, the writing of "Bombay Blues," her plans for Dimple's future, how her personal experiences enrich her writing, and what it means to tell real stories about real South Asian women.
1. Your second novel, "Bombay Blues," has won the 2015 South Asia Book Award. How do you feel about this major accomplishment? How did you find out? What was your initial reaction?
It feels just wonderful! Funnily enough, I saw the news on Twitter first. We'd gone away a few days for a family trip, and I'd turned my phone off so as to be able to be fully present. When I switched it back on a few days later, I'd been tagged in some tweets congratulating me on the award, which was a fantastic surprise! Then, when I got home and could access my email, saw the news there as well.
I'm just thrilled that "Bombay Blues" has been recognized in this way, and so thankful to the judges of the award and SANOC (the South Asia National Outreach Consortium), as well as the organizers of the 44th Annual Conference on South Asia at the University of Madison, where the award was presented. And what an amazing environment to have the ceremony—this conference being the world's largest such event, with more than 800 scholars, students, professionals, writers, artists in attendance for four days to discuss this area, all committed to the exploration of cultures, identity, diversity, and the myriad ways in which we express these things.
I also had the great pleasure of meeting the children's category winner, the utterly delightful literary and musical talent, Paula Yoo, as well as gorgeous gifted honor authors, Vivek Shraya and Padma Venkatraman.
It's an incredible feeling to have your words recognized in this way: after you've been living largely in your head and on the page for so many years, to see that the world you've been inhabiting, crafting, speaks to people in this way? What a joy. And what a relief!
2. This book is a sequel to "Born Confused"—why did you decide to keep telling Dimple's story?
With "Born Confused," I wanted to fill a hole that had been on my childhood bookshelf—a South Asian American coming-of-age story, an exploration of 'brown.' And, many years after that, one of the reasons I wrote "Bombay Blues"—an exploration of 'blue'—was to move beyond the skin.
In the decade between novels—during which time I also became a mother to two daughters—I explored a few other book ideas. But in the end, I suppose I missed Dimple too much; I was wondering how [and] where she was, what she was up to, […] and knew the only answer to that question would be to write it. And Bombay, it became compellingly clear, was where I could find her.
Becoming a parent myself certainly crystallized my desire to learn this part of my own parents' history better: the city of their courtship, of my mother and brother's birth—yet a place American-born me barely knew. I longed to write my way towards this metropolis of myth and memory—and, hopefully, into it.
3. How was the writing of this book different than the first?
With "Born Confused" I drew from the decade I'd lived in NYC—looking back in many ways on a known, however, fictionalized, experience (the final book was fairly close to my original outline/plans for it). "Bombay Blues" was an utterly different experience: I went to Bombay in search of my story, spending several weeks there over the course of a year, and then three more years living it on the page. It was a constantly shifting, evolving creature from go; in fact, on day two of research trip one, my outline flew out the window when nothing at all went to plan.
In large part, the book ended up being about the unplanned, the unanticipated, the unmapped. I had to drop my own map for this experience. Which, literally and metaphorically, the heroine, Dimple, does too.
Though of course I wanted to explore culture — the idea of being brown among the brown — as well as place, and the cultural shifts happening within a globalized Bombay (the dynamic between the reverse diaspora and its many coexisting ancient aspects)…even more that that, with "Bombay Blues," I wanted to move beyond questions of culture, or at least, that kind of framework. To step out of frame: enter a more ambiguous space, in part through Dimple's trajectory as an artist —and that of her heart.
Photographer Dimple travels to Bombay to shoot the browns — or so I thought. As I spent more time there, though, to my surprise and delight, blue began to overwhelm, initially in terms of actual sightings of that hue in Bombay. And that hue became the clue, led me to the idea of exploring the 'bigger' blue: music, mood. The wild blue yonder. It was a liberating and dizzying approach — exploring this city with a theoretical map that simply had a splash of color on it. It required a kind of act of faith.
So, like Dimple with her photography, my modus operandi — my unmapping map, if you will — while writing this book became this: To follow a color. All the way through. In loosening the coordinates in this way, I also fell upon what became one of the main themes of the book: the idea that there is no place like home…because home is not a place. It's a sense of sanctuary — you may find it in a person, a place, a moment, a memory. We, as humans, are swimming cities; home is a direction.
And also, an enormous difference between the processes for both books is that I was not yet a mother when I wrote Born Confused (which took, funnily enough, a gestational nine months to write and revise). And I was the mother of two little girls for "Bombay Blues" (and this time, it took more than three years to write both the novel and my accompanying 'booktrack' album, "Bombay Spleen").
But then, it wouldn't have been this book, this story, without them.
I needed to become a mother to return to zero, to come of age again, to learn surrender and another level of love—as nineteen-year-old Dimple (though not yet a mother herself) does. I needed to become a mother to connect in this way with my motherland.
4. Are you planning to continue Dimple's journey? Could we see her beyond the college ages?
Yes! For a long time I've felt that, having experienced NYC and Bombay, a natural next step would be for Dimple to explore London. I've lived here many years now, so it's become another one of my 'homes', my swimming cities. And possibly Paris as well—where I lived years ago (and was neighbors with the man who would become my husband, my jeevansaathi…seven years before we met at a Pakistani friend's Christmas-tree-lighting party in NYC!).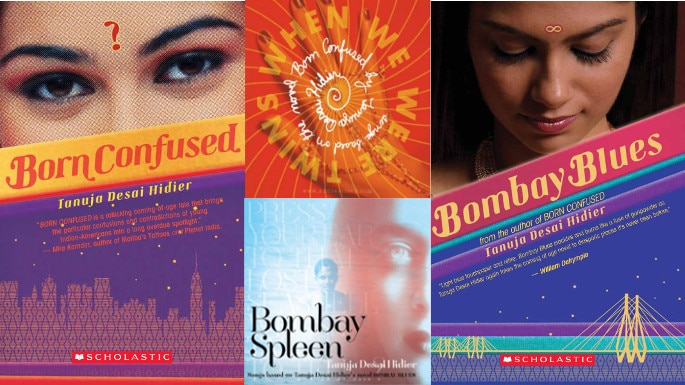 5. How did you decide on creating the book track for the novel?
It just felt like a natural way for me to explore and express this story: Books and music have been a part of my life since I was a child, and as an adult (grown child) I was the frontwoman in bands in NYC and London. I'd also already made an album of original songs to accompany my first novel, prequel, "Born Confused" two years after that book first released: When We Were Twins (which was featured in Wired Magazine for being the first ever 'booktrack'— exciting!).
Although Bombay Blues/Spleen can be read/heard independently, for me they're one tale relayed across multiple media—a kind of love song to Bombay: "Bombay Blues" is my prose poem to Bombay; "Bombay Spleen" is the sonic part of this same tale (the title is a reference to Baudelaire's Paris Spleen, his prose-poem to Paris, which heroine Dimple Lala is reading when the story opens).
I knew from early on that I wanted "Bombay Blues" to have the feel of a piece of music (the book is an exploration of the blues on many levels, including the musical sense, too, but the joyful tones as well). Likewise, I wanted the album to have the feel of a story—and to not only create an arc that would parallel the heroine's journey in Bombay Blues, but also one that would trace the story of Bombay itself, from its beginnings as seven islands later reclaimed to become the city we know today[…].
6. How much of your own life did you infuse into Dimple's?
Though the plotlines of both of my novels are fictitious, every question Dimple explores and emotion she experiences, I have explored and experienced—if not before writing her, then certainly during the writing process! In "Born Confused," I drew as well from my years of living in NYC, my own discovery of the South Asian club scene. "Bombay Blues" was a whole other journey as I never lived in Bombay except a couple of years as a baby. I was very aware of the fact of Dimple's outsider-insider point of view; in fact, in "Bombay Blues" she refers to her gaze sometimes as seeing with "NR-eyes." And as the writer I certainly wanted to know the terrain well—the internal landscapes of the characters, but the actual city itself: So, I've been in every room, temple, street, setting in Bombay Blues…far more than made it into the final book! I jumped the barrier of Juhu Beach past curfew and ran up the length of the beach to make sure to get the details right for a particular scene. I lay down on my back at Victoria Terminus to photograph the Star Chamber for the scene where Dimple does so. I went to the 4 a.m. darshan—and also the 4 a.m. afterparty. I traveled on foot, by train, by taxi, by tuk-tuk—and even got in a rickshaw accident (not on purpose!)…which ended up in the story, too.
Though Dimple doesn't need to know everything about the city she's exploring, I needed to make sure to always know more than her. A significant part of the writing process—and my overwriting process in draft one—was for this reason: I wanted to be sure to show myself I knew enough about the place I was writing, even though I often had to eventually pare back this information from Dimple's perspective. I felt it would have been disrespectful to Bombay itself—and my story—not to do this. After all, the main reason I wrote "Bombay Blues" to begin with was to forge a true and (re)newed connection to this city. To get to know better the one that (nearly) got away.
7. How important do you think it is to keep telling realistic stories about women in India and South Asian women in general?
I believe a writer should be free to write what she and he are compelled to write. To explore their own 'truth.' Because ultimately and ironically: The closer you stick to the story you are seeking and shaping—no matter whether it's about men, women, South Asian or not—the more universal it will be, the more resonance it will have.
All that said, yes, it is very important that these stories get told. Interestingly, fiction has the capacity to make the 'news,' history, 'facts', herstory, more real: by drawing you close under the skin of a character, the other, connecting you, investing you in the life of another. Storytelling promotes empathy. And empathy eradicates intolerance—and all the ills that accompany it. It's vital more and more voices are heard—and the voices from these experiences as well—for it's only then we can even begin to approximate the diversity and richness of the human experience. To help unfetter that experience. And celebrate it.
8. What other issues do you hope to tackle in future projects?
I don't know that I'll be led by issues…rather, led by characters: by their journeys, questions. That said, all of my work so far has dealt with themes of home, identity, diversity, creativity… gender, feminism, freedomism…cities and the cultures that make them, cultures and the people that create them… love, music, friendship, family, art, heart…being yourself; ourselves—and how to begin to view the hyphenated identity as, rather than a neither-here-nor-there space, a You Are Here: a whole.
It's always about people, places, and what happens when people and places grow close and far to other people and places.
I think in being true to your characters and your story you often end up being political –exploring 'issues'—because that truth, those truths, really, are about freedom, expression and being. When you write, you get under the skin—to the space where we can unite, if we learn the trick of remaining there, or at least, accessing this space, off the page as well.
9. Can we get a teaser of what's to come next for you?
I have a few different ideas as far as fiction projects that I'm excited about, in addition to continuing with Dimple Lala's story (see above). On the music front, we are continuing on with our cross-continental (UK-US-India) project of making videos for "Bombay Spleen"; the first, for my ode to Bombay, "Heptanesia," is currently airing on MTV Indies in India, which is exciting!
I'm also working on new songs, including those for an Angels With Whips EP with "Bombay Spleen" collaborator Marie Tueje.
About Tanuja Desai Hidier 
Tanuja Desai Hidier is an award-winning author/singer-songwriter now based in London. She is the recipient of the 2015 South Asia Book Award (for Bombay Blues) and the James Jones First Novel Fellowship and her short stories have been included in numerous anthologies. Her pioneering 2002 first novel, Born Confused, was named an American Library Association Best Book for Young Adults and became a landmark work, recently hailed by both Rolling Stone Magazine and Entertainment Weekly as one of the greatest YA novels of all time. Tanuja is also the innovator of the 'booktrack'; the music video for her album Bombay Spleen (songs based on Bombay Blues) track "Heptanesia" is currently airing on MTV Indies. For more info on Tanuja, please visit ThisIsTanuja.com, like her page on Facebook and follow her on Twitter.