BMC Election Results 2017 LIVE Streaming on NDTV live: Watch Live telecast of BMC Elections results on Zee 24 Taas
BMC Election Results 2017 LIVE Streaming: Watch the latest results, trends and real-time live news updates emerging for all the wards of BMC.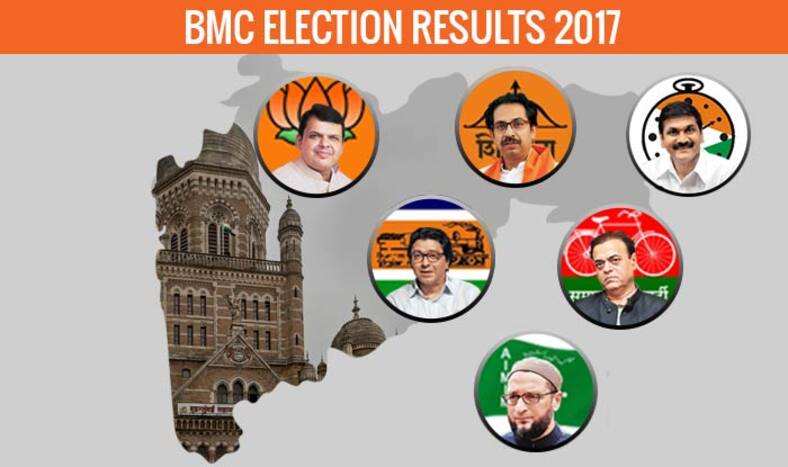 Mumbai, Feb 23: The results of Brihanmumbai Municipal Corporation (BMC) elections 2017 would be declared today. The State Election Commission would begin counting the votes at 10 AM. India.com will bring to you all the latest updates from the day of counting. To get result updates in real-time, click on the live blog link here. To watch live streaming of BMC election results on Zee 24 Taas, click here. Catch Maharashtra Municipal Corporation Election Results 2017 LIVE News Updates here
Polling across the 227 seats of BMC was held on Tuesday. Voter turnout was highest ever in past 25 years. The polling percentage was recorded as 55.23 per cent by the SEC. In the 2007 and 2012 elections, the polling recorded was 42.7 and 45.3 respectively. (ALSO: BMC Election Results 2017 LIVE News Updates)
The higher voter turnout has been interpreted as a sign of success by both Shiv Sena and BJP. The latter interpreted the bumper voting as a 'wave of change' against the incumbent Shiv Sena-led regime of BMC governing for past 25 years. Countering the claim of BJP, Shiv Sena MP Arvind Sawant opined that the higher voter turnout reflects the angst of Mumbaikars against Prime Minister Narendra Modi's demonetisation drive.
Exit Poll Results
The post-poll surveys have predicted a fight down the line for BMC. Allies-cum-rivals Shiv Sena and BJP are set to emerge as the top contenders to rule the BMC. According to the India Today-Axis-My India  survey, both the saffron parties would secure a vote share of 32 per cent. The exit poll predicts 86-92 seats for Shiv Sena, whereas, 80-88 seats for the BJP. Congress is projected to emerge as a distant third, winning only 30-34 seats, with a vote share of 16 per cent.
The exit polls have almost written off Raj Thackeray's MNS and Sharad Pawar's NCP from the Mumbai civic battle. While MNS is projected to win only 5-7 seats, NCP is predicted to bag 3-6.
The Zee 24 Taas exit poll also paints a similar electoral scenario. The survey predicts 90-95 seats for Shiv Sena, whereas, the BJP is projected to emerge as the number two party, winning 78-82 seats. Congress is predicted to bag 27-30 seats.
Shiv Sena to win 90-95 seats, says Zee 24 Taas Exit Poll. The post-poll survey of My-Axis India predicts 86-92 seat for the party.
BJP is projected to win 78-82 seats as per Zee 24 Taas survey. The Axis-My India exit poll predicts 80-88 seats.
Congress is expected to emerge as the second runner-up, winning 27-34 seats.
MNS is predicted to win 5-7 seats, whereas, NCP is expected to bag only 3-6 seats, as per the My-Axis survey.
Although exit polls have not projected the results of AIMIM, Muslim opinion makers have predicted 6-8 seats for debutant party.
Results of 2012 BMC Elections
In the 2012 elections for BMC, Shiv Sena and BJP had contested in a pre-poll alliance. Shiv Sena emerged victorious on 75 out of the 138 seats it contested, whereas, BJP won on 31 of the 69 seats, where the party fielded its candidates. Congress emerged as the prime opposition to Shiv Sena, winning 52 seats. Raj Thackeray's MNS made a promising start, winning 28 seats.
| Party | Seats |
| --- | --- |
| Shiv Sena | 75 |
| Bharatiya Janata Party | 31 |
| Indian National Congress | 52 |
| Nationalist Congress Party | 13 |
| Maharashtra Navnirman Sena | 28 |
| Others | 28 |
| Total | 227 |
Political experts opine that BJP and Shiv Sena could join hands following the BMC elections. Considering the prospects of a hung verdict, BJP state unit chief Rao Saheb Danve, while addressing the press on Wednesday, said that BJP may form a coalition if required, but 'only if Shiv Sena approaches us first'.