live
Breaking News Highlights: Nitin Gadkari Tests Positive For COVID With Mild Symptoms
This liveblog is archived: Stay tuned to India.com for all breaking news and the latest updates from India and the world.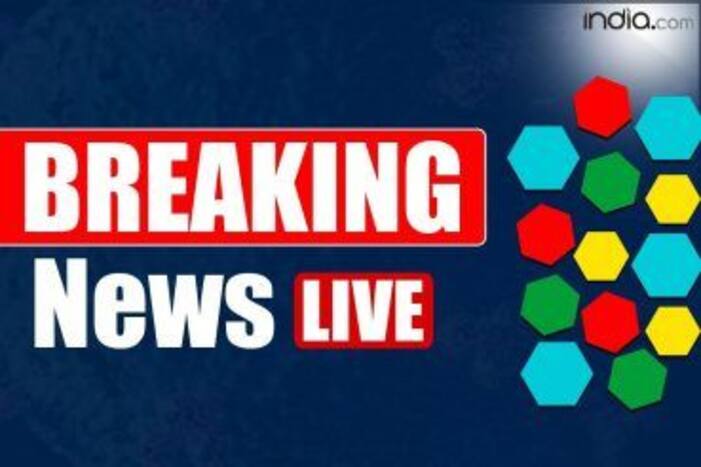 Breaking News Highlights Jan 11, 2022: Union Health Minister Mansukh Mandaviya held a virtual meeting with all Indian Medical Association (IMA) leaders and senior doctors across the country on COVID-19 management at 11.30 am today. According to the health ministry, 9,84,676 precautionary doses of the COVID vaccine were administered on Monday. "9,84,676 'Precaution doses' of COVID vaccine administered – 5,19,604 healthcare workers, 2,01,205 frontline workers, and 2,63,867 over 60 years administered additional doses on the first day of rollout (January 10)," as per the Government of India. India has recorded 1,68,063 new COVID-19 cases in the last 24 hours, the Ministry of Health and Family Welfare informed on Tuesday. Compared to yesterday, the total number of fresh COVID cases is down by 11,660. India had reported 1,79,723 cases on Monday.

India.com brings you all the latest updates and breaking news from India and the world. Stay tuned to get live updates on major news topics
Live Updates
Home Ministry seeks suggestions of MPs, other stakeholders on move to amend IPC, CrPC, Evidence Act

Union Home Minister Amit Shah has sought suggestions from Members of Parliament and other stakeholders on the proposed amendments in the Indian Penal Code, CrPC and the Indian Evidence Act, reported PTI.
In a letter to the MPs and others, the home minister said that the experience of seven decades of Indian democracy calls for a comprehensive review of the criminal laws. especially the IPC 1860, the Code of Criminal Procedure (CrPC) 1973 and the Indian Evidence Act 1872 and adapt them in accordance with the contemporary needs and aspirations of the people.
"The government of India intends to create a people-centric legal structure," he wrote.

Nitin Gadkari Tests Positive For COVID With Mild Symptoms

Union Minister Nitin Gadkari tests positive for COVID-19 "with mild symptoms"

"Following all the necessary protocols, I have isolated myself," he tweets

(File pic) pic.twitter.com/eq9UiXeFyi

— ANI (@ANI) January 11, 2022

Chhattisgarh Health Minister T S Singh Deo, three others test positive for Omicron, have already recovered

Chhattisgarh Health Minister T S Singh Deo and three others were on Tuesday found to have had contracted the Omicron variant of coronavirus, taking the tally of such infections in the state to five, reported PTI.
All of them have already recovered, health officials said.
Four persons, including a woman, all from the capital Raipur, tested positive for the Omicron variant," a health official told PTI without disclosing their identities.

Punjab CM Charanjit Singh Channi's cousin Jaswinder Singh Dhaliwal joins BJP

Jaswinder Singh Dhaliwal, cousin brother of Punjab CM Charanjit Singh Channi joins the Bharatiya Janata Party in the presence of Union Minister Gajendra Singh Shekhawat in Chandigarh today pic.twitter.com/JHAeadgO1C

— ANI (@ANI) January 11, 2022

Lakshadweep vaccinates all eligible children in the age group of 15 to 18 years

Lakshadweep vaccinates all eligible children in the age group of 15 to 18 years. With this, it has become the first among UTs and States to have achieved this feat: S Asker Ali, District Collector & Secy, UT Lakshadweep

— ANI (@ANI) January 11, 2022

Former Goa BJP minister Michael Lobo along with his wife Delilah Lobo joined the Congress party in Panaji today

Former Goa BJP minister Michael Lobo along with his wife Delilah Lobo joined the Congress party in Panaji today pic.twitter.com/ARySUobz8Z

— ANI (@ANI) January 11, 2022

Congress General Secretary Priyanka Gandhi Vadra will address a press conference via video conferencing tomorrow

Night Curfew, Other COVID Restrictions In Arunachal Till Jan 31

In view of an upsurge in COVID-19 cases, the Arunachal Pradesh government on Tuesday imposed night curfew and other restrictions till January 31, reported PTI.
Chief Secretary Naresh Kumar, in an order, said that night curfew will be imposed from 9 PM to 5 AM from January 12.
All government and private schools shall remain closed till January 31, while online classes will be held on working days, it said.

Universities, colleges and technical institutions were advised to regulate the timing of their classes with 50 per cent attendance and adherence to COVID protocols.

Jammu-Srinagar Highway Closes Due To Fresh Landslides

The Jammu-Srinagar national highway was closed again due to fresh landslides in Ramban district on Tuesday, triggering massive traffic jams on the stretch, officials sources said, according to PTI.
Many truckers, who are stranded on the highway for the past several days, blamed the traffic management authorities for not allowing them to move on, causing them huge financial losses as perishable goods they carry have been damaged.
The highway was closed for traffic due to a landslide in the Mehar area of Ramban, the official sources said.

Bengal logs 21,098 fresh infections, 19 more deaths as active cases breach 1-lakh mark

he number of active COVID-19 cases in West Bengal breached the 1-lakh mark on Tuesday as 21,098 more people tested positive for the infection, 1,812 more than the previous day, taking the state's caseload to 17,95,430, a health bulletin said, reports PTI.
Nineteen fresh fatalities pushed the death toll to 19,936, with Kolkata reporting six of the mortalities.