live
Breaking News Highlights : Maharashtra Logs 46,723 New COVID Cases, 28,041 Recoveries
Breaking News Highlight January 12, 2022: Stay tuned to India.com for all breaking news and the latest updates from India and the world.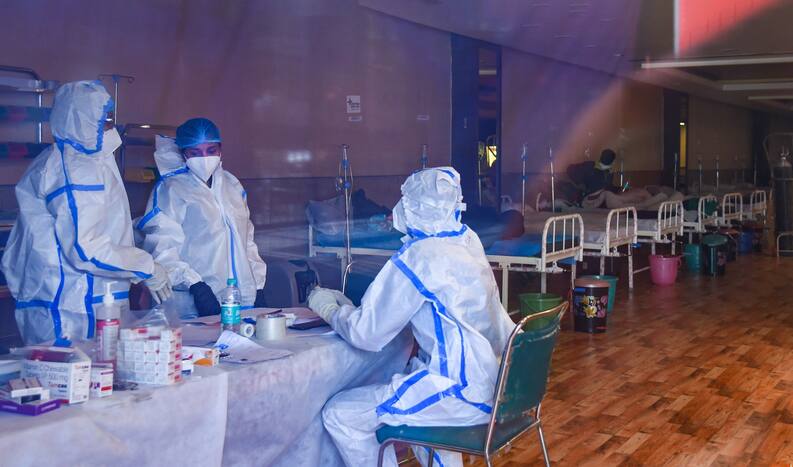 Breaking News Highlights January 12, 2022: Prime Minister Narendra Modi inaugurated 11 New Government Medical Colleges across Tamil Nadu and the new campus of Central Institute of Classical Tamil in Chennai on Wednesday. The new medical colleges are being established at an estimated cost of about Rs 4000 crore of which, around Rs 2,145 crore will come from the Union government. The districts in which the new Medical Colleges are being established are Virudhunagar, Namakkal, The Nilgiris, Tiruppur, Thiruvallur, Nagapattinam, Dindigul, Kallakurichi, Ariyalur, Ramanathapuram and Krishnagiri. According to a statement released by the PM's Office, the establishment of these medical colleges are in line with "the PM's constant endeavour to promote affordable medical education and improve the health infrastructure across the country". PM Modi also inaugurated a new campus of the Central Institute of Classical Tamil (CICT) in Perumbakkam via video conferencing. The new campus of CICT in Chennai is built at a cost of Rs 24 crore.
Live Updates
CBI gets prosecution requests from UAE, Saudi against 19 absconding Indians; registers FIRs | he CBI has received requests from the United Arab Emirates for local prosecution of 16 Indian absconders from the gulf country who are wanted in separate cases of fraud and murder there, officials said.

Threat has 'by no means reduced': Army chief on eastern Ladakh | The threat in eastern Ladakh has "by no means reduced" and the Indian Army will continue to deal with the Chinese military in a "firm" and "resolute" manner, Chief of Army Staff Gen MM Naravane said referring to the 20-month-long border standoff that has seriously strained ties between the two countries.

Only 4 supporters allowed for door-to-door campaign: Odisha issues fresh COVID guidelines for Panchayat polls | In view of prevailing Covid-19 situation, the Odisha government issued guidelines for Panchayat elections in the state. As per the guidelines issued by Special Relief Commissioner (SRC) PK Jena, the candidates can undertake door-to-door campaigns with a maximum four supporters, maintaining social distance during the campaign and they have to wear face masks without fail.

J&K: One cop killed, 3 Army soldiers injured during encounter in Kulgam

#KulgamEncounterUpdate: One police personnel SgCt Rohit Chhib killed attained martyrdom; 1 JeM terrorist killed. 3 Army soldiers injured. 2 civilians also received minor injuries. Operation continues: IGP Kashmir

— ANI (@ANI) January 12, 2022

3,274 new COVID cases in Assam; positivity rate at 6.56%

Assam COVID cases | 3274 new cases, 4 deaths and 731 recoveries reported today. Active cases 11,792

Positivity rate 6.56% pic.twitter.com/KyJFOuKJuM

— ANI (@ANI) January 12, 2022

Pakistan court sentences 4 to death in case of blast outside Hafiz Saeed's house: An anti-terrorism court in Pakistan on Wednesday sentenced four persons to death for their role in triggering a powerful car bomb blast outside Mumbai attack mastermind and JuD chief Hafiz Saeed's house here in June last year that killed three people, according to a court official.

Mumbai: Fire breaks out at godown, operation underway to douse blaze | "A level 2 fire broke out at a godown in Madanpur, Mumbai; fire confined to the ground floor plus one (floor). Eight fire tenders and five jumbo tenders, ambulance at the spot," the Brihanmumbai Municipal Corporation (BMC) said.

Maharashtra logs 46,723 new COVID cases, 28,041 recoveries

Maharashtra reports 46,723 new COVID cases, 28,041 recoveries, and 32 deaths today

Active cases: 2,40,122
Omicron cases in the state: 1367 pic.twitter.com/KQtAJRcRqX

— ANI (@ANI) January 12, 2022

Delhi reports 27,561 new COVID cases, 40 deaths; positivity rate at 26.22%: Delhi registered 27,561 new COVID-19 cases and 40 fatalities due to the viral infection in the last 24 hours, according to the data released by the health department.


Mumbai logs 16,420 new COVID cases, 7 deaths in 24 hours: Mumbai recorded 16,420 fresh COVID-19 cases and seven fatalities due to the infection in the last 24 hours, according to the data released by the health department.