President Kovind Addresses Joint Session of Parliament, Says 'Govt Committed to Empowerment and not Appeasement'
He added that the government was committed to doubling the income of farmers by 2022.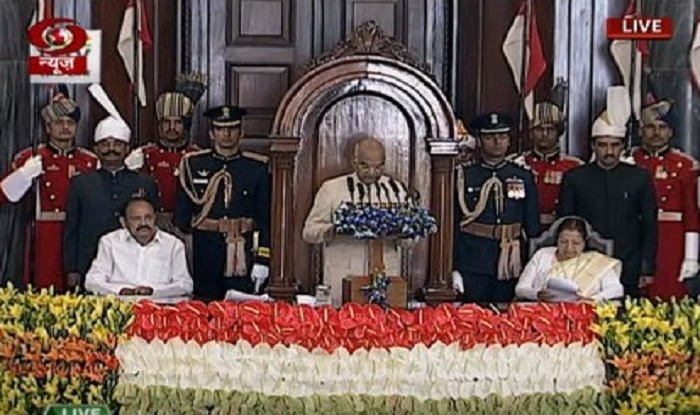 New Delhi, Jan 29: President Ram Nath Kovind on Monday addressed the joint sitting of Rajya Sabha and Lok Sabha. This was the first time he addressed the joint sitting of Parliament to mark the commencement of Budget Session 2018. President Kovind  said that his government was committed to empowerment and not appeasement of the minorities.
"Committed to "Empowerment and not Appeasement", my Government is making intensive efforts for economic, social and educational empowerment of the minorities," he said.
President Kovind shed light on numerous schemes implemented by the Government of India and government's vision for the future. He brought into spotlight government's commitment for the development of rural India. He said that government's top priority was to solve the problems faced by farmers.
"Solving problems of farmers and to raise their standard of living is my government's top priority. My government's policies are mitigating the worries of farmers and are reducing the cost of farming," he said.
He added that the government was committed to doubling the income of farmers by 2022. He further said that the government connected farming markets online to get farmers the right price for their produce. On eNam, trade worth Rs 36,000 crore was done so far, he added.
Talking further about government's initiatives for farmers, he said that the government was providing cheap and simple insurance scheme: Pradhanmantri Fasal Beema Yojana. He said that 5 crore 71 lakh farmers were insured under the scheme in 2017.
"My Government has introduced insurance schemes for poor at a premium of 1 rupee per month and 90 paise per day. Over 18 crore poor have been covered under the 'PM Suraksha Bima Yojana' and 'PM Jeevan Jyoti Bima Yojana' and about Rs. 2 thousand crore has been paid out as claims," he said.
Apart from farmers, he also talked about government's other initiatives.
"To ensure that benefits of development reach all sections of society, my Government is actively pursuing the work of connecting all villages under the 'Pradhan Mantri Gram Sadak Yojana'," he said.
"As compared to 2014 when only 56 per cent of the villages had road connectivity, now more than 82 per cent villages mostly in far flung and inaccessible areas have been connected by roads. Our target is to provide road connectivity to every village by 2019," he added.
"My Government has increased the minimum wage of workers by more than 40 per cent. The number of registers for compliance of Labour laws has also been reduced from 56 to 5. All returns are now filed online on the Shram Suvidha Portal," he added.
On education, President Kovind said: "My Government has approved over 2400 'Atal Tinkering Labs' under 'Atal Innovation Mission', in order to inculcate a spirit of entrepreneurship and creativity in children at an early age."
On Digital India, President Kovind said: "BHIM App is playing a major role in promoting digital transactions. The recently launched 'Umang App' has made more than 100 public services available on mobile phones."
"Aadhar has helped in securing the rights of the poor by eliminating middlemen. At present, Digital Payments are being carried out in more than 400 schemes of the Government," he added.
Before starting his speech, he quoted BR Ambedkar. "Baba Saheb Ambedkar used to say that without economic and social democracy, political democracy is unstable," President Kovind said.
President Kovind came to Parliament with customary guard of honour. Prime Minister Narendra Modi and Vice President Venkaiah Naidu were present to receive him.
Finance Minister Arun Jaitley will table the Union Budget 2018 on February 1 – this will be his last full-fledged budget before the 2019 general elections. Chief Economic Adviser Arvind Subramanian announced a webpage dedicated to the economic survey. It is expected that the economic survey will put spotlight on the rural economy and agriculture. This will be an indication of the government's push for rural development and agriculture sector ahead of 2019 general elections.
Apart from the economic survey and the Union budget, the budget session is likely to witness several important legislative businesses. The Muslim Women's (Protection of Rights on Marriage) Bill, 2017 (triple talaq bill), the Codes of Wages Bill, 2017, Rights of Children to Free and Compulsory Education, 2017 are among the important bills that will be taken up in Parliament.