Celebrate Ten Years of Vidya Balan With These 9 Must-See Movies (Part 2)
Picking up where we left off in Part 1, let us continue our celebration of Vidya Balan's 10 years in Bollywood by looking back at her filmy work from 2008 onwards.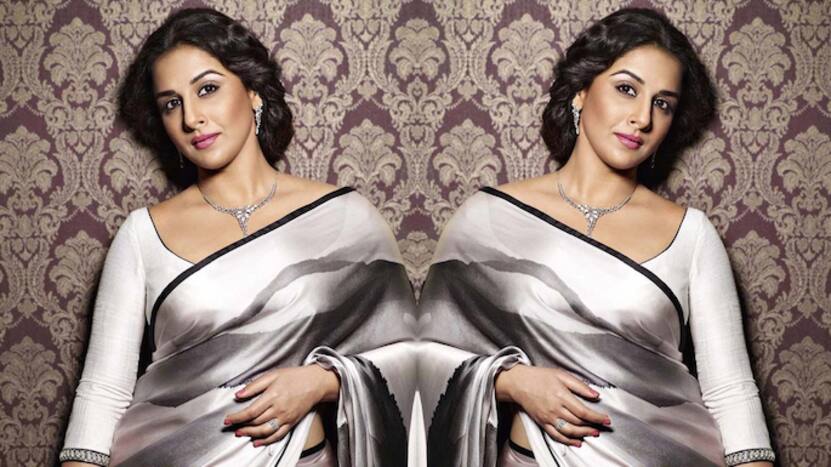 [Photo Source: Pinterest]
Picking up where we left off in Part 1, let's continue our celebration of Vidya Balan's 10 years in Bollywood by looking back at her filmy work from 2008 onwards. (And if you still have not seen her latest release,"Hamari Adhuri Kahani," then try to see it in a theater near you or on DVD soon!)
"Kismat Konnection" (2008)
Aziz Mirza's romantic comedy featuring Shahid Kapoor opposite Balan released with mostly lukewarm reactions from critics and viewers. Kapoor's character, architect Raj Malhotra, falls for Balan's Priya when he realizes that she is his lucky charm of sorts. The most memorable aspect of this movie is likely the real life lasting enmity between Kapoor and Balan, with Kapoor allegedly swearing to never work with Balan again. Interestingly enough, no such bitter sentiments have ever been reported from Balan's side—but it is no surprise that these two have never starred opposite one another since this film.
2. "Paa" (2009)
This family drama featured Balan, Amitabh Bachchan, and Abhishek Bachchan in one of the most unique Bollywood stories told to date. Balan plays Dr. Vidya in the film, a single mother to a child with progeria, Amitabh Bachchan's Auro. Auro's father is politician Amol Arte (Abhishek Bachchan), and the movie unfolds as it demonstrates Auro's relationship with his father blossoming despite Auro's growing health problems.
Auro's ultimate mission in the movie is to reunite his parents, both of whom he knows still love each other despite their differences in the past. "Paa" was a huge hit, and Balan's performance was lauded by critics, even winning her her first Filmfare Award for Best Actress.
3. "Ishqiya" (2010)
Balan joined Naseeruddin Shah and Arshad Warsi in this offbeat comedy thriller. Shah and Warsi play two thiefs, Khalujaan and Babban, respectively, who are on the run when they seek shelter with Balan's Krishna. As the plot progresses, it becomes obvious that Krishna has a plan of her own, and she may actually be using Khalujaan and Babban to meet her own ends as opposed to helping them. Critics absolutely loved "Ishqiya" and Balan's performance as the sultry, yet fierce Krishna. This movie won Balan yet another Filmfare award, this time the Critics Award for Best Actress.
4. "The Dirty Picture" (2011)
Right when we thought Balan could not possibly have more surprises up her sleeve for her fans, she blew us all away with her performance in this film that was inspired by the life of South Indian actress Silk Smitha. Just as Smitha served as the icon for sensuality in the South Indian film industry during her time, Balan's Reshma in "The Dirty Picture" transforms into "Silk" and becomes all the rage in the film industry for her willingness to take on risque roles.
The supporting cast of this movie included Emraan Hashmi, Tusshar Kapoor and Naseeruddin Shah, but Balan stole every scene.  Made on a relatively small budget, "The Dirty Picture" performed outstandingly well at the box office.  And, Balan's brilliance won just about every accolade possible that year, including the Filmfare, IIFA, and National Awards for Best Actress.
5. "No One Killed Jessica" (2011)
This film featured Balan alongside Rani Mukherjee in a female-driven thriller drama based on the story of the infamous murder of Jessica Lal. Balan's Sabrina, the sister of the title character, fights for justice for her sister with the help of Mukherjee's Meera Gaity, a passionate journalist. Only an actress with Balan's immense talent could strike the delicate balance between her character's subdued personality, yet burning desire to avenge her sister. Critics and viewers loved this movie, and it was a huge success at the box office.
6. "Kahaani" (2012)
Sujoy Ghosh's mystery thriller brought Balan to viewers in yet another completely new avatar. Balan's character, Vidya Bagchi, is a software engineer on the search for her missing husband. A pregnant Vidya flies solo to Kolkata from London during the Durga Puja festivities as she believes her husband went missing when he was in Kolkata for a business assignment. Partnering up with local authorities, Vidya does her best to dig through each layer of mystery and intrigue that keeps complicating her search.
"Kahaani's" unique and gripping story was complemented so well by Balan's strong performance that the movie was an instant winner at the box office. Balan added to her award collection by winning both the Filmfare and IIFA awards for Best Actress for this movie, and she only reinforced her reputation as an actress who is not afraid to take on bold and unique roles.
7. "Ghanchakkar" (2013)
This quirky comedic caper flick featured Balan opposite Emraan Hashmi for the second time since "The Dirty Picture."  Hashmi's Sanjay is a thief who specializes in cracking safes and Balan plays his wife Neetu. The movie chronicles the misadventures of this couple and two other thieves in the quest for a suitcase filled with money that has allegedly gone missing.
Honestly, the movie's storyline is convoluted and difficult to follow, and this is one of the reasons why "Ghanchakkar" was not a big hit, like other Balan films. That being said, most critics and viewers agreed that Balan's performance was the only reason to even consider giving this movie a watch. So, if you are curious, check it out while it's still available on Netflix streaming.
8. "Shaadi Ke Side Effects" (2014)
The 2014 sequel to the popular movie "Pyaar Ke Side Effects," featured Balan as Trisha Roy, the wife to Farhan Akhtar's Sid Roy. This comedy looked at the ups and downs a couple experiences post marriage and their first child. Unfortunately, neither of the two great lead actors could save this movie from its lackluster and somewhat boring screenplay. The best jokes were used in the theatrical trailer, so at least you can get a good laugh at those above.
9. "Bobby Jasoos" (2014)
This comedy-mystery movie featured Balan as gutsy private detective Bilqis Ahmed a.k.a. Bobby. She disobey's the wishes of her traditional Hyderabadi Muslim family, Bobby works towards building her private detective practice instead of settling down and getting married. "Bobby Jasoos" tells the story of a particular case that really gets business drumming for Balan's character. But, as her seemingly high profile and wealthy client seems as though he is up to no good with the tasks he assigns Bobby.
As this article series has demonstrated, I am obviously biased, but I really did love Balan in this movie, and I love her for taking on unconventional roles in female-driven movies like this one. However, it is unfortunate that her performance alone could not carry this movie to box office success.