Chhattisgarh Assembly Election 2018: Rahul Gandhi Releases Congress Manifesto in Rajnandgaon
The ruling BJP will release its manifesto on Saturday with a special focus on farmers and youth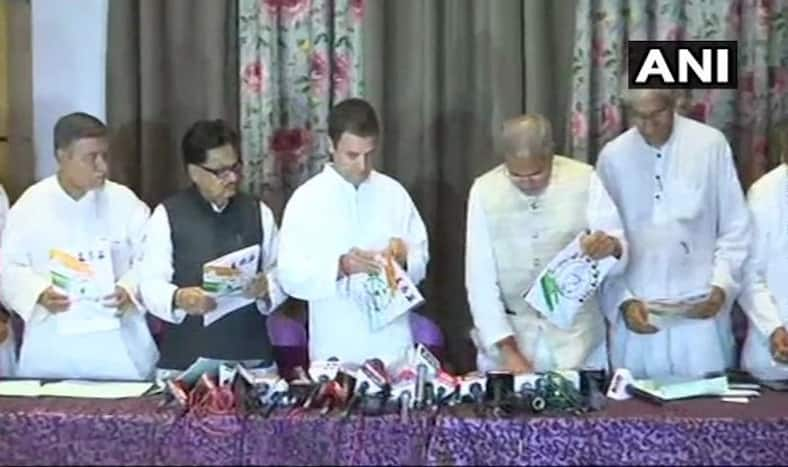 New Delhi: In a last attempt to woo voters ahead of the first phase of polling in Chhattisgarh, Congress on Friday released party's manifesto in Rajnandgaon district. Party President Rahul Gandhi along with other leaders was present at the occasion.
Meanwhile, the ruling BJP will release its manifesto on Saturday with a special focus on farmers and youth, state Agriculture Minister Brijmohan Agrawal said. The Sankalp Patar' will be released by BJP president Amit Shah, Agrawal, who heads the BJP's manifesto drafting committee, had said on Friday.
#ChhattisgarhAssemblyElections2018 : Congress President Rahul Gandhi releases party's manifesto in Rajnandgaon. pic.twitter.com/RAfJhSaKAH

— ANI (@ANI) November 9, 2018
Earlier in the day, Prime Minister Narendra Modi attacked the Congress and had alleged that the party is supporting urban Maoists. He had also said that the party has derailed the development of the region.
Claiming that the Congress never thought of the region's progress, the Prime Minister had said, "For 10 years, Congress was at the Centre, but they never paid attention to the needs of Chhattisgarh and blocked all development for the state."
Saturday is the last day of campaigning for the first phase of polling for 18 assembly seats in Chhattisgarh on Monday. The second phase, for the remaining 72 constituencies, will be held on November 20.
The first phase on November 12 will see 18 seats of eight Maoist-affected districts go to polls. Of these, 12 are Scheduled Tribe seats while one is a Scheduled Caste-reserved seat. The campaigning for the same will end on Saturday.
The remaining 72 constituencies will go to polls on November 20 and counting of votes will be held on December 11. A total of 1,291 candidates are in the fray for the two-phased state polls.