Chhattisgarh Election 2018 Results: Pandariya, Kawardha, Khairagarh, Dongargarh, Rajnandgaon, Dongargaon, Khujji, Mohla-Manpur Vote Counting Live Updates
Results: Pandariya, Kawardha, Khairagarh, Dongargarh, Rajnandgaon, Dongargaon, Khujji, Mohla-Manpur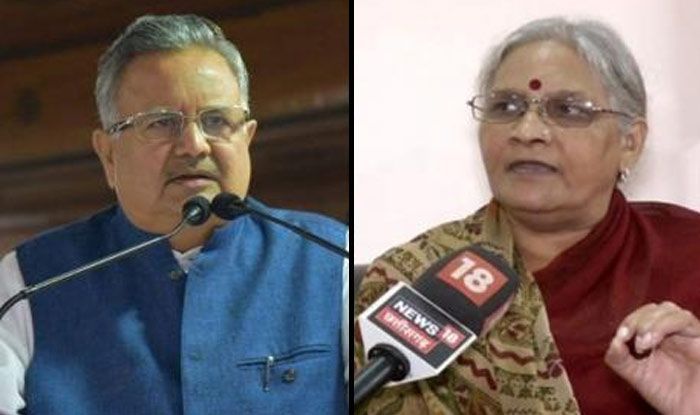 New Delhi: The Rajnandgaon Lok Sabha constituency was one of the most keenly-watched in the Chhattisgarh Assembly elections as the Congress fielded former prime minister Atal Bihari Vajpayee's niece Karuna Shukla as its candidate against Chhattisgarh chief minister Raman Singh for the Rajnandgaon seat.
Rajnandgaon: BJP's Raman Singh wins by 16,933 votes
The Rajnandgaon constituency is composed of Pandariya, Kawardha, Khairagarh, Dongargarh, Rajnandgaon, Dongargaon, Khujji, and Mohla-Manpur assembly sections where counting of votes is finished and the results are coming in. Let's take a look at each of them:
Pandariya: Congress's Mamta Chandrakar wins
The Pandariya seat was being held by BJP's Moti Ram Chandravanshi, who defeated Congress Mamata Chandrakar by around 6,500 votes in the 2013 assembly elections. For the 2018 polls, the BJP again fielded Chandravanshi and the Congress pitted Mamata Chandrakar. Congress' Mamta Chandrakar defeated BJP by over 36,487 votes.
Kawardha: Congres' Akbar Bhai wins
While the BJP has been winning the Kawardha seat for the last two Assembly elections, this year's election turned out to be a close contest between the saffron party and the Congress. In 2013, Ashok Sahu (93,645 votes) managed to defeat Congress' Akbar Bhai (91,087 votes) by a margin of just 2,558 votes. This time, the BJP again fielded Siyaram Sahu. Pitted against him were Mohammad Akbar of the Congress and the JCC's (Janta Congress Chhattisgarh) Agam Das Anant. Congress won over BJP by 59,284 votes.
Khairagarh: JCC's Devwrat Singh
In Khairagarh, Congress' Girwar Janghel defeated BJP's Komal Janghel in the Assembly elections of 2013 by a margin of 2,100 votes. The contesting candidate for the 2018 elections from BJP is Komal Janghel, from Congress is Girwar Janghel and from JCC (Janta Congress Chhattisgarh) is Devwrat Singh. The current MLA of Khairagarh, Girwar Janghel was accused in a sex-CD scandal in 2012. JCC won over BJP by 870 votes.
Dongargarh: Congress' Bhuneshwar Shobharam Baghel wins
Dongargarh, a seat reserved for SC candidates, has been a BJP stronghold for the last 15 years. Party's Sarojini Banjare defeated Congress candidate Thaneshwar Patila by around 4,500 votes in the last Assembly polls. This year, Banjare faced Congress' Bhuneshwar Singh Baghel and BSP's Mishri Lal Markande. Congress defeated BJP by over 35,418 votes.
Dongargaon: Congress' Daleshwar Sahu wins
The Dongargaon Assembly constituency was represented by Congress' Daleshwar Singh Sahu, who defeated BJP candidate Dinesh Gandhi by a margin of 1,600 votes in the last assembly elections. This year, the BJP fielded Madhusudhan Yadav and Daleshwar Singh Sahu. Congress won over BJP by 19,083 votes.
Khujji: Congress' Chhanni Chandu Sahu wins
Congress' Bhola Ram Sahu has been representing the Khujji Assembly constituency for the last 10 years. In the 2013 state elections, he defeated Independent candidate Rajindar Bhatiya by over 8,500 votes. For the 2018 elections, the Congress fielded Chhanni Chandu Sahu, who faced BJP's Hirendra Kumar Sahu. Congress has now defeated BJP by over 27,497 votes.
Mohla-Manpur: Congress' Indra Shah Mandavi wins
The Congress won the Mohla-Manpur seat in the last two Assembly elections. The party's Tej Kunwar Netam defeated BJP's Darbar Singh in 2013 by a margin of 6,400 votes. The contesting candidate for the 2018 elections from BJP was Kanchanmala Bhuarya, from Congress was Indra Shah Mandavi and from JCC was Sanjeet Kumar Thakur. Congress won over BJP by 21,048 votes.