Chhattisgarh Election Results 2018 Complete Winners List, Party and Constituency Wise Results: Congress Sweeps Majority Mark
Counting of votes will start at 8 am. These elections will determine the result of the 2019 General Elections.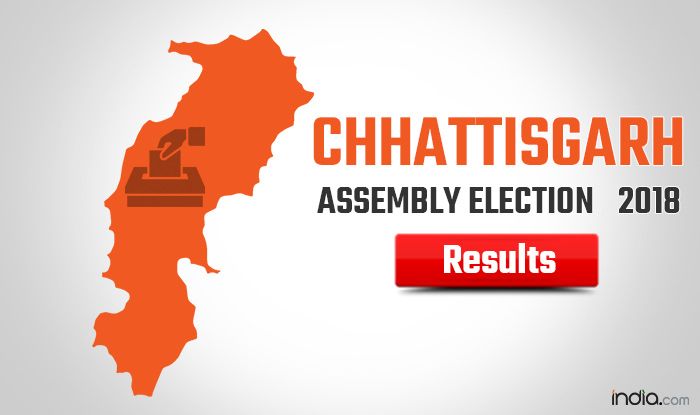 New Delhi: The counting of votes for 72-seat Chhattisgarh Assembly, voting for which was done in two phases, is expected to begin at 8 am and early trends are likely to emerge by 9 am. Chhattisgarh is currently ruled by the BJP and its incumbent chief minister Raman Singh is facing a tough challenge from the Congress. The elections will see a tough contest between the Bharatiya Janata Party (BJP) and Congress, among other regional parties. The term of the Bharatiya Janata Party (BJP)-ruled 90-member Assembly in the state concludes on January 5, 2019.  The state went to Assembly Election last in 2013. Then, the BJP had won 49 seats, the Congress 39 and the Bahujan Samaj Party (BSP) and an Independent candidate had won one seat each.
Phase 1
| | | | | | |
| --- | --- | --- | --- | --- | --- |
| SI. | AC No. | Name of Assembly Constituency | Name of BJP Candidate | Names of Congress Candidates | Winning/Trailing Candidate |
| 1 | 73 | Khairagarh | Komal Jangel | Girwar Janghel |  JCC leading |
| 2 | 74 | Dongargarh (SC) | Srimati Sarojini Banjarey | Bhuneshwar Shobharam Baghel |  Cong Wins |
| 3 | 75 | Rajnandgaon | Dr Raman Singh | Karuna Shukla | Cong leading |
| 4 | 76 | Dongargaon | Madhu Suden Yadav | Daleshwar Sahu |  Cong leading |
| 5 | 77 | Khujji | Hirendra Sahu | Chhanni Chandu Sahu |  Cong leading |
| 6 | 78 | Mohla-Manpur (ST) | Kanchanmala Bhuarya | Indrashah Mandavi |  JCC leading |
| 7 | 79 | Antagarh (ST) | Vikram Usendi | Anoop Nag |  Cong Wins |
| 8 | 80 | Bhanupratappur (ST) | Devlal Dugga | Manoj Singh Mandavi |  Cong Wins |
| 9 | 81 | Kanker (ST) | Hira Markam | Shishupal Shori |  Cong leading |
| 10 | 82 | Keshkal (ST) | Harishankar Netaam | Sant Ram Netam |  BSP leading |
| 11 | 83 | Kondagaon (ST) | Shushri Lata Usendi | Mohan Markam |  BSP leading |
| 12 | 84 | Narayanpur (ST) | Kedaar Kashyap | Chandan Kashyap |  Cong leading |
| 13 | 85 | Bastar(ST) | Shri Shubhau Kashyap | Baghel Lakheshwar |  Cong Wins |
| 14 | 86 | Jagdalpur | Santosh Bhafana | Rekhchand Jain |  Cong Wins |
| 15 | 87 | Chitrakot (ST) | Lachuram kashyap | Deepak Baij |  Cong Wins |
| 16 | 88 | Dantewada (ST) | Bhima Mandvi | Devati Karma |  BJP Leading |
| 17 | 89 | Bijapur (ST) | Mahesh Gagada | Vikram Mandavi |  Cong Wins |
| 18 | 90 | Konta (ST)ITT | Dhaniram Barsey |  Kawasi Lakhma |  CPI Leading |
PHASE 2
| | | | | | |
| --- | --- | --- | --- | --- | --- |
| SI. | AC No. | Name of Assembly Constituency | Name of BJP Candidate | Name of Congress Candidate | Winning/Trailing Candidate |
| 1 | 1 | Bharatpur-Sonhat (ST) | Champa Devi Pawale | Gulab Kamro |  Cong Wins |
| 2 | 2 | Manendragarh | Shyam Bhihari Jaiswal | Ambica Singh Deo |  BJP leading |
| 3 | 3 | Baikunthpur | Bhaiyalal Rajwade | Khel Sai Singh |  BJP leading |
| 4 | 4 | Premnagar | Shri Vijay Pratap Singh | Paras Nath Rajwade | Cong leading |
| 5 | 5 | Bhatgaon | Rajni Tripathi |  Paras Nath Rajwade |  BJP leading |
| 6 | 6 | Pratappur (ST) | Ram Shewak Paikra | Dr. Premsai Singh Tekan |  Cong leading |
| 7 | 7 | Ramanujganj (ST) | Shri Ramkishun Singh | Brihaspat Singh |  Cong leading |
| 8 | 8 | Samri (ST) | Shidhnath Paikra | Chintamani Mahraj |  Cong leading |
| 9 | 9 | Lundra (ST) | Vijaynath Singh | Dr. Pritam Ram |  Cong leading |
| 10 | 10 | Ambikapur | Anurag Singh Dev | T.S. Baba |  Congress Won |
| 11 | 11 | Sitapur (ST) | Pro. Gopalram Bhagat | Amarjeet Bhagat |  Congress Leading |
| 12 | 12 | Jashpur (ST) | Govindram Bhagat | Vinay Kumar Bhagat |  BJP leading |
| 13 | 13 | Kunkuri (ST) | Bharat Shai | U. D. Minj |  Congress Leading |
| 14 | 14 | Pathalgaon (ST) | Shivshankar Paikra | Rampukar Singh Thakur |  BJP leading |
| 15 | 15 | Lailunga (ST) | Satyanand Rathia | Chakradhar Singh Sidar |  Congress Leading |
| 16 | 16 | Raigarh | Roshan Lal Agarwal | Prakash Nayak |  Congress Leading |
| 17 | 17 | Sarangarh (SC) | Kairabhai Manhar | Uttari Jangade |  Congress Leading |
| 18 | 18 | Kharsia | OP Chaudhary | Umesh Patel |  Congress Leading |
| 19 | 19 | Dharamjaigarh (ST) | Srimati Livan Rattia | Laljeet Singh Rathia |  Congress Wins |
| 20 | 20 | Rampur (ST) | Nankiram Kanwar | Shyam Lal Kanwar |  BJP Leading |
| 21 | 21 | Korba | Vikas Mahatoh | Jaisingh Agrawal(Jaisingh Bhaiya) |  Congress Leading |
| 22 | 22 | Katghora | Lakhanlal Devgun | Purushottam Kanwar |  Congress Leading |
| 23 | 23 | Pali-Tanakhar (ST) | Ram Dayal Oike | Mohit Ram |  GGP leading |
| 24 | 24 | Marwahi (ST) | Shrimati Archana Portey | Gulab Singh Raj |  JCC(J) Wins |
| 25 | 25 | Kota | Shri Kashi Sahu | Vibhor Singh |  JCC Leading |
| 26 | 26 | Lormi | Tokhan Sahu | Shatruhan (Sonu) Chandrakar |  JCC Leading |
| 27 | 27 | Mungeli (SC) | Punnulal Mohley | Rakesh Patre |  BJP leading |
| 28 | 28 | Takhatpur | Harshita Pandey | Rashmi Ashish Singh |  JCC Leading |
| 29 | 29 | Bilha | Dharamlal Kaushik | Rajendra Shukla |  BJP Wins |
| 30 | 30 | Bilaspur | Amar Agarwal | Shailesh Pandey |  BJP leading |
| 31 | 31 | Beltara | Rajneesh Singh | Rajendra Sahu(Dabbu) |  BJP leading |
| 32 | 32 | Masturi (SC) | Dr Krishanmurti Bhandhi | Dilip Lahariya |  BJP leading |
| 33 | 33 | Akaltara | Saurab Singh | Chunnilal Sahu |  BJP leading |
| 34 | 34 | Janjgir-Champa | Narayan Chandel | Motilal Dewangan |  BJP leading |
| 35 | 35 | Sakti | Megharam Sahu | Charan Das Mahant |  Cong Leading |
| 36 | 36 | Chandrapur | Shrimati Sayungita Singh | Ram Kumar Yadav |  Cong Leading |
| 37 | 37 | Jaijaipur | Shri Kailash Sahu | Anil Kumar Chandra |  BJP leading |
| 38 | 38 | Pamgarh (SC) | Ambesh Jangde | Gorelal Barman |  BJP leading |
| 39 | 39 | Saraipali (SC) | Shri Shyam Tandi | Kismat Lal Nand |  Cong Leading |
| 40 | 40 | Basna | Shri D.C. Patel | Devendra Bahadur Singh |  Cong Wins |
| 41 | 41 | Khallari | Monika Sahu | Dwarikadhish Yadav |  Cong Leading |
| 42 | 42 | Mahasamund | Shri Poonam Chandrakar | Vinod Sevan Lal Chandrakar |  Cong Leading |
| 43 | 43 | Bilaigarh (SC) | Dr Sanam Jangde | Chandradev Prasad Rai |  Cong leading |
| 44 | 44 | Kasdol | Gaurishankar Agarwal | Shakuntala Sahu |  Cong Wins |
| 45 | 45 | Baloda Bazar | Shri Tesu Dhurendhar | Janak Ram Verma |  Cong leading |
| 46 | 46 | Bhatapara | Shivratan Sharma | Sunil Maheshwari |  BJP Wins |
| 47 | 47 | Dharsiwa | Devjibhai Patel | Anita Yogendra Sharma |  Cong Wins |
| 48 | 48 | Raipur Rural | Nand Kumar Nandey Sahu | Satyanarayan Sharma |  Cong leading |
| 49 | 49 | Raipur City West | Rajesh Mudyat | Vikas Upadhyay |  Cong leading |
| 50 | 51 | Raipur City South | Brijmohan Agarwal | Kuldeep Juneja |  Cong leading |
| 51 | 52 | Arang (SC) | Sanjay Thethe | Shivkumar Dahariya |  Cong Wins |
| 52 | 53 | Abhanpur | Chandrashekhar Sahu | Dhanendra Sahu |  Cong Wins |
| 53 | 54 | Rajim | Santosh upadhya | Dhanendra Sahu |  Cong leading |
| 54 | 55 | Bindrawagarh (ST) | Damrudhar Pujari | Amitesh Shukla |  BJP Wins |
| 55 | 56 | Sihawa (ST) | Srimati Pinki Shivraj Saah | Sanjay Netam |  Cong leading |
| 56 | 57 | Kurud | Ajay Chandrakar | Dr. Lakshmi Dhruw |  BJP leading |
| 57 | 58 | Dhamtari | Srimati Ranjana Sahu | Laxmikanta Sahu |  BJP leading |
| 58 | 59 | Sanjari Balod | Shri Pawan Sahu | Gurumukh Singh Hora |  BJP leading |
| 59 | 60 | Daundi Lohara (ST) | Lal Mahendra Tekam | Anila Bhendia |  Cong Wins |
| 60 | 61 | Gunderdehi | Shri Deepak Sahu | Kunwer Singh Nishad |  Cong Wins |
| 61 | 62 | Patan | Motilal Sahu | Sangeeta Sinha |  Cong leading |
| 62 | 63 | Durg Rural | Jageshwar Sahu | Tamradhwaj Sahu |  Cong Wins |
| 63 | 64 | Durg City | Srimati Chandrika Chandrakar | Arun Vora |  Cong Wins |
| 64 | 65 | Bhilai Nagar | Prem Prakash Pandey | Arun Vora |  BJP leading |
| 65 | 66 | Vaishali Nagar | Shri Vidhyaratan Bhasin | Devendra Singh Yadav |  BJP leading |
| 66 | 67 | Ahiwara (SC) | Sawala Ram Dharey | Guru Rudra Kumar |  Cong Wins |
| 67 | 68 | Saja | Labhchand Bafna | Guru Rudra Kumar |  Cong leading |
| 68 | 69 | Bemetara | Avdesh Chandel | Ashish Kumar Chhabra |  Cong Wins |
| 69 | 70 | Navagarh (SC) | Dhayaldas Bhagel | Ashish Kumar Chhabra |  BJP leading |
| 70 | 71 | Pandariya | Motiram Chandravasi | Gurudayal Singh Banjare |  Cong leading |
| 71 | 72 | Kawardha | Ashok Sahu | Mamta Chandrakar |  Cong leading |
| 72 | 73 | Khairagarh | Komal Jangel | Akbar Bhai |  JCC leading |
| 73 | 74 | Dongargarh (SC) | Srimati Sarojini Banjarey | |  Cong leading |
| 74 | 75 | Rajnandgaon | Dr Raman Singh | |  BJP leading |
| 75 | 76 | Dongargaon | Madhu Suden Yadav | Daleshwar Sahu |  Cong Wins |
| 76 | 77 | Khujji | Hirendra Sahu | |  Cong leading |