Chhattisgarh Election Results 2018 LIVE Streaming on ZEE News Chhattisgarh: Watch Chhattisgarh Assembly Election Results Online Streaming And Telecast Here
Watch Chhattisgarh Assembly Election 2018 vote counting on ZEE NEWS Chhattisgarh live streaming.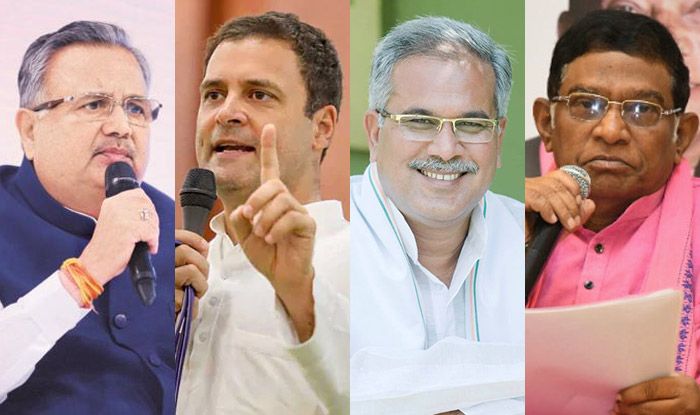 Raipur: The counting of votes for 90-seat Chhattisgarh Assembly, voting for which was heldin two-phases on November 12 and 20, is expected to begin at 8 AM and early trends are likely to emerge by 9 AM. Though, the Election Commission of India gives frequent online updates on its official website, but for the fastest updates on Chhattisgarh  Assembly Elections 2018 vote counting and trend analysis, one can watch Zee News Chhattisgarh Live TV online from anywhere. The Live streaming of the ZEE News Chhattisgarh is available here. It would give the 360-degree coverage on Chhattisgarh Assembly Elections 2018 outcome and sharp analysis on how it might impact the upcoming Lok Sabha Elections 2019. (Live Updates on Assembly Election 2018)
Chhattisgarh is currently ruled by the Bharatiya Janata Party (BJP) since 2003 and its incumbent chief minister Raman Singh is facing a tough challenge from the Congress. The poll pundits have predicted a neck-and-neck competition in Chhattisgarh, owing to huge anti-incumbency factor against the Raman Singh government, and the situation is likely to lead towards a hung assembly in the state. The two-phased elections will also see former Congress leader Ajit Jogi's Janta Congress Chhattisgarh (JCC), which has formed an alliance with the Mayawati-led BSP and the Communist Party of India (CPI), giving a strong competition to other parties. (Live Updates on Chhattisgarh Assembly Election 2018)
The keenly-watched constituency will be Rajnandgaon, where Chief Minister Raman Singh of the ruling BJP and Congress candidate Karuna Shukla, niece of former prime minister late Atal Bihari Vajpayee, are in the fray.
The polling in Chhattisgarh state was done on Electronic Voting Machines (EVMs) and since the counting of votes happens faster than the ballot papers, so the final results are expected to come out by afternoon.
Meanwhile, apart from Chhattisgarh, counting of votes is also taking place in four other states. To get fastest updates on Madhya Pradesh, Rajasthan, Telangana and Mizoram vote counting, watch Zee News Live TV here. Also, for well-rounded coverage and live updates visit our elections special page.
For the latest News & Live Updates on Election Results from each Assembly constituency in Madhya Pradesh, Rajasthan, Mizoram, Chhattisgarh, Telangana, visit our Assembly Elections page. You can also like us on Facebook or follow us on Twitter.