Congress Distances Itself From Salman Khurshid's 'Hand Stained With Muslims' Blood' Remarks
New Delhi, April 24: The Congress party has dissociated itself from its senior leader Salman Khurshid's controversial comments that his party's hand is stained with blood of Muslims. Hours aft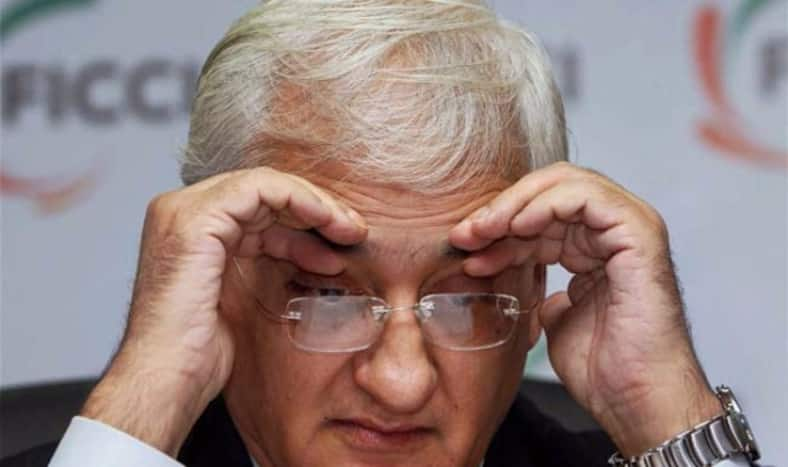 New Delhi, April 24: The Congress party has dissociated itself from its senior leader Salman Khurshid's controversial comments that his party's hand is stained with blood of Muslims. Hours after Khurshid's remarks, Congress leader PL Punia addressed media and said,"Congress disagrees with statement of Salman Khurshid in toto. Everyone must know that both prior&post independence Congress is the only party which has worked towards building an egalitarian society by carrying all sections of peoplel together as also religious and ethnic minorities."
Earlier on Monday, while interacting with students at Aligarh Muslim University, Khurshid courted a controversy saying,"I won't hesitate to say that Congress has the stain of Muslim blood on its hand. As leader of the party, I feel the blots are on my hand."
Furthermore the former law minister asserted,"I am telling you this; we are ready to show the blood on our hands so that you understand that you too must not get blood on your hands. If you attack them, you are the ones who would get stains on your hands. Learn something from our history and don't create such situation for yourself where if you come back to AMU after 10 years you will find one like you to ask the question."
Taking a jibe at the Opposition over Khurshid's remarks, Bharatiya Janata Party (BJP) MP Subramanian Swamy said it was expected from the Congress. "Such statements will be made before the 2019 Lok Sabha election," Swamy said.
Later, Khurshid defended himself and said,"I am not a representative of the Congress party, I am the Congress party. I was defending Congress party. What I said I will continue to say, I made the statement as a human being."
Notably, Khurshid was was replying to a question asked by former AMU student.
"The first amendment was in 1948. Then, there was Presidential order in 1950. After that Hasanpura, Maliana, Muzaffarnagar and there is a long list of riots under the Congress regime. Then there was the opening of the gates of Babri Masjid, placing idols inside and then the demolition of Babri Masjid while Congress was in power at the centre. Congress has Muslims' blood on its hands. What do you have to say about it?" the former student had reportedly asked the Congress leader.