Delhi Metro: Pink Line's South Campus-Lajpat Nagar Section to Open Today
Four major markets of the city will be connected on one stretch that will also cut travel time for commuters.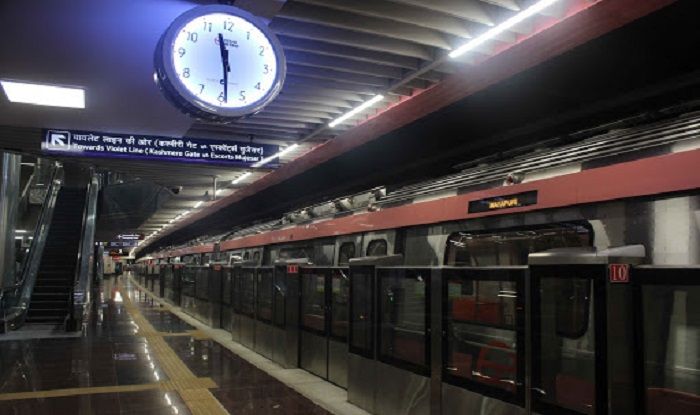 New Delhi, Aug 6: The metro services from Lajpat Nagar Metro-Durgabai Deshmukh South Campus Corridor will be inaugurated today, i.e. on Monday. Delhi Chief Minister Arvind Kejriwal, along with Minister of State (Independent Charge) for Housing and Urban Affairs Hardeep Singh Puri, will be attending the event.
The stretch, which will be a continuation of the presently operational Majlis Park – Durgabai Deshmukh South Campus section, will be a major advantage for the shoppers of the city as four major markets of the national capital, i.e, Sarojini Nagar, INA, South Extension and Lajpat Nagar will get dedicated Metro stations.
This section from Lajpat Nagar to Sir Vishweshwaraiah Moti Bagh consists of six stations– Sir Vishweshwaraih Moti Bagh, Bhikaji Cama Place, Sarojini Nagar, INA, South Extension and Lajpat Nagar.
The Durgabai Deshmukh South Campus-Shiv Vihar stretch measures about 28.93 km. It also has two interchange stations at INA and Lajpat Nagar. The first corridor of the Pink Line, spanning over 20 km, from Majlis Park to Durgabai Deshmukh South Campus, was opened on March 14, connecting north and south campuses of the Delhi University on the DMRC network for the first time.
The DMRC has already made forays in Haryana and Uttar Pradesh with networks extending up to Faridabad, Gurgaon, Noida and Ghaziabad. According to the data shared by the DMRC, the corridors awaiting opening are — Noida City Centre-Electronic City (6.6 km), Dwarka-Najafgarh (4.2 km), Escorts Mujesar-Ballabgarh (3.2 km) and Dilshad Garden-New Bus Adda (9.6 km).
(With ANI inputs)