Assembly Election 2022: Strict Actions To Be Taken Against Polling Officers For Violation Of Covid Guidelines, Says EC | Highlights
Assembly Elections 2022 Updates: The Election Commission declared the poll schedule for assembly elections in Uttar Pradesh, Punjab, Uttarakhand, Goa and Manipur today.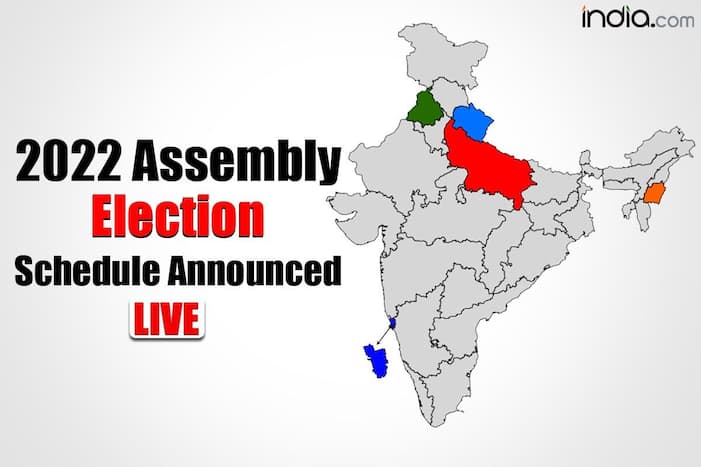 New Delhi: The Election Commission on Saturday addressed a press conference and announced the schedule of assembly polls for 5 states. Notably, the states that will go to polls include Uttar Pradesh, Punjab, Uttarakhand, Manipur and Goa. The EC said the voting for the assembly elections in these states will be held between February 10 and March 7 and added that the election will be completed in 7 phases. The Election Commission said that the counting of voted will be held on March 10. As per the announcement, the first phase for UP assembly polls will be held on February 10 and the second phase on February 14.
Assembly Election 2022 Latest Updates:
Strict actions to be taken against polling officers as well for any violation of Covid guidelines: Election Commission
PM Modi already held various political rallies. He's been touring for the past month & has visited CM Yogi more than 10-15 times. There's nothing for the ruling party. Only financially weaker parties will face problems; ruling party is comfortable: Mallikarjun Kharge, LoP in RS
UP CM Yogi Adityanath welcomed the data announcement of polls in UP. "The Bharatiya Janata Party will be able to form a government with a thumping majority with the blessings of Janata Janardan on the basis of the achievements of the double engine government," he said.
No concerns any more on EVMs, everyone must be proud of these machines: CEC Sushil Chandra
Congress welcomes Election Commission's instructions. We wanted the EC to impose strict rules on COVID guidelines, which they've done. I'm sure Punjab will vote in big numbers, we'll promote our manifesto via social media,TV &other media forms: Punjab Cabinet Minister Raj K Verka.
Sufficient CAPF companies will be deployed in all poll-bound states looking at law & order situation and threat perception, says Chief Election Commissioner Sushil Chandra
All parties, candidates must ensure strong checks against hate speech, fake news; Strict vigil would be done of social media platforms: EC
The EC said there will be 7 phases for elections in 5 states.First phase: Feb 10Second phase: Feb 14Third phase: Feb 20Fourth phase: Feb 23Fifth phase: Feb 27Sixth phase: March 3Seventh phase: March 7
State wise election schedule in five states7 phases UP elections2 phases Manipur elections1 phase Punjab elections1 phase Goa elections1 phase Uttarakhand elections
Uttar Pradesh to go to poll in 7 phases from 10th Feb to 7th March; Punjab, Uttarakhand and Goa to vote on 14th February & Manipur to vote on 27th Feb & 3 March; Counting of votes on 10th March, says ECI.
Chief Election Commissioner Sushil Chandra on Saturday announced polls dates and said the polling for 5 states will be over by March 5.
Chief Election Commissioner Sushil Chandra says in view of the Covid-19 situation, there will be no roadshow, padyatra or physical rallies allowed in the five states till January 15.
All polling booths will have less than 1000 voters for smooth polling. One booth will be in each constituency to be totally manned by women staff and security members, says CEC Sushil Chandra.
CEC Sushil Chandra says the Election Commission has three objectives this time: Safe elections during COVID, easy elections and maximum voter participation.
Chief Election Commissioner Sushil Chandra says, "We have to conduct elections in a way which saves voters and parties."
Chief Election Commissioner Sushil Chandra says the polling booths will be located at the ground floor for easy accessibility.
Chief Election Commissioner Sushil Chandra began press conference and now talks about the COVID preparedness for the polls in five states.
Chief Election Commissioner Sushil Chandra along with ECI officials arrives at Vigyan Bhawan to announce poll schedule for five States including Uttar Pradesh.
Samajwadi Party Chief Akhilesh Yadav demanded funds from the EC for political parties to ensure better digital infrastructure amid increasing Covid-19 cases, and the body possibly mandating virtual rallies.
Sources in the Election Commission have told news portal that the state of Uttar Pradesh is likely to vote in six to eight phases, while Punjab will go for polling in two to three phases. Manipur is likely to have two-phase elections while Goa and Uttarakhand will vote in a single phase.
Election Commission of India to announce the schedule for Assembly elections to Goa, Punjab, Manipur, Uttarakhand and Uttar Pradesh shortly.
SP government will give 300 unit of electricity free to households. Electricity for irrigation free for farmers: Akhilesh Yadav
In view of the increasing Covid19 infection, I am postponing all public programs today: Uttarakhand CM Pushkar Singh Dhami.
COVID protocols will be announced by ECI amid rising cases across India
CEC Sushil Chandra along with ECs Rajiv Kumar and Anup Chandra Pandey, to address a Press Conference today at 3:30 pm to announce Schedule for General Elections to Legislative Assemblies of Goa, Punjab, Manipur, Uttarakhand and UP.
Out of these 5 poll-bound states, BJP is in power in 4 states including Goa, Manipur, Uttarakhand, and Uttar Pradesh. Leaders from all the political parties are campaigning aggressively for months to register their win in the upcoming polls.
These election are touted to be crucial, not only for the ruling dispensation – Bharatiya Janata Party (BJP) in Uttar Pradesh and Congress in Punjab – but also for the challengers, like the Samajwadi Party (SP) in UP and Trinamool Congress and Aam Aadmi Party (AAP) in Goa.
Uttar Pradesh is India's most populous state and arguably most crucial politically. With a population over 200 million cutting across caste and communities, and 80 Lok Sabha seats and 403 assembly seats, the state wields disproportionate power in the country's politics. Having roots in the state propels a political party or leader to the national arena because no other state comes close in terms of political heft.
In Goa, the fight is as much between the BJP and the Congress as it is between the AAP and the Trinamool Congress to emerge as the new Opposition alternative; in Uttarakhand, the incumbent BJP appears to be in trouble after changing two chief ministers in a year, and in Manipur, the Congress will seek to wrest power from the BJP in a state where it emerged as the single-largest party only to see its lawmakers defect.