EVM Hacking Charge: BJP Slams Congress' 'False Agenda', Questions Kapil Sibal's Presence in Cyber Expert's Presser
BJP questioned the presence of Kapil Sibal in the press conference in London and alleged that the latter was "monitoring the situation on behalf of the Congress party."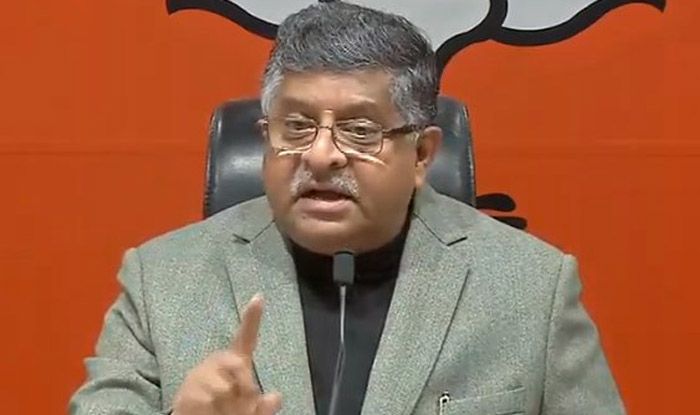 New Delhi: The BJP on Tuesday vehemently denied the sensational claim by an Indian cyber expert that electronic voting machines (EVMs) can be hacked, saying that the former failed to provide any proof for his allegations.
Addressing a press conference, Union Law Minister Ravi Shankar Prasad said that the press conference by Syed Suja in London, where he alleged EVM rigging in the 2014 Lok Sabha polls, was a "Congress-sponsored event designed to defame the popular mandate of India".
Prasad also questioned the presence of senior Congress leader Kapil Sibal in the press conference in London and alleged that the latter was "monitoring the situation on behalf of the Congress party."
"What was Mr Kapil Sibal doing there? In what capacity was he present there? I believe he was monitoring the situation on behalf of Congress party. Is the Congress sponsored event designed to insult the popular mandate of 2014?" he asked.
Terming the charges and the presser by the cyber expert as "Congress-scripted EVM hackathon", Prasad said that the allegations of EVM hacking in 2014 Lok Sabha elections were completely baseless as it was the UPA who was in the power at that time and not the BJP.
"In 2014, UPA was in power, not us. Where is the logic in accusing us of hacking EVM when we were not in power?" Prasad questioned.
Prasad also wondered why Congress did not question the validity of EVMs when it won in Chhattisgarh, Madhya Pradesh and Rajasthan.
"Seeing that they will lose this year, is Congress cooking these tales now? How many more alibis is Rahul Gandhi going to offer?" said Prasad.
The statement from the BJP comes a day after Syed Suja, the Indian cyber expert who is seeking political asylum in the US, claimed on Monday that the 2014 general election was "rigged" through EVMs, which, he said, can be hacked.
Suja also said he fled India in 2014 because he felt threatened in the country after the killing of some of his team members.
Rejecting the claims, Election Commission said that it firmly stands by "empirical facts about foolproof nature". The election watchdog also said that it was mulling legal action in response to the claims identified as Syed Suja at a press conference in London.
The BJP rejected the sensational claims by the cyber expert and described the allegation as a "hacking horror show organised" by the Congress and said that the opposition party has begun looking for an excuse for its likely defeat in the next Lok Sabha polls.
On the other hand, a defensive Congress distanced itself from the London press conference by Syed Suja, while demanding an investigation into the allegations.
Congress spokesperson Abhishek Singhvi said Sibal was invited by a journalist and he did not represent the Congress party at the press conference, held under the aegis of the Indian Journalists' Association (Europe).