Expelled AIMPLB Member Salman Nadwi Forms Manav Kalyan Board to Resolve Babri Masjid Dispute
New Delhi, Feb 26: After getting expelled from All India Muslim Personal Law Board for suggesting transfer of Babri Masjid from the disputed site, Muslim cleric Maulana Salaman Nadwi on Monday announc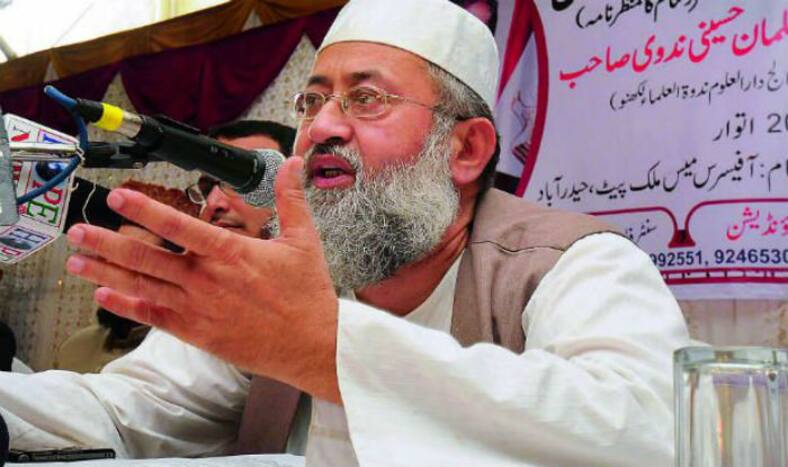 New Delhi, Feb 26: After getting expelled from All India Muslim Personal Law Board for suggesting transfer of Babri Masjid from the disputed site, Muslim cleric Maulana Salaman Nadwi on Monday announced the formation of inter-faith organisation Manav Kalyan Board. Nadwi said that the new outfit will try to bring people of different faiths and sects to find a possible solution for decades old Ram Janmabhoomi- Babri Masjid dispute.
The outfit will be holding its first meet on March 8 and it has appealed to people to join through an open invitation. Nadwi also put his phone number and e-mail id so that people can reach him on the issue.
"Thousands of people called me and told me they supported my formula to end the Ayodhya dispute, calling it truly the only way forward. So it was decided to get all these people together in the form of an organisation. I will invite religious heads of all denominations and it will then be decided on March 8 as to how to take it further," The Times of India quoted  Maulana Salman Nadwi as saying.
Nadwi also claimed that Art of Living founder Sri Sri Ravishankar will also be part of the initiative to resolve the issue. All India Muslim Personal Law Board expelled Nadwi after he suggested out of court settlement for the issue.
What is Babri Masjid-Ram Janmabhoomi dispute?
Hindus and Muslims have quarrelled for over a century over the history of the Babri mosque in Ayodhya, a town in Uttar Pradesh. Hindus claim that the mosque stands on the birthplace of their god-king Rama, and was built after the destruction of a Hindu temple by a Muslim invader in the 16th century. The dispute flared up in 1992 after a Hindu mob destroyed the mosque and nearly 2,000 were killed in rioting between Hindus and Muslims across the country.