Fuel Price Cut: BJP-ruled States Follow Centre to Bring Petrol, Diesel Prices Down by Rs 5; Congress Ridicules 'Meagre' Reduction
The Centre's move was quickly followed by 13 NDA-ruled states and J&K, which announced a further cut of Rs 2.50 to effectively bring the fuel prices down by Rs 5 per litre.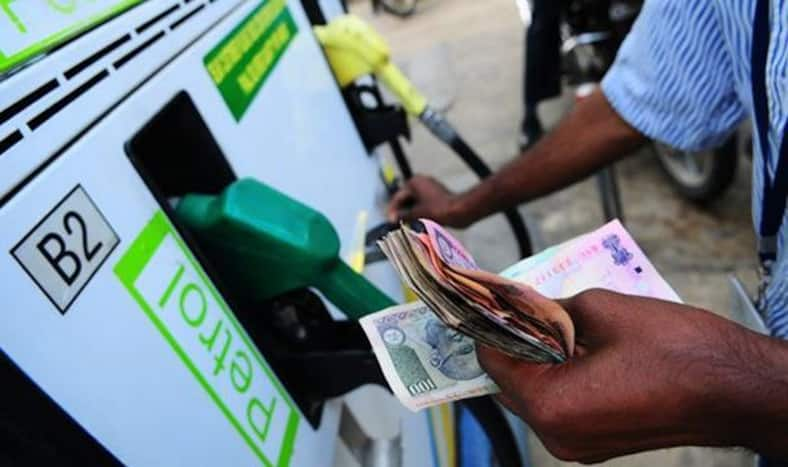 New Delhi: Amid rising concerns over the unabated hike in fuel prices, the Narendra Modi government on Thursday brought some relief for the common man, announcing a cut of Rs 2.50 per litre on petrol and diesel prices by reducing excise duty and asking PSU oil firms to take a hit of Rs 9,000 crore. The price cuts become effective from midnight tonight.
Highlights
Centre's move was followed 14 states, 13 of which are BJP-ruled, along with Jammu and Kashmir.
States like Kerala, Karnataka and West Bengal ruled out any cut in fuel prices on their part.
The reduction, only the second in four years of BJP-led NDA rule, will dent Centre's revenues by Rs 10,500 crore.
Jaitley said leaders who only tweet and indulge in lip sympathy over high prices will be put to test now.
Congress said the cut in fuel prices was like "reducing death sentence to life imprisonment".
Making the announcement, Finance Minister Arun Jaitley also asked the states to match the move with a similar cut on VAT in order to double the reduction in retail rates, a move that was quickly followed by as many as 14 states, 13 of which are BJP-ruled along with Jammu and Kashmir, which is currently under Governor's rule.
States which announced a cut in VAT of up to Rs 2.5 per litre to bring a Rs 5-per-litre reduction in pump rates include Uttar Pradesh, Madhya Pradesh, Maharashtra, Rajasthan, Chhattisgarh, Jharkhand, Tripura, Assam, Arunachal Pradesh, Himachal Pradesh, Haryana, Uttarakhand, Goa and Jammu and Kashmir.(Check the live Petrol and Diesel Price in India )
While all other states followed Centre's footsteps and announced a reduction of Rs 2.50 on both the fuels, Maharashtra slashed prices only on petrol and said it is considering a cut in diesel prices.
The states welcomed the move and thanked PM Modi and Jaitley, saying that the reduction in fuel prices will bring a relief to the common man.
The well-coordinated move by the BJP-ruled states also followed Rajasthan, Karnataka, Andhra Pradesh, Kerala and West Bengal which had last month reduced VAT by to cushion consumers for a spate of price increases. While Rajasthan had slashed prices by 2.50, Karnataka and Andhra Pradesh had reduced the rates by Rs 2, and Kerala and West Bengal had cut prices by Re 1 each.
Meanwhile, the BJP-JD(U) government in Bihar said it will see the order by the finance minister before making a decision. "We didn't receive any letter from Jaitley ji. First we will see the order then make a decision on petrol and diesel. Each and every state has their own situation so first let the letter come," said Bihar Deputy CM Sushil Modi.
The Centre cut excise duty on petrol and diesel by Rs 1.50 per litre and asked oil firms to absorb Re 1 a litre of prices.
The relief to consumers will be in three parts — centre will cut excise duty by Rs 1.5, and oil marketing companies (OMCs) will factor in Re 1 in their pricing, and states have been asked to cut VAT as they have raked in windfall gains due to ad valorem nature of the levy that results in higher realisation whenever rates move up, the finance minister said.
The reduction in excise duty, only the second in four years of BJP-led NDA rule, will dent central government revenues by Rs 10,500 crore and was aimed at cooling retail prices that had shot up to an all-time high.
Your Turn Now, Jaitley Tells States; Takes Dig at Opposition
While announcing the decision and asking the states to follow suit, Jaitley took a dig at the opposition for cornering the Centre over the rising fuel prices, saying leaders who only tweet and indulge in lip sympathy over high prices will be put to test now.
"Let the states decide (about fuel price cut). I won't interfere. But this will be a test for all the state governments, especially the leaders who were only offering a lip service earlier," he said.
The BJP-government at the Centre had raised excise duty on petrol by Rs 11.77 a litre and that on diesel by Rs 13.47 a litre in nine installments between November 2014 and January 2016 to shore up finances as global oil prices fell, but then cut the tax just once in October last year by Rs 2 a litre.
It had resisted the call for a reduction in excise duty since May when retail rates first shot up and then again from mid-August when fuel prices started moving up again.
#WATCH Finance Minister Arun Jaitley briefs the media in Delhi https://t.co/AYU7yA9njp

— ANI (@ANI) October 4, 2018
In Delhi, where the fuel prices are the lowest among all metros, and most of the state capitals, petrol is currently sold at Rs 84 per litre and diesel at Rs 75.45.
Since mid-August, the petrol price has risen by Rs 6.86 a litre and diesel by Rs 6.73 – the most in any six-week duration after the daily price revision was introduced in mid-June last year.
Almost half of the fuel price is made up of taxes. The centre currently levies a total of Rs 19.48 per litre of excise duty on petrol and Rs 15.33 per litre on diesel. On top of this, states levy value-added tax (VAT).
Before the reduction, Mumbai had the highest VAT of 39.12 per cent on petrol, while Telangana levies the highest VAT of 26 per cent on diesel. Delhi charges a VAT of 27 per cent on petrol and 17.24 per cent on diesel.
The hike in duties in 2014-16 had led to excise collections from petro goods rising from Rs 99,184 crore in 2014-15 to Rs 2,29,019 crore in 2017-18. States saw their VAT revenue rise from Rs 1,37,157 crore in 2014-15 to Rs 1,84,091 crore in 2017-18.
Jaitley said the total impact of Rs 1.50 cut in excise duty is about Rs 21,000 crore for full year and Rs 10,500 crore the reminder of current fiscal.
Congress Ridicules 'Meagre' Fuel Price Cut, Terms Move a 'Panic Reaction'
Launching a stringent attack on the Modi government, the Congress ridiculed the "meagre" reduction in petrol and diesel prices, saying it is like applying a band-aid after inflicting a thousand wounds on the people the country.
Claiming that the move was a "panic reaction" by the government after facing people's anger and an "imminent defeat" for the BJP in the upcoming elections in five states, Congress spokesperson Randeep Surjewala said the cut in fuel prices was like "reducing death sentence to life imprisonment".
Alleging over "Rs 13-lakh-crore fuel loot" by the government, Surjewala said the people "cannot be befooled" anymore by the government and demanded answers from Prime Minister Narendra Modi and Finance Minister Arun Jaitley.
The opposition party demanded that the fuel prices be brought to the 2014 level and that petrol and diesel be brought under the GST regime.
Surjewala asked why the "fuel robbery continued when the prices of crude oil reduced by 45 per cent internationally".
He said on May 16, 2014, the price of crude oil was USD 107.09 per barrel and the present price of international crude is USD 86 per barrel, with the average crude price during 52 months of Modi government being USD 58 per barrel, nearly 45 pc less than the UPA tenure. Still, the petrol/diesel prices continue to skyrocket at much higher levels during Modi government, he said.
The Congress leader also questioned why the government was selling petrol and diesel "cheaper" to 29 countries.
Former finance minister and Congress leader P Chidambaram said that the government is indulging in 'tokenism'.
An oil revenue dependent government has belatedly realised the unbearable burden on the people and indulged in tokenism.

— P. Chidambaram (@PChidambaram_IN) October 4, 2018
Demanding the Centre to cut the fuel prices by Rs 10 per litre, Delhi CM and AAP supremo Arvind Kejriwal said that the government hiked the excise by Rs 10 and slashed prices by just Rs 2.50.
मोदी सरकार ने एक्साइज़ ड्यूटी 10 रुपए प्रति लीटर बढ़ाई और मात्र 2.50 रुपए आज कम कर दी? ये तो धोखा हुआ। केंद्र सरकार को कम से कम 10 रुपए प्रति लीटर की कमी करनी चाहिए। https://t.co/WqBzarLLaD

— Arvind Kejriwal (@ArvindKejriwal) October 4, 2018
Shiv Sena, too, joined the Opposition to condemn the "meagre" reduction in prices of petrol and diesel by the BJP-led governments at the Centre and in Maharashtra. "The decision to cut down prices of petrol and diesel by the Centre and Maharashtra governments has been taken fearing the wrath of people. This reduction is meagre," Sena MP Rahul Shewale said in a statement.
Non-NDA-ruled States Refuse to Cut Prices
On the other hand, states like Kerala, Karnataka and West Bengal ruled out any cut in fuel prices on their part.
Karnataka Chief Minister H D Kumaraswamy said that the state government will not reduce the petrol and diesel as it has already announced a reduction of Rs 2 per litre last month.
He, however, said that the Centre's decision to reduce the prices must be appreciated as it "realised the burden on the citizens".
Meanwhile, the CPI-M-led LDF government in Kerala also ruled out slashing the cess on petrol and diesel to match the Centre's announcement in fuel price cut.
Reacting to Union Finance Minister Arun Jaitley's suggestion asking states to match the Centre's decision with a similar reduction in sales tax or VAT, State Finance minister T M Thomas Isaac said it would adversely affect the state's revenue.
Blaming the Centre for the frequent spurt in price of petroleum products, Isaac said it was the Centre that hiked the taxes on petroleum products.
"Now they have reduced by Rs.1.50 per litre, if the Centre was ready to reduce the full hiked tax completely, the state government would think about it," Isaac said.
Isaac also said the state had already reduced the tax on petroleum products earlier.
The minister said the Centre's move was with an eye on the coming assembly polls in states like Rajasthan and Madhya Pradesh.
The All India Trinamool Congress demanded the Centre slash fuel prices by at least Rs 10 a litre. "Fuel prices should be slashed by Rs 10 at least," the party, which is in power in West Bengal and among the most strident critics of the Narendra Modi government, said in a tweet.