Himachal Pradesh: School Bus Falls Into Ditch, Leaves 35 Students Injured
The injured students have been rushed to the nearby hospital for further treatment.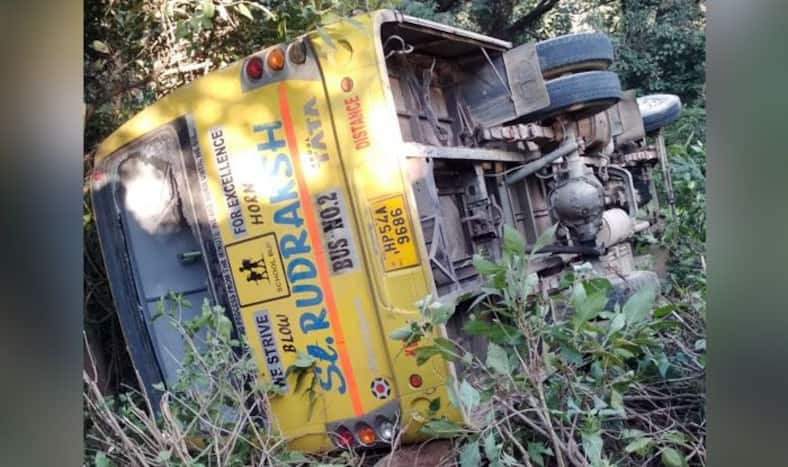 Kangra (Himachal Pradesh): At least 35 students were injured after a school bus met with an accident in Himachal Pradesh on Thursday. The accident took place near Lunj in Kangra after a school bus fell into a ditch. (Also read: Nine Dead as Bus Falls Into Gorge in Sirmaur)
The injured students have been rushed to the nearby hospital for further treatment. The incident occurred at a time Prime Minister Narendra Modi was in the district to address a Jan Abhar Rally in Dharamshala to mark the first anniversary of the BJP government in Himachal Pradesh.
Congress President Rahul Gandhi also expressed sadness over the bus accident and called for immediate relief for the injured. Rahul, in a Facebook post, said he was very sad to hear the news of the bus accident.
"I pray to God that those who are injured get relief as soon as possible. I express my deepest sympathy with the parents of the children," he said.

This accident comes just a day after two people were killed and over 25 got injured after a Himachal Road Transport Corporation bus travelling from Nalagarh to Jainagar fell in a gorge in Jamli area in Bilaspur district, news agency ANI reported. All those injured were shifted to a district hospital.
While one person died on the spot, another succumbed to injuries on the way to a hospital, Bilaspur Superintendent of Police (SP) Ashok Kumar told PTI.
A rescue operation was underway and the injured were taken to a nearby hospital for treatment, the SP said, adding that the bus fell into a nearly 50-feet deep gorge in Jamli. The SP said, "I am on my way to the spot and will be able to provide more information about the accident after reaching the spot."
In November, at least 21 people were injured after a tourist bus in which they were travelling fell into a gorge at Kiari Nallah on Solan-Shimla border. SP (Shimla), Omapati Jamwal, said that all the passengers have been rescued and the injured have been shifted to hospital for the treatment.