Indian Army Creates World Record With 58 Men Riding on a Single Bike
Bengaluru, November 20: In a spectacular display of the Indian Army Service Corps (ASC), 58 men created a new world record on Sunday when they mounted on a single 500 cc Royal Enfield motorcycle and r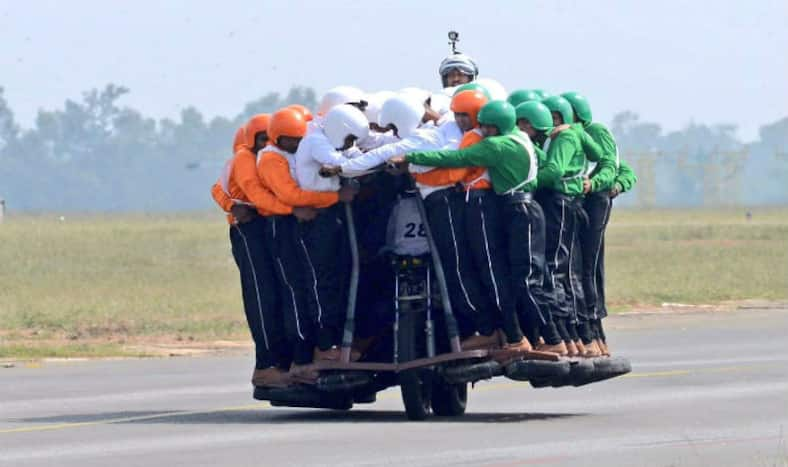 Bengaluru, November 20: In a spectacular display of the Indian Army Service Corps (ASC), 58 men created a new world record on Sunday when they mounted on a single 500 cc Royal Enfield motorcycle and rode it for a distance of 1200 meters as part of a display at the Air Force Station Yelahanka in Bangaluru.
Dressed in a Tricolour apparel, team driver Subedar Rampal Yadav steered the sturdy bike, with its leader Major Bunny Sharma on the vanguard while other members stood behind and around the flanks that was attached to the bullet.
The 'Tornadoes' broke the previous record of 56 men set in 2010 by the Army Signal Corps (Daredevils) from the Indian Army.
The team right now holds a total of 19 world and national records and was formed in 1982 under the aegis of Colonel C N Rao and Captain J P Verma.
The 'Tornadoes' team name has ever since been synonymous with daring stunts and record-breaking feats.
The team's first appearance at the IX Asiad Games in 1982 in New Delhi, created a worldwide sensation. Since then the team has performed in over 1000 shows within and outside India. The team comprises of 39 members with two senior officers, two JCOs and 35 junior ranks.
Motorcycle team of #ArmyServiceCorps, #TORNADOES, broke another World Record on 19 Nov 2017 where in 58 men rode on a single moving motorcycle.The act was performed for the Guinness Book of World Records, Limca Book of Records and Unique World Records at Yelahanka #Bengaluru. pic.twitter.com/80UG8FNh9i

— ADG PI – INDIAN ARMY (@adgpi) November 20, 2017
(With input from agencies)